By Tara Sheena 
A dance performance seems like a simple equation: one part choreography, two parts proscenium stage, and three parts talented cast. Add a few lights and some great music, maybe even a set piece or two, and you have the perfect show. Easy enough, right? Too easy, it seems, for the Los Angeles-based choreographer Heidi Duckler of Heidi Duckler Dance Theatre. Duckler has made a living creating site-based work in the greater Los Angeles area for over twenty-five years. A "non-traditional" choreographer, as she prefers to call herself, she has run a successful contemporary dance company in an area of California where dance seems to be dominated by commercialization and the persona of Hollywood. However, after speaking with Duckler and her Managing Director, Emily Wanserski, it became clear that this idea of celebrity, privatization, and, conversely, accessibility in the Facebook-era feeds into the company's overall mission.
"We like the idea of bringing dance to a location versus expecting an audience to come to us [and the dance]", Wanserski stated. This zeal to reach out to audiences, whether they know they are being an audience or not, has characterized a lot of Duckler's most notable works, including Laundromatinee, which takes place inside a laundromat, and Expulsion, which always occurs in a vacant lot.
Their newest piece, based on the life of Cleopatra, will premiere in February 2012 on the 51st floor of the City National Bank Tower building in downtown Los Angeles. As a project Duckler has been longing to do for a while, Cleopatra ~ On the Banks provides "so much untapped opportunity" in the site and the story. The site-specific choreographer sees great challenges in the performance, as it mixes the corporate lifestyle of the 1980s Los Angeles power suit with the elusive feminism of the iconic Cleopatra.  Coming into an extravagant site like the bank tower, which has been abandoned for over ten years, is par for the course for Duckler. "Sometimes when you have an idea, you have to wait until you find the right venue to express it," Duckler says of her work. Her company almost always rehearses in the site they are performing in, and this creates, what Wanserski refers to as, their aim to "animate the landscape" wherever they are.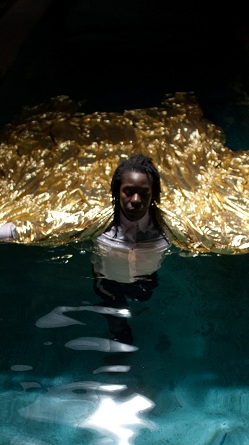 Of L.A., a city she has lived and worked in for almost thirty years, Duckler finds daily muses in the city and its pace which is constantly changing and evolving. She states, "I've lived here for 30 years and can still drive down a street that I've never been on." Duckler hardly shies away from the idea of celebrity and media that seem to define the entire city. Instead, she chooses to mirror those ideas through her own artistic viewpoint. In fact, a contributing point of inspiration for the Cleopatra work came from a quote by pop star Macy Gray. Duckler also draws upon the talents of another female artist; author Stacy Schiff, to find ingenuity and inspiration to drive this work. In Schiff's new book, Cleopatra: A Life, she explores a feministic point of view on the Egyptian queen and exposes how Cleopatra was not only an object of beauty and desire, but how she possessed qualities both cunning and opportunistic.
The parallels between the ancient and the new are reflected in Heidi Duckler Dance Theatre's mission to challenge the relationship between audience and art through site-specific performance. It is evident that finding connections in our world is inherent to Duckler as both an Artistic/Executive Director and choreographer, for she believes, "on some level, people want to [ultimately] be united." And this performance will be no exception.
"Cleopatra ~ On the Banks" will have its world premiere in February 2012 in Los Angeles.  Find 'Heidi Duckler Dance Theatre' on Twitter, Facebook, and at heididuckler.org.
Photos by Andrei Andreev