Known worldwide for his Emmy nominated work with Madonna , Alex Magno is a highly regarded international director and choreographer for the stage and screen. His diverse resume includes works for Madonna, Yanni, Britney Spears, the Parisian Lido,  Ballet Hispanico, Ringling Brothers, and the Academy Awards, to name a few, as well as his own highly acclaimed dance company With Passion.
Alex took time to share his unique story with Dance Informa.
Tell us about your upbringing in Brazil and the impact it had on you as a dancer and choreographer.
My upbringing has absolutely had a strong influence on the kind of dancer and choreographer I am today.  As a Brazilian, improvisation is part of your DNA, it is entrenched in the culture, the music and the way of life, and I am no exception to that rule.
I grew up in a small town called Vila Kenned outside Rio De Janeiro, and at an early stage of my life I learned how to cultivate my imagination, to improvise (in life and dance), and  create my own world in which anything was possible, even though the world outside me had infinite roadblocks. I remember every Sunday getting together with the entire family and gathering around in a big circle for an impromptu music and dance jam, with the entire family playing rhythms on whatever was around that could be used as an instrument. This is where I learned not only rhythm, but how to improvise, listen to the music, and let it move me.
I did not grow up taking dance lessons, but I did do Capoeira and two different styles of Karate. In my teens, I put a dance group together called "Old Jazz" and we used to go to different night clubs and perform. I would make up the routines that were influenced by watching different dance videos and films. So I actually began choreographing before I began training as a professional dancer. I ended up getting discovered in one of those clubs and got a scholarship to begin training.
How did you get to LA?
I arrived in LA in 1986 after winning a choreographers competition in Brazil (sponsored by Paramount Pictures) in which the prize was a trip to LA with all the expenses paid for one week.
It was very surreal for me; they had a limo waiting with the driver holding a sign with my last name. This was a far cry from the harsh reality of life in Brazil at that time.
I ended up staying and received scholarship at one of the best dance studios in the US at the time – Dupree Dance Academy. There I took classes with amazing dance teachers such as Doug Caldwell, Hama, Jackie Sleight, Randy Allaire, Rosemary Randy, Tony Cappola, Melinda Cordell, and Vicktor Manoel, amongst others.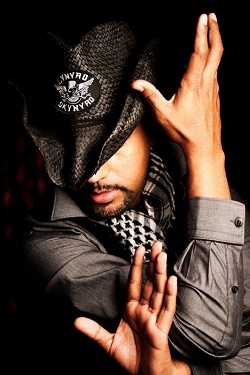 You're known worldwide for your Emmy nominated work for Madonna. Tell us about your experiences with her.
I worked with Madonna on two worlds tours. The first tour was The Girlie Show Tour – a tour that was all about staging, choreography, costume and lighting. It was one of Madonna's few tours that relied heavily on theater, and the choreography shared an equal spotlight with Madonna herself.
The first thing Madonna told me after I auditioned as a choreographer for her was, "Alex, just so you know, I approach each of my songs from a character point of view. I need you to not take it personally if I don't like a certain step or if I challenge you to tell me the reason why you're choreographing this step or that…You are going to be fine as long as you keep those guide lines".
Lucky for me, that was the way I used to work, in a very theatrical way. All of my movements came out of a character.
There is an interesting story behind me working with her a second time. A few months prior to the Drowned World Tour starting production, there was news that Madonna was going to be touring again, but I had no information on who was to be her next creative team. So I submitted to Madonna's manager a full tour concept, along with my new choreography reel. It happened, just by coincidence, that some of the concept I sent to her was very similar to the direction that Madonna and her director Jamie were thinking. That synergy was what got me the gig the second time, and eventually the Emmy nomination. This tour was the perfect balance of music, theater and hi-tech production.  It was one of the most challenging tours, because I had to choreograph all different styles of dance, ranging from Martial Arts, to Tango, Flamenco, Contemporary, etc.
Madonna is an artist who is highly intelligent, deeply in tune with herself and always true to what moves her. She makes no excuses for her motivations and beliefs. As an artist, it is inspiring to be able to create alongside someone so bold and fearless. The other great thing about Madonna is that she is always clear – she loves it or she hates it. That may be harsh at times, but in the end you always know that she is truly happy with the final product. She will push until it is perfect.
What was it like to be nominated for an Emmy?
Being nominated for an Emmy, for doing what I love, was an absolute honor. The Drowned World Tour was actually the only one of Madonna's tours to be recognized with that honor.
You are often called a "story teller" when it comes to your body of work. Why do you think that is?
Because I explore the movement from a character's point view, from real emotions we all can relate to. Dance is an art that can be both abstract and communicative, but in order for it to be effective, it must provoke emotion.
Most of my work has universal themes that cross frontiers, language, age, culture and gender, but when you apply them to a specific setting they become much more tangible and emotionally effective. I appreciate dance that is about the beauty of the movement, but for me the steps are secondary to the emotion.
In every work I do I try to bring all of the colors of the music to life through the movement, showing the unspoken poem of the song and getting to the core of the music itself. The idea is to have the music translate visually through each body movement.
You're an avid dance educator in addition to being an award winning choreographer. Why are you so passionate about teaching?
Because it keeps the flame of dance alive. I had some amazing teachers that inspired me to be what I am today, so I feel that is part of my job to pass that on.  It is also what keeps me artistically alive. It is my "creative workshop" where I create the castles out of "playing cards", it is a place where I see magic being created.  I learn from my students, they teach me to become a better teacher, choreographer and director.
What is next for you?
I am currently directing, choreographing and producing Benise's The Spanish Guitar world tour. I am also in development for a new dance multimedia show starring actress/dancer Jenna Elfman, as well as shooting a series of dance short films.
Alex Magno is represented by The Movement / A Dance Management Company
www.MovementMGMT.com