Young Melanie Moore has won the hearts of American TV viewers in this season of So You Think You Can Dance. The talented dancer from Georgia, who's currently at college in New York, spoke with Dance Informa about her experiences on the show and her plans for the future.
By Deborah Searle.
When did you start dancing?
I started dancing when I was 2 ½ – 3.
What styles have you been formally trained in?
I've been trained in Jazz, Contemporary, Musical Theater, Broadway, Tap, Ballet and Hip Hop – well sort of Hip Hop. Hip Hop was a recent one.
Have you had any Ballroom training?
I absolutely love Ballroom. I've taken ballroom classes at Tony and Melanie's studio in New York but I had never met them before I did the show, because they have other instructors. It's so hard, but so fun. I really wish my mum had put me in ballroom classes because ballroom dancers have a self-confidence and air about them. I think it's amazing. To work with Pasha and to just go out there was so exciting.
Tell us about your life in New York
I go to Fordham University in Manhattan. I love it, although I don't get to dance as much as I'd like to. But now that I'm doing this show and I'm on tour, hopefully I can take a second away from school and really get to concentrate on dancing.
Are you focusing on art at Fordham, and not dance?
Yes. They do have a dance program but I'm not a part of it. I take classes at Broadway Dance Center and Steps a lot.
How do you get time for your art course and dance as well?
I've always been a really focused person. During high school I was always focused on grades at school but every time I was at dance I was focused on dancing. I'd stay up late to get stuff done. But it's definitely hard to divide your energy between two things. I'm always the one to go to a dance class over studying for a test. Then I'll just cram and have a late night study session.
Are you aiming to be a visual artist, a dancer, or both?
I've always wanted to be a dancer, in any capacity really. I don't really care what kind of dance I'm doing as long as I'm making a living. I don't really care if I'm at the back of a toothpaste commercial or whether I'm on Broadway, as long as I'm able to make and sustain a lifestyle doing that. Going to school, for me, was because the dance industry is so hard to break into. My mum and I decided that it would be a better choice to go to school and study something other than dance, because dance will always be there. And if an opportunity comes up I can always go back to school, which is why right now I'm not going to focus on school. I'm going to continue focusing on dancing. It was sort of like my back up plan. So I'm really happy that right now it's happened for me.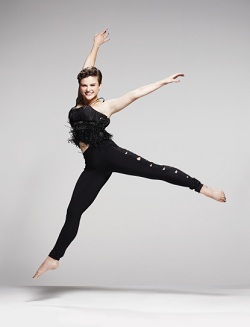 Did you expect to get this far in the competition?
I definitely didn't. I was just hoping that I was going to grow as a dancer and as a person, and really enjoy the experience. I didn't expect to get this far, and to get the kind of response I've been getting. I've put in a lot of extra hours rehearsing by myself, and it's been nice when it's paid off. I think maybe that's the reason for getting good reviews.
What's been the biggest challenge of the competition for you?
The biggest challenge for me was overcoming the nerves and stress. When you get out there in front of the judges and tons of people, you can lose your mind a little bit because you can get so nervous and start freaking out. We've been working so hard on our routines and we can only do our best. So it's just struggling with nervousness.  It's a constant battle.
What's been the highlight for you so far?
I feel like every time I perform there's a new highlight. Being here has been my highlight. It's unexplainable how amazing this experience has been. I'm so happy that I did it.
Who has been your favorite choreographer to work with?
That's really hard. I love Jason Gilkison. I've always wanted to work with him since he did the Jive in Vegas. I love Travis Wall too, and Sonya Tayeh.  Everybody's so good and so different. It's been amazing.
So where do you see yourself in 5 years?
I hope that I will be living in New York. I'm more like a city, cold weather person. It's just like my place, I love it. I hope that I'm working, maybe in something on Broadway. It's always been my dream to be on Broadway. I hope I've done some stuff in Europe maybe. I don't really have a pin point of where I want to be because I want to be open to wherever dance takes me.
Portrait Photos: James Dimmock/FOX