Miami raised and now LA based, Tovaris Wilson is a star of stage, film, television and video. Tovaris has performed several times on the Annual Academy Awards programs and can be seen in commercials for Pepsi, Sun Microsystems, and Rubbermaid products. Tovaris has appeared in music videos for Britney Spears, Cher, Prince, Macy Gray, Blink 182, and Will Smith, as well as the feature films Austin Powers II and III.
In early 2000, with a successful commercial dance career established, Tovaris chose to focus on developing his own style and made the transition to choreography full-time. Tovaris choreographed for Janet Jackson's All For You tour, and soon after was commissioned to choreograph for Britney Spears, Macy Gray, Ivan Kane's Forty Deuce, MTV and the 2006 Pussycat Doll Tour. Tovaris is also an in demand teacher, teaching dance students in Japan, New York, Miami and Los Angeles, with a strong following of students at LA's Edge Performing Arts Center.
When did you start dancing and why?
I took my first dance class at the age of 3 and have danced from that day until now. I was hooked from that moment. My parents recognized a talent in me and they have always nurtured it. When my mom was a young girl she was a performer. She sang and danced in shows. She had the opportunity to be in a commercial and because my Grandmother didn't understand the world of the arts, it was something that was not supported.  My mother says she made a vow that if her kids ever showed interest in the arts, she would do everything in her power to encourage and support it.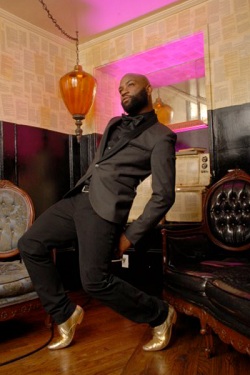 What was the first professional job you ever booked and what was your experience of it?
I had some amazing opportunities as a young working dancer. At the age of 10 I compete and won Jr. Star Search. I also acted on an episode of Miami Vice. The first real dance experience I had was dancing on The Academy Awards.  It was so memorable because, firstly, I got the opportunity to work with my dance idol Debbie Allen.  Secondly, the feeling of performing on stage in front of Hollywood's greatest actors gave me the chills! I was on an amazing adrenaline rush and I will never forget it!
What is you fondest memory as a dancer?
I have been blessed with some amazing opportunities, but I would have to say my fondest memories are from the two times I was able to tour the country with an artist. The first time was with Cher, and the second was with Britney Spears.  What I love about touring the world is learning about all the different cultures and just being able to see the world.  Also there is a special bond that you form among the cast and crew. It feels like a real family. In addition, every night you get to support an amazing artist as they entertain the several thousand fans who show up.  The energy you experience performing in an arena is second to none.
How and why did you transition into choreography?
I transitioned into choreography through teaching.  It is a very natural transition because I found that teaching allowed me a platform to hone my style.  Having to make up choreography every week for class forced me to be creative and focused.  I was also able to practice teaching my work to others. I feel that many people underestimate the ability it takes to translate your vision onto the body of someone else. I love creating movement and I love the challenge of pleasing the client.
What is your favorite experience as a choreographer so far?
Hands down my favorite experience as a choreographer was getting the opportunity to choreograph for Janet Jackson.  I can remember sitting in front of the television watching her music videos.  I would learn all the steps and perform them for my family.  The one dream I had was to one day dance with Janet. Not only did I get that opportunity, but I was selected to choreograph the opening number in her All For You world tour.  It was a real pinch myself moment, and definitely the highlight of my career.
What is up next for you as an artist?
I am still focused on furthering my career as a choreographer. There are still some things I would like to accomplish. I would love to choreograph a film.  Outside of continuing to choreograph and teach, I am interested in producing projects for dancers.  I have formed a production company with some friends called Less Is More Entertainment. We want to focus on projects that elevate dance and the choreographer. So many times choreographers are in the shadows; the puppeteers behind the magic. We want to shine the light on them and show the world the creativity it takes to be a masterful choreographer.  
I also just started a clothing line for dancers called L.I.T.E. It is an acronym for Life In The Eights. 8 is the number we use in dance to signify the start of a new phrase of movement.  
I am so excited for the future of dance and I always want to be a part of it!
See Tovaris' magic at The Nvitational in LA, July 29-August 14. For more information click here
Tovaris Wilson is represented by The Movement / A Dance Management Company and MSA.
www.MovementMGMT.com www.MSAAgency.com