The PULSE on Tour is a powerful weekend dance event featuring the most renowned instructors and choreographers of our day. The PULSE strives always to stay on the beat of what's hot in the dance industry today, and to bring you the opportunity to learn from the most sought-after artists in the field. The PULSE on Tour features celebrity choreographers who encourage, inspire and educate hundreds of talented dancers. Dancers enjoy classes, seminars, performance opportunities, scholarships and photos with the PULSE exclusive faculty. Dancers range from 11-24 years of age.
Touring 11 cities plus 3 huge summer events with the industry's best, The Pulse features: BRIAN FRIEDMAN – X Factor, America's Got Talent, So You Think You Can Dance, Dancing with the Stars; MIA MICHAELS – Emmy Award Winner, So You Think You Can Dance, Grace, Rock of Ages (the movie); WADE ROBSON – Emmy Award Winner, So You Think You Can Dance, The Wade Robson Project, Dancing with the Stars;  TYCE DIORIO – So You Think You Can Dance, Katie Holmes; CRIS JUDD – J Lo, Your Momma Don't Dance, America's Got Talent; DAVE SCOTT – So You Think You Can Dance, You Got Served, Step Up 3D; GIL DULDULAO – All About Aubrey, Making The Band, Janet Jackson; LAURIEANN GIBSON – Lady Gaga, The Dance Scene, Making The Band, So You Think You Can Dance; DESMOND RICHARDSON – So You Think You Can Dance, Complexions, Chicago (the movie); BROOKE LIPTON – Glee!, Britney Spears; ROBERT HOFFMAN – Grace, You Got Served; CARMIT BACHAR – Pussycat Dolls, Grammy Award Winner, World Music Award Winner, MTV VMA W inner, AMA Winner.
The PULSE International Productions, LLC is committed to providing only the best in hip hop, jazz and contemporary dance training from the most exclusive choreographers in the dance industry.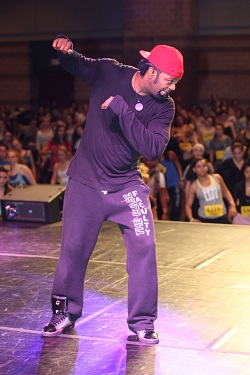 The PULSE Summer events
Each summer workshop offers full days of classes with The PULSE faculty members. The extended weekend event also features a Performance Showcase and Solo Scholarship Program open to all participants that wish to be part of these all-student shows. Dancers enjoy a Q&A with the faculty, scholarship opportunities, a photo session with The PULSE faculty and options including colored headshots from a professional photographer onsite.
The 11th Annual Teacher Workshop, presented by The PULSE and Broadway Dance Center, is an extraordinary educational training event, open to dance educators from around the world. It's teachers teaching their tricks of the trade. This workshop is designed specifically for Studio Owners, Teachers and Assistants ages 18 and older.
Las Vegas, NV
July 15-17, 2011 – Las Vegas Hilton
New York City, NY
July 28-31, 2011 – Grand Hyatt New York
Teacher Workshop, NYC
July 29-31, 2011
Check The PULSE Website www.ThePulseOnTour.com for details on the events or call the registration department at 1.877.PULSE.01. Register online! Discounts are available for groups of 10 or more. Three different levels, for dancers age 11 and older.
The PULSE will be in a city near you during the 2011 – 2012 tour!
Dallas, TX: November 5-6, 2011
New Orleans, LA: November 12-13, 2011
Las Vegas, NV: November 19-20, 2011
Chicago, IL: December 3-4, 2011
Orlando, FL: December 10-11, 2011
St Louis, MO: January 7-8, 2012
Atlantic City, NJ: January 14-15, 2012
Santa Clara, CA: February 4-5, 2012
Toronto, CAN: February 11-12, 2012
Boston, MA: February 18-19, 2012
Atlanta, GA: March 24-25, 2012
Registration opens Aug 3, 2011.