Emmy winning choreographer Bonnie Story is the genius behind the much loved dance scenes from High School Musical 1,2 and 3. Bonnie served as co-choreographer for the opening and closing ceremonies of the 2002 Winter Olympics, has choreographed for several television shows, commercials and films and is Associate Artistic Director of Odyssey Dance Theatre.
Dance Informa spoke with Bonnie to discover her story.
How did you start dancing and why?
I started dancing when I was about five years old.  I would go with my older sister Ruth Ann and watch and then my mom who played the piano for the dance school (Shirley Dias Dance School), decided to put me in classes. At home, I would put together recitals with costumes, music, programs and chair seating. I would go around the neighborhood and invite everyone.  I would also write plays and put them on – total scripts and everything.  I even assigned a part to my dog 'Jamie'. Even though he didn't come in all the time on the right cues, he was a hit. My mom had a closet full of costumes that would be used several different ways, depending on the need.  I would constantly choreograph and direct.  In dance class, I was such a perfectionist that I would cry if I couldn't get it perfectly right the first time. I have always been inspired with music, even when I was young.
How did you get involved with the HSM Films?
I got started with HSM films because the director Kenny Ortega and I had worked together before. The first time I officially worked with Kenny was during the Opening and Closing 2002 Winter Olympics. I was an associate choreographer that worked with Kenny.  We have always worked together well. He is brilliant and always willing to teach and direct his choreographers in a way that you come out of every project a new artist.  I have learnt so much from him. I love him so much. When they called on the first movie I couldn't wait to work with him again. Then we just kept on working together.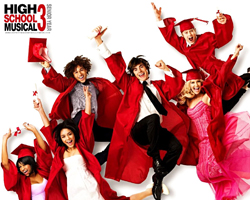 What was it like to work on the films with so many dancers?
I love the cast of HSM. They were incredible to work with them. They worked hard and we had a lot of fun along the way. We all became very close. After the first movie we were all family and by the third, there really are no words. I have so much respect for all of them, and their willingness to trust and to keep pushing themselves each movie. If you watch the choreography from the first movie to the last, you can see how much harder we would push them.  It was incredible to be part of that process. I also loved working with so many dancers. We had principal dancers to hundreds of extras that danced in each movie. Everyone worked so hard and very fast. Sometimes we would have to teach 400 extras choreography and film it at the end of the day. It was intense, but everyone was so invested in the project that it worked. Of course it starts from the top, and Kenny made everyone realize the important role they were playing in the movie. The end result was a product of everyone completely putting their all into it. It was an incredible ride for all involved.

What was it like being nominated for and winning an Emmy?
Receiving an Emmy nomination and then actually going home with one was very surreal.  It was amazing! I feel honored to have received one.  Every time I look at it, it reminds me of the commitment that was given from everyone.  There is never a project where you do it on your own. The concepts, music, direction, art direction, the whole crew (I could go on and on) – without their contribution and artistry, the Emmy wouldn't be there.  I am grateful for being able to work on a project that made a huge impact on a lot of kids and adults.

What choreographers or teachers inspire you?
People that have inspired me are many.  My background in dance is varied.  I am thankful to firstly, my parents, who put up with all my dance classes, all my plays and recitals and who sent me to New York.
I had incredible ballet teachers: Carolyn Barnett, Ben Lokey, Teri Port, Sonia Arova, Thor Sutowski, Ballet West, SAB – it is hard to name one.  Then I went to LA and one of the first classes I walked into was Jaqui and Bill Landrum's class. They helped me ease from the ballet world to other styles. Billy Goodsen was very instrumental in taking the ballerina out of me, but still using the technique that came from all my ballet years.  Ben Lokey was a huge influence when I first went to LA.  He understood also how to take me to a jazz style from ballet.  Doug Caldwell was so inspiring to take class from and Joe Bennett was amazing. And Vincent Paterson, who I met in Bill and Jaqui's class, took me under his wing, and literally jump started my career.
Companies that I watch inspire me, including Lines Ballet, Hubbard Street, Alvin Ailey, the list keeps going because I have so much respect for those that have molded who I have become.
Kenny Ortega, who is brilliant, is an inspiration and I have learnt so much from him.  He will say to me on a set, "Bonnie, do you know why I am doing this shot this way?" He's always teaching and pushing me as an artist, choreographer and director.
I have great love for all of them.  I owe a lot to them.  Hopefully I am passing on all that I learn with every job I do.

Bonnie Story is represented by The Movement / A Dance Management Company and MSA.
www.MovementMGMT.com www.MSAAgency.com