Dance educators take note: In the world of online dance sites, DanceTeacherWeb is one of the best, providing a wealth of resources specifically for dance teachers. Dance Informa spoke with Steve Sirico and Angela D'Valda Sirico, founders of the website and its' popular conference, to introduce you to their valuable services.
Why did you start DanceTeacherWeb.com?
 We launched the site in August of 2007 when after many years of working with dance teachers at conferences, conventions and teacher training schools, we heard them talk about a need for a resource where they could receive teacher training, help with their business and to have a place to recharge the batteries all year long. Dance teachers have a feeling of being a bit isolated. The dance season is long and takes a lot out of teachers who are always giving of themselves to their students.  We wanted to devise a way to give back by connecting and working with dance teachers on a continuous basis. That's when we decide to create DTW.  Best of all, teachers never need to leave their home or office to access the material. 
Do you reach teachers from all over the world?
Yes, we are thrilled that we have members from the USA, Australia, Japan, UK, France, Spain, China, New Zealand, Costa Rica, Mexico and Canada and those are just some of the countries where our members live. One thing is for sure, dance teachers from all countries experience the same joys, challenges and issues. They have such a passion for what they do and are eager to always improve, not only themselves, but their students too. 
How can you help dance teachers?
Members have access to hundreds of videos and articles for all levels and genres of dance. Every month we update DTW with new material. Aside from short choreographed routines, we offer "how to" teaching videos. These videos give tips and new techniques to help teachers improve in all subjects from preschool work to teaching turns, leaps and jumps – to name a few . All of the videos on the site are designed for teacher training and can be accessed at the click of a mouse.  
What can DTW offer the dance studio owner?
We offer a variety of resources for the business owner. Each month we feature topics that have valuable business building information. Ideas on improving management, marketing, fundraising and ways to be more organized and productive are just some of the topics that are presented each month. Studio owners have access to downloadable forms like registration, teacher contracts, scholarship agreements and sample ads. Our VIP program includes one on one phone consultations each month designed to offer a more hands on, personal approach to helping entrepreneurs.
Can you tell us about your live event?
Yes, we are excited to present our annual Dance Teacher Web Conference & Expo in Las Vegas, August 7-10 2011. We are expecting hundreds of attendees from around the world. We have a great lineup of master teachers and business leaders that are eager to help the attendees leave feeling refreshed and full of new ideas and information. Plus we have a lot of fun events planned that will give attendees a chance to meet others teachers and enjoy all that Vegas has to offer. The Red Rock Resort has given us a wonderful room rate which also makes it an affordable vacation for attendees and their families. It is a great way for us to meet face to face with all the wonderful dance teachers out there.  Visit www.danceteacherexpo.com for more information.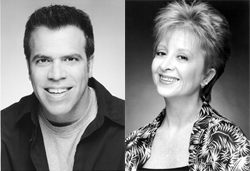 DTW directors Steve Sirico and Angela D'Valda Sirico
Angela D'Valda Sirico and Steve Sirico have been teaching, choreographing and producing shows for over thirty years. In 1979 they formed the Adagio team of D'Valda & Sirico after performing in shows and on television worldwide as individual dancers. Their performing credits include "Scala" Barcelona, Spain, Casino Estoril, Portugal, Theatre Royal, Oxford, England, Riviera Hotel, Las Vegas, Hotel Tequendama, Bogota, Columbia, Teatro Nacional, Buenos Aires, Argentina,and as Guest Artists for Wayne Sleep's smash hit "Dash", Dominium Theatre, London.
They were featured artists in Royal Command performances in Spain and had the privilege of performing for Princess Diana of Wales. D'Valda & Sirico's many television credits include "David Letterman", "Star Search", and "Tarde Para Todos" as well as variety shows in the U.S.A, Spain, Sweden, Switzerland, Finland, Portugal , Italy and Argentina. Their combination of explosive choreography and exciting partner work has been given rave reviews both nationally and internationally. Their choreography for the acclaimed "Brother Can you Spare A Dime" was commissioned by Boston Ballet II and performed by the company. Angela and Steve have owned and directed a very successful dance studio in Fairfield, Connecticut since 1987. Their students have received scholarships and contracts to American Ballet Theater, Boston Ballet, Joffrey Ballet, Nashville Ballet, Ballet Hispanico, Hartford Ballet as well as the National tours of "Fosse", "Fame" and "We Will Rock You" and on Broadway in "Chorus Line".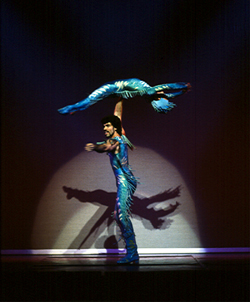 Angela and Steve have been on the faculty of Dance Educator's of America's Teacher Training program. Steve is the author of his Jazz Dance syllabus and together they authored their Partner syllabus both used for Teacher Training worldwide. Angela served as Chairperson for the tri state panel of the Royal Academy of Dancing and they have taught as guest faculty for Mt. Holyoke College, Michigan State University, The University of Arkansas, Yale University and Fairfield University. They teach Master Classes in Ballet, Jazz, Lyrical Jazz and Partner work all over the world including residencies in England, Spain, Costa Rica and Mexico. From 2003-2005 they were presenting faculty for Dance Teacher Magazine's Summer Teacher's Conference in NYC. They continue to be active as adjudicators for major dance competitions and recently choreographed the opening production number for the National Speaker's Association at their annual convention on Broadway in New York City.
Video: Courtesy of youTube.
Dance Informa/Dance News International takes no responsibility for the content of any videos viewed through youTube.