By Deborah Searle.
Jason Gilkison's ballroom sensation Burn The Floor is touring the country, after a record-breaking run on Broadway. Burn The Floor, the electrifying Latin and ballroom dance spectacular, has thrilled audiences in over 30 countries, bringing the fire and passion of ballroom dance to the theatre.  Burn The Floor is ballroom – reinvented.  This tour, featuring all-new choreography, and a team of talented dancers is wowing audiences and setting hearts ablaze.
Dance Informa spoke behind the scenes with three of company's finest dancers.
How do you keep the passion and performance alive after so many shows?

Damien Samuel
Every show is a new audience – a fresh crop of people that we strive to amaze, inspire and leave in wondrous awe from the moment the first music note hits till the curtain touches the floor. We feed off our percussionists' heart pounding rhythms and we make each and every performance as powerful and electrifying as we possibly can.
Faye Huddleston
Sometimes it just takes a few seconds on my own thinking about my life to realise how lucky we are to be doing what we love and have such passion for, because we forget sometimes.
Robbie Kmetoni
I see each show as new and important, adding my own little touches that change every show, so that I'm enjoying myself every show. The passion needs to be there from the beginning, as it is hard work. Dedication is needed 110%.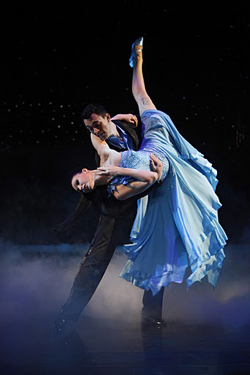 What is your favorite thing about Burn The Floor?
Damien Samuel
Seeing Burn The Floor and Jason Gilkison is the reason I started dancing 11 years ago. I was once an audience member screaming my head off at how brilliant the show was and now being at the forefront of the world's first and most elite ballroom dance production every day is a dream come true.
Robbie Kmetoni
My favourite thing about Burn The Floor is the cast I am with. They are such an amazingly talented, let alone friendly, bunch of people to work and tour with every day. It's a blessing to be a part of such an incredible journey and show!
Faye Huddleston
Iwould have to say that my favourite thing has to be that we are not just a dance company but a family. I think that is the most important thing.
What unique challenges have you faced when learning and performing the routines?
Faye Huddleston
The challenge for me would definitely have to be stamina.  We do fast energetic routines that can last up to 4 to 5 minutes.
Damien Samuel
It is an intense physical regime that takes a real toll on your body. We have to make sure we are in crisp physical condition to be able to do this eight times a week. Injuries happen no matter how hard we try to prevent them, so we give 110% to every single performance because it very well could be our last.
Robbie Kmetoni
Being a contemporary dancer it was really difficult at first to learn the basics of how to dance Latin and ballroom, as I have never done a class of either. It was a huge struggle to fit in technically. It almost felt like I was a beginner again in the dance industry.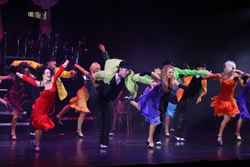 Why should audiences come to see Burn The Floor?
Faye Huddleston
This show is one of a kind and it appeals to all ages. It is ballroom reinvented. I don't think people really know what to expect when they see this show, but we always see the audience dancing up the aisles on their way out.
Robbie Kmetoni
EVERYONE must come see this show. It is a jam-packed, energetic, sexy, sophisticated, entertaining and inspiring two hour dance show suitable for any age, male and female. You will not walk out unimpressed!
Damien Samuel
It really is a must see experience. Our live world class singers Peter and Vonzell and percussionists Henry and Joe are worth the admission alone, and then you have 20 world class dancers. It really is a feast for the senses and you can't find anything like us anywhere else.
If the audience could walk away with one thing, what would you want it to be?
Robbie Kmetoni
I would just love the audience to walk away knowing how much love we put on stage to give them a great show. We pour out our hearts every single night so that the world can see how hard, yet how inspiring dancers and dancing can be. When we get a standing ovation from the crowd, there's no other feeling like it.. ever!
Faye Huddleston
I'd like the audience to walk away wanting to learn to dance, if they don't already.
Damien Samuel
Oh they never walk, they sing, they dance and they come back to see us whenever they can!
Want to join in the fun and see Burn The Floor?
Dance Informa has a DOUBLE PASS to giveaway!
Enjoy opening night of Burn The Floor at Atlanta's Fox Theatre,  March 22nd.
Critics and fans around the world have raved about Burn The Floor: The Independent (London) said "Extraordinary! So hot it contributes to global warming. Burn The Floor will take your breath away!"
HOW TO ENTER:
Suggest Dance Informa to 3 dance friends and you could WIN!
Just Email Dance Informa at info@danceinforma.com with:
 – Your full name, date of birth and address PLUS
– The email addresses of 3 dance friends.
– Include subject: BURN THE FLOOR
Competition Opens Jan 27 2011 and closes March 10 2011. The winner will be emailed and the tickets will be held at the Atlanta Fox Theatre Will Call for collection on the night. If the winner does not repsond within 5 days, a second chance winner will be drawn.  The Winner will be published at www.danceinforma.com after announced. Your friends will be given a free subscription to Dance Informa. If your friends would not like a free subscription they can unsubscribe at anytime by emailing info@danceinforma.com with subject: UNSUBSCRIBE
For more information, including tour dates and ticketing visit www.burnthefloor.com.
Photos: Joan Marcus