Walking On My Grave and Other Dances
Full Radius Dance 
7 Stages Theatre, Atlanta GA
January 22
By Emily Yewell Volin.
Full Radius Dance is a physically integrated modern dance company.  Many of the dancers are in wheelchairs, however, that reality is never the point of the work.  And, as one quickly realizes, the work Full Radius Dance creates is possible not in spite of but in obvious thanksgiving for the possibilities of physically integrated dance. 
Full Radius Dance concert was full of spectacle, though not because some of the performers were in wheelchairs.  I was fascinated by and agree with the comment one anonymous audience member made during the post performance interactive conversation with the artists of Full Radius Dance.  He offered a view that the wheelchairs functioned as prosthetics rather than supplementary equipment.  Indeed, the wheelchairs are treated simply as an extension of the dancers' forms.  This harmony was evidenced by ever present technical risks within the work.  Weight was shifted upon the wheelchair wheels and figures spun in precision pirouettes; some on feet, some on tires.  Wheelchair dancers were no more often the base of a lift than the lifted and, quite breathtakingly, often both within a single moment.
Most striking was the unexpected dynamic shift experienced by the brisk horizontal energy created as wheelchairs moved throughout the space.  Like a child who suddenly changed from walking in plain sneakers to zooming around on sneaker wheelies, the energy created by wheelchairs in motion was both accelerated and unexpectedly fluid.  This forward propulsion was surprising, exciting and at times, a little unnerving.  It also provided choreographic possibilities unavailable to non physically integrated dance companies.  At first glance you think the same dynamic could be achieved by putting dancers on a wheeled prop, but it wouldn't be the same.  These wheelchairs are not a prop, they are not a gimmick and they are certainly not extraneous.  After only a few minutes, you stop noticing the presence of wheelchairs. They fade into being part and parcel of the choreographically diverse work developed and performed by Full Radius Dance.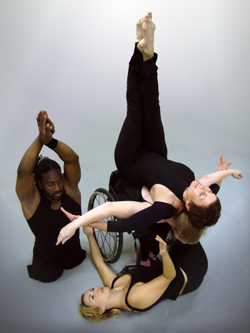 The concert opened with Walking On My Grave, a premiere, choreographed by Artistic/Executive Director and Full Radius Dance Founder, Douglas Scott.  This ensemble piece explored the concept of life and time being circular and fluid rather than a linear series of events.  The ambiguity of each character's placement within the continuum of life's journey created stark imagery of what seemed almost like an exploration of the 5 stages of grief. The culminating visual of dancers spreading blood (red paint) across a tarp stretched upstage seemed to leave the characters in a sort of purgatory space.  An unresolved journey along the continuum of life and death.
The choreographic highlight of the evening was Paulo Manso de Sousa's Pedro & Ines.  Based upon the tragic 14th century Portugese love story of Pedro, Crown Prince of Portugal, and Inés de Castro, this work shone in its ability to fully integrate bodies within a classical vocabulary.   The stunningly filmed and edited projections created by Onur Topal-Sűmer, who is also a company member, transformed the 7 Stages space into what felt like a stadium.  Sousa's work was smooth and fluid with the ever present power of touch leading the helm.  Stretched fabrics were used to give the illusion of water.  Dancers partnered behind these fabrics in impeccably rehearsed and sensual moments reminiscent of alluring water nymphs at play. The work's technically intricate duet, performed by Vincent Robinson Sr. and Andrea J. Catchings, was decadent, tender and wondrously performed.  Two young lovers explored their respective physical selves as any lovers would.  However, this beautifully constructed duet accomplished more than a typical romantic pairing.  It also welcomed the audience into an exploration of how all bodies present unique challenges and celebrations when exploring the physical expression of love.
Salvadore (2010), choreographed by Douglas Scott, offered some lovely moments in what seemed a private partnership between dancers JoJo Butler and Masha Malikina. The stated idea that salvation is often found through the leaving, rather than the arriving, seemed directly linked to this being JoJo's final performance with Full Radius Dance.  The program announced JoJo is returning to her home in Australia while pursuing a degree in physical therapy.  This duet seemed a sort of personal farewell for her, bittersweet and honest.
The final piece on the program was another premiere entitled Bar Songs.  And, though a little slow to find its stride, this ensemble piece served as fitting testament to the innovative work Full Radius Dance creates.  Bar Songs, choreographed by Douglas Scott, had a sense of humor and reminded us that just because modern dance work is physically integrated, it doesn't have to be intellectually deep.  Bodies were fearlessly rocketed about the space, in and out, up and over wheelchairs and each other.  Barrel rolls were executed by all cast members as a swing dance party atmosphere ensued.  Intricate staging and precision timing pushed the boundaries of integrated modern dance work and one sensed the performers were competing in a game of dare. I excitedly cringed for the safety of the performers' fingers and toes as they brushed edges with wheelchair spokes, sat and spun upon wheelchair tires, and daringly popped wheelies in and with the wheelchairs.  Bar Songs was a terrific reminder that though physically integrated modern dance is serious business, it's not above being raucously fun. 
Full Radius Dance is an adventuresome and responsible modern dance company to follow, not because it's a physically integrated company, but because it is quality artistry at work. 
Learn more about the company and their future engagements at www.fullradiusdance.org
Photos: Courtesy of Full Radius Dance