Celebrating the Career Transition For Dancers 25th Anniversary Silver Jubilee.
New York City Center
Monday Nov 8th
By Jessica Innes
For those of you blessed enough to feel the uplifting elation which dancing can provide, you will agree that it is not just a means to an end. Dance is a way of life.
However, the professional career of a dancer can be derailed by many factors and the gruelling demand on one's body can eventually take its toll, thus like all good things it must come to an end. Career Transition For Dancers helps performers at the end of their on-stage career "jeté into the next act of life" with emotional support, scholarships, further education and career counselling. On November 8th, 2010 they celebrated their 25th Anniversary Silver Jubilee with an exultant evening of extraordinary entertainment.
The curtains rose to reveal a whirlwind of energy and colour as The National Dance Institute Celebration Team performed Shall We Dance from The King and I. The young dancers had stars in their eyes as they performed to a full house who cheered with encouragement as we witnessed the future of our industry.
Angela Lansbury hosted the evening and was the epitome of elegance as she honored the generous support of the many unions and individuals who have made Career Transition For Dancers possible. The audience were then treated to an array of the best performances New York has to offer which included Alvin Ailey American Dance Theater, ABT II, American Ballet Theatre, American Tap Dance Foundation Youth Program, The Joffrey Ballet, The Last Mambo, Louisville Ballet, MOMIX, National Dance Institute, Parsons Dance, World Cup All Stars and dazzling numbers from 42nd Street and Chicago.  
The diversity of each act displayed the endless variety of ways dance can be expressed through the body, whether it was the casual swagger of the tappers from 42nd Street to the flexibility and technical brilliance of the Joffrey Ballet. Each performer was beautifully unique, possesing qualities of fervent dedication, discipline, strength and joy. The programs at Career Transition For Dancers channel these virtues in order to allow such brilliant performers to share their gifts with the world long after their performing career is over.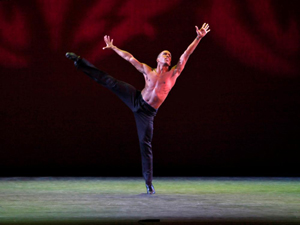 A standout of the evening was a Pas De Deux from Don Quixote performed by the American Ballet Theatre's Yuriko Kajiya and Daniil Simkin. Wearing a regal cream and burgundy tutu, Kajiya's pointe work was floorless as she balanced in attitude, striking picture perfect lines and beaming with pride. Twenty-three year old Daniil Simkin had a boyish charm as he cheekily showed off his incredible jumps and turns to the audience. After repeatedly conquering seven consecutive pirouettes, Daniil took center stage to wow the audience with endless fouettés which was then challenged by Yuriko who shone equally as we watched her whip her leg with perfect execution. The friendly competition between the two was reminiscent of a modern day "dance-off" and allowed us to see the true foundations of dance.
In contrast, the modern and ingenious piece Caught choreographed by David Parsons and performed by Miguel Quinones was a mind-blowing illustration of how much dance has evolved. Parson's signature stroboscopic was the perfect example of how modern technology can be utilized to aid a performance and this effect created the illusion of Quinones flying across the stage. Miguel's timing was impeccable as he performed numerous split jumps in second ensuring that each time the strobe flashed he was in the air in full extension. The audience escaped reality as we marvelled at how the powerfully built dancer appeared to defy gravity and levitate in the air.
The 2010 Rolex Dance Award was presented to Twyla Tharp in recognition of her outstanding contribution to the industry. The spirit of the dancer was evident in her as she explained she felt a little "sheepish" accepting the award on a night dedicated to career transitioning as she stated "I never intend to retire…ever!" However the evening proved that it is beneficial to plan seriously for your future and that even when we stop dancing we never stop being dancers.
I'm sure many of you have had that moment where you're stuck in traffic and a song you've performed to comes on the radio. You begin to reminisce about your moment on stage and you naturally groove along to the music as a neighbouring truck driver looks on in bewilderment. Dance never really leaves us and this was the essence behind the heart-warming finale I'm Really Dancing with music by Marvin Hamlisch and performances by a star studded cast of dancing greats including Charlotte d'Amboise, Chita Rivera, Marge Champion and Angela Lansbury herself. The emotional night came to a close amidst roaring applause and as the audience left, I took a look around at the beautifully bejewelled women and the smartly dressed men who had been a part of the event. It was evident that the night had touched the dancer in every one of us. Career Transition For Dancers must be commended for their support in improving the lives of dancers all over America for the past 25 years and for a night of truly unforgettable entertainment.
Photos: Richard Termine