The Fox Theatre, Atlanta.
Saturday Oct 16 2010
By Deborah Searle.
Dreamgirls is a dream.
It is a production that celebrates the exceptional vocal talents of African American performers. The cast is strong, and the performances are flawless. Dreamgirls is the story of vocal group, The Dreams' rise to the top, giving us a glimpse into the lives of three 1960's performers and the men behind them. Dreamgirls has an explosive energy fueled by jealousy, ego, ambition, love and betrayal.
Choreographed by Shane Sparks with Director Robert Longbottom, most of the dancing is reminiscent of the go-go era with touches of Fosse arms and hips. There is a large hip hop number involving suits, vinyl records and brief cases that shows Sparks' work at its best. High energy crisp movement with fun patterning, the piece to Step Into the Bad Side is a highlight of the show.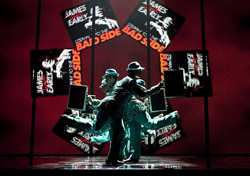 The set is simple, but brilliant, without need for anything else. The backdrop consists of huge screens that change colors and display moving imagery depending on the scene.  As much of the show is set on a stage, these screens cleverly rotate to give us the illusion of watching the stage from the wings when The Dreams, or other characters, are on side of stage. In perfect unison the choreography also rotates to gives us the side of stage view.
The three leading ladies of Effie White, Deena Jones and Lorrell Robinson played by Moya Angela, Syesha Mercado and Adrienne Warren respectively, are perfect for their roles. Moya Angela as Effie steals the show and blows us away with her powerful, roof lifting rendition of "And I Am Telling You I'm Not Going" to close the first act.  In the second act Syesha Mercado shows her talents with a beautiful, emotional rendition to "Listen" that gives us tingles. Chester Gregory as the sleazy and explosive James "Thunder" Early is comical, entertaining and an audience favorite.
I commend Broadway Across America for bringing the country's best talent out of New York theaters and into our cities for all to enjoy. Dreamgirls is a mature and hard hitting musical that will touch your emotions and take a piece of your heart.
Photos: Joan Marcus