By Deborah Searle.
JaQuel Knight is a choreographer in high demand. After winning an MTV Music Award for Beyoncé's Single Ladies music video, JaQuel hit fame, and at only 20 years of age the accolades keep coming. JaQuel's credits include Beyoncé's I am… tour, Britney Spears' Circus Tour and American Idol amongst others.
Dance Informa enjoyed asking the young dance prodigy a few questions.
What is your dance background/training?
I do not have a formal dance training background. I always danced as a kid, mimicking music videos in front of the television. I didn't start taking hip-hop classes until 2005.
How did you get your big break?
Big break?? I'm still not completely sure what my big break is. I assume Single Ladies is my big break. In a nutshell, I went to audition for Frank Gatson Jr. as a dancer for Michelle Williams, from Destiny's Child. I did the combo and slate and then was asked to freestyle in the genre of 'house'. I did that and Frank and Michelle both loved it. Later I was called to come in and give a few key steps/grooves, which led to co-choreographing the video We Break The Dawn. This then led to choreographing her promo tour. Then a few months later I received a call from Frank and he said, "Hey, I have this new Beyoncé song that I can't send through email. Are you able to fly to New York tonight?" The song was Single Ladies (Put A Ring On It) and since that moment I haven't stopped yet. Thank God!
You are known for your work with Beyoncé. What is she like to work with?
Beyoncé is such a great talent to work with. She's a choreographer/director's dream. Her passion, drive and hard work are all very inspiring and unreal. She pushes you to your limits as a creative artist and she will never settle for less. She expects her entire team to give their all, just as she does. She's great! I believe she is the first human robot to walk on the earth. I have told her this! And then she's funny and humble on top of all that!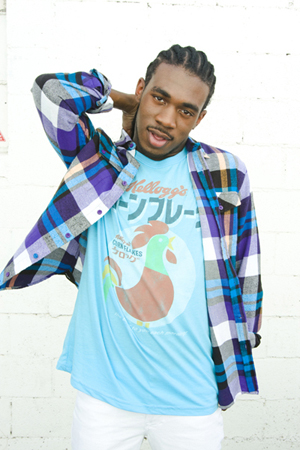 Do you first conceptualize Beyoncé's choreography and then take it to her directors for approval, or do you work with her and her team together to create the steps and overall look?
For video it all depends on the situation. For Single Ladies Beyoncé had the idea and concept in her head for the most part and I went in and made it hot and relevant. For Diva, we conceptualized everything and then took it to the director. With an artist like Beyoncé, there isn't a 'director's approval'.If she approves it, then it shall happen.
Tell us about winning your MTV Video Music Award. What was that moment like?
Oh my, I don't think I have yet to put the moment into words. It was divine. Something way above my own personal power and out of my hands. Definitely an amazing and great feeling! I shared it with my mother who at that point, I hadn't seen in a while because of my work schedule. I flew her out to New York to be with me for the weekend. She was able to be around and observe my work. I was doing interviews, teaching classes, handling rehearsals and hosting events, and she was able to see it, finally. That alone was an award-winning experience.
In general, how do you come up with your choreographic concepts/ideas? Do all the performers you work with give you total creative freedom, or do they tell you what they want?
I come up with my concepts/idea by sitting and being totally inspired by the music. I'm a former musician, so I believe in listening and obeying what the music tells you to do. The choreography is done for the most part; you just have to listen to the music.  Obedience and discipline are key.
For the most part, I usually have a fair amount of creative freedom. It all depends on my role on the project. You have some directors who have props and ideas worked out already and they want you to come in and make sense of their ideas. Or you may have a project where they may say, "JaQuel, here is the song. I want you to go for it and give me you". So it all depends on the project. But normally, at the end of the day when working for an artist, you want to bring their vision to life. When working for a director, you want to bring their vision to life. When you're the director you have then the power to bring your own visions and thoughts to life.
Do you select the dancers that you work with? If so, what do you look for in a dancer?
When I'm selecting dancers, I usually look for those that can make sense of it and just get it. It's more than the steps, that's what I tell dancers I work with all the time. I can care less about the step, but when you get it and can make sense of what comes from within, YOU ARE HOT! A dancer's job is to connect and make sense of the choreographer's feeling and emotion. Not to come in and do what they think it should be.
What projects are you working on at the moment?
I am currently directing and choreographing for an European artist by the name of Safura. It's something totally different than what people are used to seeing from me. It's a more contemporary and technical job than the hip-hop, pop world work I'm usually associated with. I am very excited about that. I recently wrapped the feature film Burlesque starring Cher and Christina Aguliera, which will be in the cinemas on Thanksgiving of this year.
You have tasted success at such a young age, what is next for you? What are your dreams/goals?
I'm working on my own company and t-shirt line, FIFTY413 (FIFTY413.com), which is to inspire, encourage, and impact the next generation, along with developing a foundation, under the same umbrella. It will reach out to kids in the arts in small towns. There are a few other things as well. I am directing all types of things, along with producing and developing shows for television. As you can see, there's a lot going on. There isn't enough time in the day. I'm looking to inspire the millions!
JaQuel is represented by MSA Agency www.msaagency.com and Xcel Talent Agency www.xceltalent.com