By Deborah Searle.
Jack Chambers won us over in the first season of SYTYCD Australia. The jazz and musical theatre performer was a standout, with his versatility, showmanship and infectious personality. So what has Jack been doing since winning the competition in April 2008? Dance Informa's Deborah Searle caught up with Jack in New York City to see what he's been up to.
Since being crowned Australia's favourite dancer Jack has moved to the big apple to pursue his Broadway dreams.  "The longest process for me was getting the Visa that I needed to be able to move here and work", he shared. "I'm here on a talent Visa. It's titled 'Alien of Extraordinary Ability'. Isn't that funny! I love to tell people that", he laughed.
So with his Visa now in hand Jack is taking on the theatre, one step at a time.  "Back home a lot of people don't realise that moving here was a fresh start. I have to kind of work my way up to getting into the industry. I'm getting there. I'm just trying to get my name out there and meet the right people", he explained.
So what has he been doing in his nine months in the US?  "Teaching has been my main form of income.  I am teaching at Peridance Capezio Center and Joffrey Ballet School. I also taught at East Coast Movement in New Jersey.  I choreographed a routine for them recently that they won with at the American Dance Awards competition and I got given a young choreographers award", he revealed.  "I've also just been in Michigan judging some competitions and teaching workshops".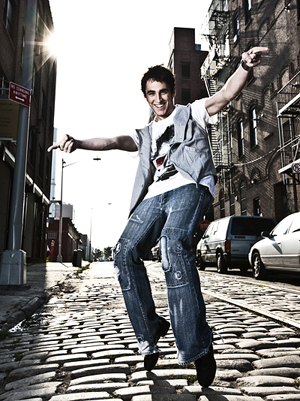 As Jack is now both teaching and taking dance class in NYC, I asked Jack about the best studios in town. "Peridance", he exclaimed. "Peridance Capezio Center has a lot of great technical classes and fabulous, spacious, new studios", he expanded. At Peridance Jack teaches a quirky and hard hitting jazz class three time a week, with two intermediate classes and one beginner.
But has Jack made it on Broadway yet? "I've been doing auditions", he said.  "In August, just after I moved here in June 2009, I auditioned for Wicked and they wanted me! They asked me to be in the show, but the Actor's Equity Union has very specific requirements regarding work visas. They would like me to have a Green Card because then I am a US citizen. There are ways around it, but it's a lot of paper work and time. So that was a big shame because I could have been doing a show, but at least it was a bit of a confidence boost."
However, Jack has been doing a lot of performing.  "I've worked with some pretty cool choreographers including Johnny P, the resident choreographer on the Regis and Kelly show, and Emmy nominated choreographer Brian Thomas, on gigs around the place and corporate events". 
And Jack has had a taste of Broadway. "I got to be a part of the creation of a new musical by Step Theatre Company called 'Katy Bridgewater'.  It's in the creative stages and we performed one act at Alvin Ailey Theater, which was fun. All the performers were Broadway performers and people in the industry, so it was great to be a part of that".
But has Jack danced on Broadway – yes! "I got to be a part of a Broadway Cares/Buick Commercial. A group of dancers and I performed in Times Square as the pre opening performance of Broadway on Broadway."
With some great experiences under his belt already, Jack has also just performed at the Kennedy Center in Washington DC. "I was asked to perform at the Spring Gala, hosted by Liza Minneli, where we opened the show with a performance of 42nd Street & then a Steam Heat routine. I worked with Josh Prince, the choreographer of Shrek the Musical, who has a lot of Broadway credits", he said excitedly.
Jack has even been working with Australia's ballroom guru, Jason Gilkison. "Burn the Floor were here for several months and at the same time Jason was also doing stuff for the American series of SYTYCD.  Jason used me in rehearsals before he went to LA to see how it was for a non ballroom dancer to pick up the choreography. I loved that, it was like I was having a private lesson with Jason." But working with Jason, did he get to see Burn the Floor? "I saw the show a million times and it was very successful. It made me very proud to be Australian", he gushed.
So what has been Jack's biggest challenge with moving to New York? "Other than the paperwork?" he jokes. Starting fresh and not knowing many people was Jack's biggest hurdle. Jack has discovered that he has to put himself out there and get known. "I came here not knowing many people and in America the attitude is different. I'm not one to talk myself up and put myself out there, but I've noticed that you have to do that here."
So what is auditioning like in New York? "There are always a lot of people and it's always in a tiny studio", he laughs.  "It's kind of intimidating because everyone knows each other, and they even know the choreographers auditioning. It is a big industry, but it's also small because everyone knows each other.  But once you're in, it's not as intimidating", he explained.
But if Jack could be in any musical, which one would he choose? "I would choose Wicked. I love the music, the costumes and the production as a whole.  Hopefully one day I can understudy Elphaba and sing 'Defying Gravity'", he jokes. "I would also love to be in West Side Story because it's really hard hitting and emotional dancing or in Hairspray or In The Heights. I'd love to be in anything, I just want to perform", he expressed. "I want to clear up this Green Card thing and be on Broadway, and I don't want to be just a dancer on Broadway", he made clear. "That's where I want to start because it's been a while since I've done some musical theatre, but in the city I really want to focus more on my singing and acting. I want to build them up more while I'm here and get more confidence with them and hopefully get onto Broadway. But I've got a really open mind to whatever comes. This city is so exciting! I don't know what audition I'm going to go for, or what's coming up next!"
But when Jack gets that Broadway role, will he ever come back to Australia? "Of course", he exclaimed. " I love it here, but I love home. I will always want to come back!"

Catch Jack at Peridance Capezio Center
Intermediate Jazz – Tuesday 9pm – 10.30pm
Beginner Jazz – Thursday 9pm – 10.30pm
Intermediate Jazz – Sunday 2.30pm – 4pm
Quirky with a funky twist incorporating quick, hardhitting, intricate moves fused with smooth flowing movement!www.peridance.com
Capezio will have a fantastic new store in the Peridance Capezio Center in the very near future. www.capeziodance.com