On June 1-3, the nation's largest Latinx cultural organization, Ballet Hispánico, will return to New York City Center. Dedicated to uplifting and celebrating Latinx voices, the company's program will feature a tribute to Ballet Hispánico's founder Tina Ramirez (1928-2022), created by William Forsythe, as well as works by Cuban choreographer Pedro Ruiz, Mexican American choreographer Michelle Manzanales and Puerto Rican choreographer Omar Román De Jesús in his first piece for the company.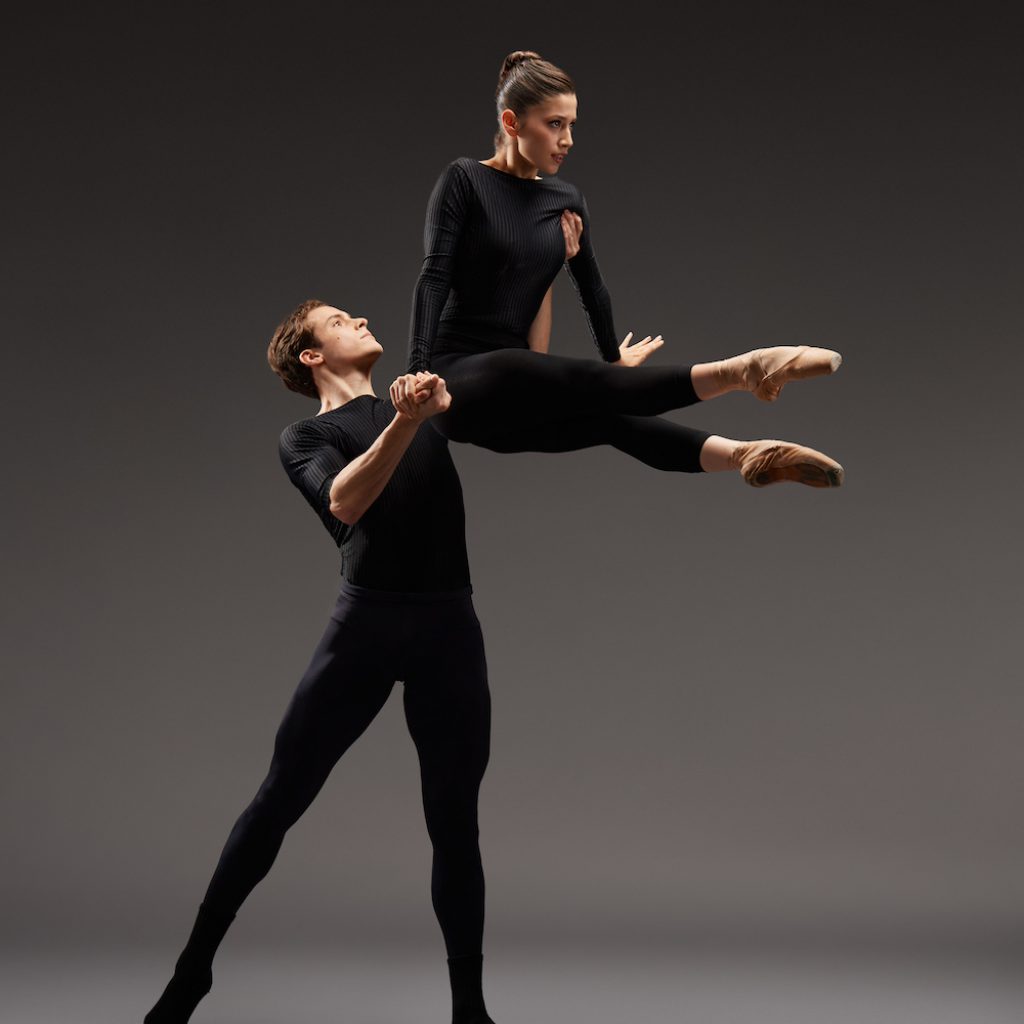 Dance Informa had the opportunity to speak with Manzanales and Román De Jesús, as well as Artistic Director Eduardo Vilaro. Read on to learn about their artistic backgrounds, creative processes, upcoming works and the Ballet Hispánico vision.
Born in Cuba and raised in the Bronx, Vilaro discovered dance during an eighth grade musical, which led him to start training in capoeira and ballet. "As a Latino and an immigrant, I was expected to be a professional, not an artist," he reveals. "It was hard to come out as an artist, especially as a dancer with all the associated stereotypes."
But Vilaro danced wherever he could, studying at The Ailey School and Martha Graham School, and earning a scholarship to attend Adelphi University. Vilaro learned about Ballet Hispánico while looking for auditions through the back directory of Dance Magazine. Upon attending a company class, director Tina Ramirez offered him a contract on the spot. "Because I wasn't done with school yet, she called the dean and organized a way for me to take classes while starting my professional career," he explains.
After years of dancing with and teaching for Ballet Hispánico, Vilaro moved to Chicago, for a master's program where he started choreographing more seriously and founded his company Luna Negra Dance Theater, which he ran for a decade before returning to Ballet Hispánico.
Michelle Manzanales' dance history overlaps with Vilaro's. Originally from Houston, Texas, Manzanales started dancing at a young age, following in the footsteps of her older sister. "When I was three, I choreographed a solo to a little Spanish song about a cowboy mouse," she recalls. "I brought my 45 record to my dance teacher, and insisted she sit down and watch my dance. When she said she only had a five-minute break, I replied, 'That's okay, it's only three minutes long.'"
Manzanales studied ballet, jazz and tap at her local studio, and then attended the University of Houston where she was exposed to modern dance. Upon graduation, she moved to Chicago, where she started working with Vilaro through Luna Negra and eventually became rehearsal director. After a stretch as Luna Negra's interim Artistic Director when Vilaro left, Manzanales moved to New York to join Ballet Hispánico as Rehearsal Director. She's been the school's director for the past six years, dancing, teaching and choreographing along the way. "It's my sanctuary of Spanglish," she says. "I feel at peace here. I don't have to put on a mask."
Choreographer Omar Román De Jesús has a dance history all his own. "I don't know why I like to tell this, but I remember myself at nine years old dancing in front of a mirror at my grandma's house to Shakira and Backstreet Boys cassettes," he shares. "One time, my mom walked in on me, and I was so embarrassed. But she recognized my passion for movement and asked me if I wanted to dance. At that time, I had no idea that dance was something you could train for or consider as a career."
Román De Jesús' training was initially commercial –– hip hop, jazz, talent shows dressed as Peter Pan and the likes. When someone recommended he start taking ballet, he was resistant. "Especially when I saw the dance belt –– I was terrified of it," he says. But he ended up loving it so much that he wanted to leave everything behind to become a ballet dancer.
At 15, Román De Jesús joined Balleteatro Nacional de Puerto Rico, and at 19, he performed his first contemporary work. "And that was it. I fell in love completely and started looking for contemporary dance opportunities everywhere in Puerto Rico. I soon realized there weren't many options. Even though I love Puerto Rico, I had to look outside."
He completed The Ailey School's two-year scholarship program in New York. "It was honestly hard for my ego," he admits. "In my bubble, I was rising as an accomplished ballet dancer, but at Ailey, I was placed in level one for everything except ballet. My reality suddenly shifted."
Román De Jesús' first choreographic work was for Ailey's student choreography concert –– a duet with his best friend. "We got a standing ovation, and I returned home with a rush of adrenaline," he recalls. "Since that moment, I've known I want to pursue choreography seriously." He then went on to launch his professional career at Parsons Dance.
Each of these artists' unique Hispanic identities is inseparable from their work.
"I think that all forms of identity frame your work in one way or another," Vilaro says. "Your cultural identity is part of your DNA and can be seen across many aspects of your creative process, from the way you manipulate gesture to the way you think about relationships. Identity and artistic identity are always inevitably interacting, even if you're not always doing culturally specific work. I like to work intuitively. My intuition is that I need to create work that speaks to my Cuban culture. There are so many important diasporas to represent, and it's important as the leader of a major dance company to create works that question existing narratives by bringing new narratives to light."
"Luna Negra was the first place that culture was connected to my art in such an intentional and spotlighted way, and my time there marked the birth of my investigation into how my Mexican identity shapes my artistic practice," notes Manzanales. "Growing up in Texas, in the '80s and '90s, the ethos was much more a push to fit into mainstream America than to celebrate your own heritage. Working with a company that centered contemporary Latinx choreographers awakened a connection I hadn't felt before. Choreographing Sugar in the Raw for Luna Negra in 2007, was my first time intentionally investigating the connection between my Mexican identity and my artistry. Years later, I see this connection as what allowed me to bring my full self into my art. It's been very freeing and cathartic to not feel like I have to censor myself."
"I was born in Puerto Rico. I was born queer. I was born male," says Román De Jesús. "All of these are part of who I've always been on this earth and will be with me until I die. I don't think to myself when I'm creating work, 'I'm going to make this very Puerto Rican' or 'I'm going to make this very queer.' Maybe one day I'll want to make work like that, but as of right now, my choreographic process is about getting in the studio with the dancers and learning who they are: their identities, their dance backgrounds, their individual gifts and also their weaknesses. All of those elements play a role in what world can exist. That's how I think about diversity. Yes sexuality, yes race, yes yes yes, but more than that. Not all Puerto Ricans are the same, and nobody has blatantly come to tell me, 'You have to represent all Puerto Rican people.' But the invisible voice says that's expected of you. I can only speak on behalf of myself and in collaboration with those inside the room. My perspective will come through as a result of that collaboration, and to me, that's more meaningful than trying to capture the complex and multifaceted identity of an entire culture."
Román De Jesús' Papagayos –– Spanish for parrots –– will make its world premiere at New York City Center. The piece is still in its beginning stages but will feature one papagayo –– a character that pulls the strings of humanity while simultaneously making fun of it in a control-based power dynamic that leans into the randomness and absurdity of a dream. "I've always wondered, 'What would I do if I choreographed for Ballet Hispánico?'" he shares. "I thought maybe it would be an opportunity for me to close a chapter. To wrap up the conversation of identity with myself. I feel like everything about artistic practice has centered around identity for the past few years, and while it's important and I entirely support it, like everything in life, we need to have the courage to evolve and change what we're talking about. It feels like my identity has become my own cage in a way."
Despite identity's propensity to trap, Román De Jesús says there's a palpable cultural net that unifies him with the dancers of Ballet Hispánico. "Ballet Hispánico makes space for representation rather than tackling diversity as a numbers game," he says. "When I enter the studio here, I know I will interact with dancers, administrators and leaders whose cultural competencies align with my own. If I ask a dancer to shout some phrase that sounds like a Spanish soap opera, that artist will likely understand the reference immediately and be able to engage in the task from a place of lived experience rather than guesswork."
Manzanales' Sor Juana will also have its world premiere in the company's New York City Center season. The piece tells the story of Sor Juana Inés de la Cruz, a Baroque period Mexican nun who was centuries ahead of her time in advocating for women's rights and education, and whose legacy continues to inspire countless people. "She's kind of like Frida before there was Frida," Manzanales notes. "Though she had many suitors, she was more interested in learning, having intellectual conversations, and writing poetry and music. She went into the church to escape the expectation of marriage, but –– rumored to have been a lesbian and very open and free –– she wasn't your typical nun. She often had visitors from high society to talk politics, arts and other 'worldly things.' It's been a fun process to not only think about her story but also the ripples that still flow from it."
But how does that turn into choreography? Manzanales' works often feature vignettes, and for Sor Juana, she's interested in creating an abstracted sense of time that will travel across the stage. One section draws inspiration from the personal stories of the dancers, and how they connect with the fight to stop trying to fit people into boxes. "We're also playing with a section called 'La Respuesta' because Sor Juana is known for her responses to different writings of the day by men. Those responses often got her in trouble, and ultimately led to her untimely death."
The piece draws on Sor Juana's original writings and compositions to highlight her complicated relationship with the church as a place that can be both oppressive and a place where someone can go for support and to be uplifted.
In the words of Artistic Director Vilaro, "Ballet Hispánico isn't just a company. It's also a school of dance and an equity warrior."
And according to Manzanales, Ballet Hispánico's 2023 New York City Center season will be one for the books. "This is my 13th year with the organization, and though we've performed there before, this will be our first season at City Center, which has been an organizational aspiration for quite some time. It feels extra special coming out of the pandemic; we can really feel the support from the arts community."
Román De Jesús reminds us, "Many of us choreographers spend a lot of our careers presenting in black boxes. Having my work placed in this scenario –– I don't know, it feels like I have to pinch myself a little bit."
Ballet Hispánico's 2023 New York City Center season runs from June 1-3. For tickets and more information, visit www.nycitycenter.org/pdps/2022-2023/ballet-hispanico.
By Charly Santagado of Dance Informa.