San Jose Dance Theatre Company is excited to relaunch live theater with the classical ballet, A Midsummer Night's Dream, choreographed by Artistic Director Linda Hurkmans. The ballet will premiere at the Montgomery Theater in San Jose, and will also tour to the Cabrillo Crocker Theatre in Santa Cruz.
The company is excited to be touring for the first time in its recent history with this exquisite production. Audiences are certain to be delighted with the ballet's humor and beautiful dancing.
Based on the play by William Shakespeare, the ballet is set in Athens, and is a twisted adventure of numerous tales. One follows the conflicts of four lovers that revolve around the marriage of Theseus and Hippolyta. Another follows a cluster of amateur actors rehearsing a play which they are to perform before the wedding. Both groups find themselves in a forest inhabited by fairies who manipulate the humans and are engaged in their own domestic intrigue.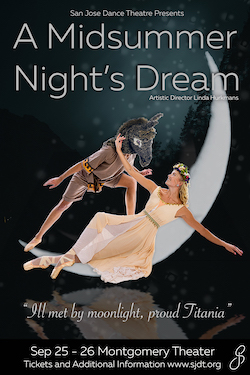 One of Shakespeare's most popular and widely performed productions, San Jose Dance Theatre will reimagine it for the classical stage. Set to Mendelssohn's A Midsummer Night's Dream score, Hurkmans encapsulates the magic in her own choreography.
"I have always wanted to bring such an iconic production to San Jose, and am excited to also showcase this ballet for Santa Cruz audiences," Hurkmans says. "Mendelssohn's score for A Midsummer Night's Dream has always inspired me as a choreographer. The score truly captures the story and provides an ideal backdrop for classical movement."
A Midsummer Night's Dream launches San Jose Dance Theatre's 2021-22 season and its new touring program. The 2021-22 season will also include San Jose Dance Theatre's 56th production of The Nutcracker in December, the second annual production of Innovation in February 2022, and the full-length The Sleeping Beauty in June 2022. In the coming years, the company will build on its touring network across the San Francisco Bay Area, bringing ballet to regional communities.
A Midsummer Night's Dream is playing at the Montgomery Theatre, San Jose, from September 25-26, and the Cabrillo Crocker Theatre, Santa Cruz, on October 2. For tickets, visit www.sjdt.org/season-2021-2022.