Before the initial lockdown happened in March 2020, dancer Hannah Bush had been looking for a change. She had been freelancing in NYC for five years and also spent significant time all around Europe, China, Africa and Canada. She was satisfied, although certainly not ready to stop dancing, but the freelance life just wasn't cutting it anymore.
And, with the pandemic halting much of artistic life, the freelance life for most artists just stopped. So, Bush took this time to make her change. She moved to Hartford, CT, in the summer of 2020, and found Ballet Hartford. She started as a company dancer, just as the company was beginning to return for in-person classes and rehearsals for its fall season, and then soon took on the role of company manager as well. So here she was, a 29-year-old who was living her dream amidst a pandemic.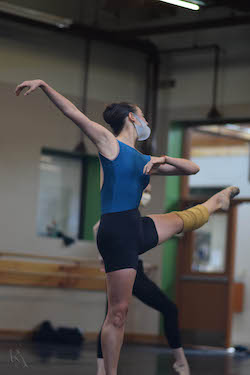 At the same time, Leyna Doran was starting her second season with the company in the role of artistic director. She had started dancing with Ballet Hartford at the company's inception in 2016 (it was founded as Vivid Ballet and rebranded as Ballet Hartford in 2018), and was promoted to principal dancer and ballet mistress in 2017. In 2019, Doran became the company's artistic director, while still performing. And now, this 29-year-old was also living her dream, even during a very strange and uncertain time in the dance community and world at large.
So, at a time when many artists were out of work, performances around the globe were canceled, and most dancers wouldn't be stepping foot in a studio for months, Bush and Doran were holding the reins of a dance company, and taking class, rehearsing and performing.
So what has it been like navigating a social, performing art form during a pandemic, and how do they feel about being so young and in charge as they do so?
At the start of the lockdown, Doran says Ballet Hartford was in the midst of preparing for its spring repertoire bill, having just worked with a few guest choreographers, and was a week out from performing at its first spring festival in Ulster, NY. But those spring bookings were canceled, and, noting the gravity of the situation, the company switched to virtual classes and rehearsals.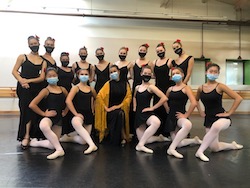 "It was a surreal time," she says, "seeing everything shut down, taking class at home, spending so much of the day on screens. With all my normal daily occurrences on hold, I felt like I was stuck in limbo – unable to plan for the future and hungry to help the hurt around me. The lockdown gave me time, a commodity I typically never had enough of! I had time to process, play with the art form in the confines of my kitchen, let go of unrealistic ideals of success, and find joy and humility in little movements."
Ballet Hartford began to hold in-person company classes and rehearsals this past fall at the start of its 2020-21 season. Each day, dancers self-monitor for any COVID-related symptoms before coming in to the studio, temperatures are taken, records are kept to track each individual's schedule, dancers are socially distanced, everyone is masked at all times, and the studios are cleaned daily. The company's home studio at The 224 EcoSpace is a large space, and the company is on the smaller side, so the group has been able to safely hold its normal schedule of classes and rehearsals, along with four small performances. Doran and Bush say they are grateful they're able to be back in the studio.
"My experience has felt so purposeful and fulfilling," Bush reveals. "I know this is where I am supposed to be right now. The pandemic has given us all a chance to take a step back and reevaluate. As much as I love to dance, I know that I want to be a part of building something bigger than myself. In many ways, this whole experience is a gift, and I want to do my very best work and give back."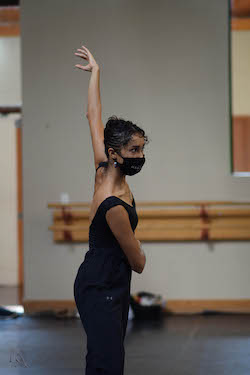 Wearing her company manager hat, Bush does much administrative work and attends weekly networking meetings with other local businesses. She also works with the company's Pre-Professional Division, teaching the students, organizing the schedule, emailing parents, tracking staff hours, collecting payments, and assisting in organizing shows and guest teachers.
As Artistic Director, Doran plans the company's direction for upcoming seasons, selects guest choreographers, looks into performance opportunities, oversees and leads daily class and rehearsal schedules, communicates with the Board of Directors, interacts with invested members of the Hartford community, manages interpersonal relationships between the company and Pre-Professional Division, and chooses faculty and staff.
"I never thought I'd be leading a company," Doran shares. "My desire has always been to just dance! Although the opportunity to be artistic director caught me by surprise, I am very thankful for the many humbling life lessons it has taught me. Both Hannah and I are eager to learn, eager to grow and eager to continue on in spite of the many challenges the pandemic brings."
"Leyna has done a fabulous job of cultivating an environment of excellence, hard work and joy," Bush says. "The Ballet Hartford dancers and faculty are committed to maintaining this high caliber and enjoyable space. From a leadership angle, it's rewarding to see the fruit of our labor. Leyna and I often pause to remind ourselves of how far we've come in such a short time, during a pandemic nonetheless! It's important to celebrate the progress and then of course get back to work!"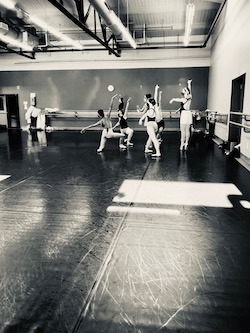 Doran and Bush are hard at work keeping the momentum going as they plan Ballet Hartford's spring season, including performances, video and photo shoots at Connecticut landmarks and estates, in-studio showings, open rehearsals, and residencies with guest choreographers. They are continuously networking and forming relationships for new collaborations. This May, for instance, Ballet Hartford will collaborate with a cappella group The Yale Alley Cats and choreographer Danielle Diniz for a premiere. And the company will also be building on its partnership with The Hartt School. In addition, auditions are being held for the professional company's 2021-22 season and the annual summer intensive, featuring guest faculty members Diniz and New York City Ballet's Daniel Ulbricht.
A year ago at this time, no one saw how life was about to be flipped upside down. And while at the onset of the pandemic, things perhaps didn't go just as Doran had planned, or Bush's career completely took a different turn, both women are now thriving, making things happen and realizing their dream, and both at such a remarkably young age.
"It's okay when life doesn't go according to plan," Doran says. "I had the hardest time with this at the beginning of the lockdown when all my plans were completely upended. There is a reason for everything, and cultivating a peaceful mindset in spite of uncertain circumstances really builds character traits needed to make it in this art form long-term. The pandemic has taught us how unpredictable life can be. Practice finding joy and gratitude in the present moment."
For more information on Ballet Hartford, visit www.ballethartford.com. You can also follow the company on Facebook and Instagram: @ballethartford.
By Laura Di Orio of Dance Informa.