Gabrielle Johnson is the founder, director and choreographer of Gabrielle Johnson and Artists. Armed with a BFA from Alonzo King LINES Ballet at Dominican University, and an MFA from New York University's Tisch School of the Arts, Johnson started her own company, and has been popping up all over the New York dance scene ever since. In a time that's been particularly financially difficult for the arts, and in the New York market infamous for its quantity and intensity of competition, Johnson discusses how she's gotten her company to keep growing, succeeding and performing on stages that host the best and brightest.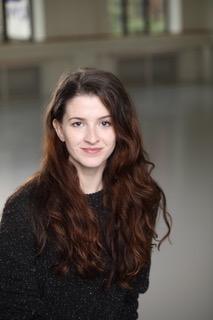 What made you decide to create your own company?
"I came to New York to receive my MFA in dance, and after completing the program, I felt like I had the tools to keep creating and to get my work seen, to become more a part of the dance community here."
What difficulties did you anticipate? What has surprised you?
"In a broad way, I knew that it would be hard to do this. To figure out how my work and I fit into this city, and more importantly to continue to find my voice as an artist and sustain the process of creation and everything that comes along with it. Being in New York is a double-edged sword, because there is so much opportunity here. There are always mixed bill shows, residencies, grants, feedback programs, festivals, collaborations and showings to apply to or be a part of. The issue I ran into about a year-and-a-half in though, was feeling like even though I was privileged enough to be able to take advantage of these things, they at the end of the day were one-off experiences, and ones in which I sort of had to have in a vacuum. Of course, working with my dancers is the greatest gift and sense of community in this journey, but I started to crave more structure, more support and more collaboration. I'm starting to dig into my 'why': why am I creating, why am I contributing to this industry/community and why is my voice important at this time. What I didn't expect was that I would be so inspired by the artists I've worked with and seen here, that I would be led to create a company with a stronger, broader mission — to rethink what it is to have a dance company. That has been a huge challenge and continues to be rewarding."
How do you go about finding dancers for your works, and what does it feel like to be on the other side of the audition table?
"I've been very lucky to work with incredibly talented dancers. Most of them have come from my connections at New York University, where I received my MFA. I rarely hold formal auditions, but work from word of mouth and by seeing who other choreographers I respect are working with."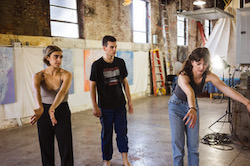 What skills have you had to learn on the fly?
"I've needed to learn how to manage my time and money in a very specific way. I'm still learning, and have made mistakes, but I'm aware that the admin-type work is extremely important and helps me to feel safe inside of my creative process. I've learned to balance my planning and my spontaneity to serve my work in the best possible way."
You've performed at industry renowned venues like Gibney and the Peridance Capezio Center. How does it feel to have your work shown in famous spaces that have housed famous works?
"It's always nice to have my work seen. I was very proud of the piece that I made for Gibney's POP program, because it was my first full-length work and really pushed me. Gibney and Peridance also host showcases for the annual Association of Performing Arts Professionals (APAP) conference, showing handpicked works to dance industry leaders from around the world."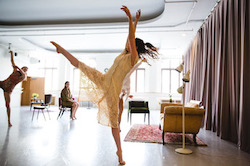 How do you gain traction for your company, and find festivals and stages at the levels you've achieved?
"I am still figuring this out! Maintaining good relationships with my professors and fellow students at NYU has been huge. Meeting with them and getting advice or simply just talking about what I'm trying to create has been invaluable to keep me motivated."
What kinds of resources should other dancers considering creating their own companies be aware of?
"Dance/NYC, Res Artis, DancingOpportunities.com, Pentacle.
Having a mentor, a friend who you look up to, or someone like a therapist or life coach to keep you connected to your goals and dreams (while working through the things that may hold you back or frustrate you) is also super important."
Keep updated on Gabrielle Johnson and Artists at gabrielleandartists.co. You can follow Johnson on Instagram: @gabbiejohnson.
By Holly LaRoche of Dance Informa.