September 19, 2020.
Streamed on YouTube.
Ramapo College's Berrie Center presented the first act of its livestream broadcasts spotlighting New Jersey-based artists this Saturday. The performance included five pieces from the Nai-Ni Chen Dance Company, alongside works by poet Marina Carreira and performance artist Christy E. O'Connor.
Nai-Ni Chen's works were an accumulation of pieces put together throughout quarantine, capturing the progression of life and art at home over the past few months. "Right from the beginning, I knew we had to keep working together, to stay connected," said Chen in the post-performance Q&A. Throughout the broadcast, we see dancers in isolation, in backyards and outdoor spaces. A dancer holds a water bottle as they carve through space, sending arcs of water extending from the shapes of their movements.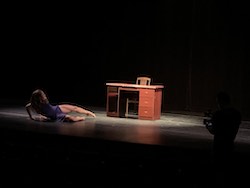 One piece revolved entirely around a desk (a space so many of us find ourselves endlessly occupying at home lately), and others made clear that their subject was only the quality of movement, a rolling articulation, like a love letter to moving bodies.
As it became safe and possible to do so, the company filmed the later works in an empty theater. In these pieces, you can't help but feel like the dancers are returning home with a renewed appreciation for the stage, as a space made for movement. Witnessing dancer Yuka Notsuka perform Emissary of Light, she takes up and moves through the space around her consciously, almost reverently.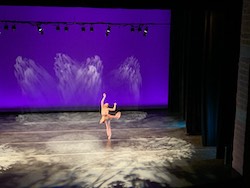 As resourceful as dancers have been over the past few months, dance fits in that space the way it doesn't quite anywhere else. No furniture to kick, no concrete or carpeted floor. Chen reflected on returning home to the stage, despite the empty seats, and noted how she misses hearing the audience beyond the curtain chatting and laughing before starting, and how that builds nerves and excitement in the performers. "I encouraged my dancers to send that energy beyond the walls."
If you'd like to tune in to the Berrie Center's livestream next week, catch Mignolo Dance and The Moving Architects as well as spoken word artist Dimitri Reyes here at 8pm EST on Saturday, September 26.
Support this and future performances presented by the Berrie Center by making a donation to the Contemporary Arts Fund or the COVID-19 Student Emergency Fund through the Ramapo Foundation, here.
By Holly LaRoche of Dance Informa.