Natalie Reid is kicking up her heels in her ninth Christmas season with the Radio City Rockettes. As a longtime Rockette veteran, Reid has grown to love her crazy busy schedule during the last three months of the year. Have you ever wondered what a typical day in the life looks like for a Radio City Rockette during the holidays? Dance Informa was able to chat with Reid between shows to get the inside scoop about what it's really like to be a Rockette.
"Let's start with rehearsals," says Reid. "Before the show opens, we rehearse six hours a day, six days a week, for six weeks!" It's an intense rehearsal process, but the finished production is nothing short of spectacular — Christmas Spectacular!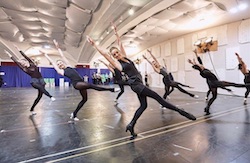 After hours of tech rehearsal (cue lights, live orchestration, costumes, live animals and all the other technical magic of Radio City Music Hall), Reid and her fellow Rox open the show!
Now that the Rockettes are officially "in season," here's what Reid's typical day looks like:
Rise and shine!
There are two casts of the Christmas Spectacular — Blue and Gold. Reid is part of the Blue cast, which means she usually performs in the morning/early afternoon. "I typically wake up pretty early and have a good breakfast to get me going," she says. "My go-to is a whole wheat bagel with peanut butter and banana because it's a good mix of protein, fats and carbs."
Arriving at the Hall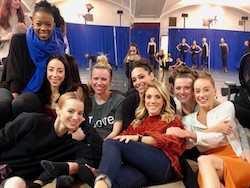 Reid has a lot to do before her first show of the day (usually around 11am) — warm up, apply makeup and wrap her red hair into a sleek French twist. "There's so much for the audience to experience at the Music Hall before the show, too," Reid describes. "There's a lot to do and see. You can even take a picture with Santa and a Rockette."
Warm-up time
Warming up is so important for the Rockettes, who kick nearly 200 times per show. "I'm a huge fan of active stretching," says Reid, who has her personal training certification. "Understanding strength training and proper warm-ups made a huge difference in my body and how I execute movement."
Showtime!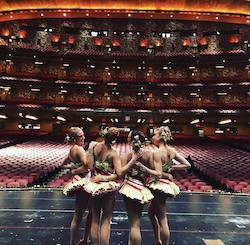 The Rockettes (each cast) perform between two and four shows a day. During their busy season, that's up to 17 shows a week! "This year, my favorite part of the show is what we call the 'Rockette reveal' in our finale number, 'Christmas Lights'," explains Reid. "The curtain opens, and the Rockettes come down on a 12-foot elevator. We feel like rock stars!"
Break time
After the final curtain, the Rockettes have between an hour to an hour-and-a-half to relax and prep for their next show. "I head up to the Rockette room," says Reid. "It's important to eat healthy and hydrate between shows. We also roll out our muscles and listen to notes from our dance captain during our break."
Squad goals
A Rockette dressing room houses eight women from each cast. "Your dressing room becomes your family," Reid describes. "I love our Secret Santa exchanges, dressing room dinners and decorating our mini Christmas tree together."
Self-care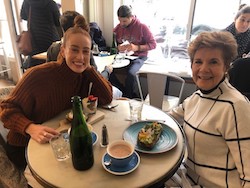 The Rockettes have their own staff of athletic trainers who are available on the sides of the stage during performances and in the athletic training room both before and after shows. "They have everything we could possibly ask for," Reid explains. "The facility was founded by a former Rockette, so they know our unique needs. We have foam rollers, massage tables, toe tape stations and ice baths!"
Post-show plan
"After a long day, I try to rest my body. I like to unwind with a glass of wine," says Reid. "I also definitely watch more movies on the couch this time of the year!"
She adds, "The average day of a Rockette is incredibly special. You wake up, walk to the Music Hall, and share in so much joy that is happening around you. Every single audience member comes in with excitement and leaves with a sense of awe. It's amazing to be a part of that."
For tickets to the Christmas Spectacular and more information about the Radio City Rockettes, visit www.rockettes.com.
By Mary Callahan of Dance Informa.