From stage to screen, Dance Informa talks to Brittany Riddle, LA's dancer and choreographer for Sherman's Showcase as seen on IFC Network – a comedy television series created by Diallo Riddle and Bashir Salahuddin, documenting the history of a fictional and popular variety show, the who's who in music and entertainment.
You've had a busy and exciting year choreographing for Sherman's Showcase. Tell us about the show and how dance is incorporated into it.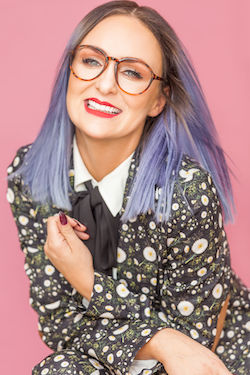 "It's been quite a year. Sherman's Showcase documents a fictitious variety show that had a 40-year run. Inspired by shows like Soul Train, Solid Gold and In Living Color, there is a cast of dancers on the show who star alongside the host, Sherman (Bashir Salahuddin) and Producer (Diallo Riddle). We are very proud of having a show that puts the dancers in the spotlight as main characters, as opposed to being in the background. We get to know them as characters, which is really fun."
How many episodes are there, and what was the planning process with regards to incorporating your choreography and dance pieces?
"There are eight episodes. Right from the beginning, I asked the dancers to do some homework and peruse YouTube for clips from Soul Train, Solid Gold, In Living Color to get a feel for the vibe. As far as incorporating choreography goes, I really enjoyed this because everything that we did was to compliment the scene, plot or song. Thankfully, the original music from Sherman's Showcase is not hard to dance to, let alone get out of your head."
What were you looking for when casting the dancers? What was your approach for this?
"The dancers on the show included a lot of people I have danced with over the years, but we had an audition to fill in some blanks, and boy did we find some gems! Since we wanted to give the dancers lines, it was really important that we knew they were naturally funny and had a good vibe. So we had an interview on top of the dance portion which is unusual, but we were more than happy with the results!"
The choreographic and rehearsal process on set is always a collaborative one. Who else was heavily involved?
"Yes, it was very collaborative! One of the dancers, Kentrell, helped with the intro, especially with the partnering. I also met with each dancer to talk about their strengths and constructed their solos, so they had a lot of input. Practicing with the wardrobe and props during rehearsal was crucial so that all of those factors worked together when we filmed."
How much time did you have to prepare, and how do you ensure a successful outcome?
"I had lots of time to do the research because Diallo (my husband) and I have talked about the show since its inception. I went to the writer's room with some ideas for the dancers, so, in that sense, I had more time than most. But getting the music and figuring out exactly who was doing what was a pretty fly-by-the-seat-of-your-dance-skirt type of situation."
For those yet to see the show, what styles can people expect to see?
"Everything from '60s-'70s jazz, a sexy gospel number (you heard that right…. 'Drop it Low for Jesus' was a hit!), a seven-second Janet Jackson Rhythm Nation parody, a 'Space Band' led by Ne-Yo with a signature move, a tap solo, a black William Wallace doing some 'Scottish' dancing, a Vegas-style show girls number, a touch of contortion and so on and so on. Basically, we got to have a lot of fun."
How has your training influenced this? And who has been a big influence in your training?
"Besides my parents who bought me the dance lessons and drove me to the studio and encouraged me every day, I think my biggest influence was my high school dance coach, Leslie Dahl. I grew up in Juneau, Alaska, which is a very small town, and without her, I don't know if I would have ever been able to realize I could actually do this professionally. I mean, we were this little town and this team was winning National and International championships; we were even on ESPN! It was insane! Leslie would bring in many external choreographers to our program, but she also gave us opportunities to choreograph ourselves. That's where I learned how to organize my thoughts and create formations and where I truly learned what I aesthetically liked out of a piece or a frame. I also learned how to clean under her regime and, although that wasn't really applicable to Sherman's because things were a tad messy (on purpose), it definitely has and will continue to serve me well in my future."
What differences are there when choreographing for the screen, as opposed to the stage?
"The two are night and day. During a live show, I'm mostly in control of the visuals. On screen, there are so many other collaborators (directors, editors). If there's a disaster, you can always start again when it's on screen. Live, you've got to just grin and bear it. They are both great and challenging for different reasons."
How many cameras were on set? Were you working primarily with locked off shots? Or a mix or moving cameras (pans) and jibs? Did you have to cater your choreography, or was the lead taken from you?
"Every song and sketch were different. We had three cameras with tons of movement, which was fun. There was one scene (the opening) where the dancers were heavily prominent where I had more say in what the cameras were doing. But for the most part, we catered to the scene. Our Director, Matt Piedmont, was so easy to work with. He really appreciated what the dancers brought to the show, and you can see that in the final outcome. There was a lot of trust there."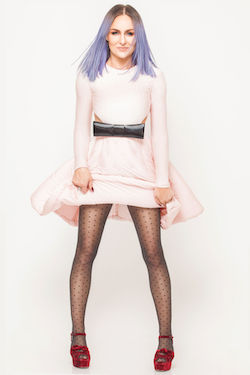 What considerations did you need to make when it came to framing?
"The intro we did on Episode 1 is the strongest example I can think of when it comes to framing because it's the only piece where we used all 20 dancers. There was a lot of 'in-and-outs' and moving parts that we needed to make sure everything had a moment, and it all fit."
Tell us a little about the collaboration with the wardrobe, lighting and music department? How did it all tie in together?
"Since we were working with so many different genres, decades and styles, and using 20 dancers with varying strengths, it was important to collaborate with the wardrobe department. For example, we didn't want dancers doing a lot of leg work while wearing '70s skirts. Lighting and music were less complicated but equally important. Thankfully, every department brought their A-game, and we had incredible original music to work with!"
How would you describe your time working on the show compared to other projects?
"I think the vibe we created on set was unique in that it really felt like a family from the beginning. I know this isn't uncommon, but what brought us together was knowing that what we were doing was culturally important and significant. To have an almost all African American cast and putting that point of view (spread over 40 years) on television is something we are all proud of and something the world needs more of. This is a show that is funny for everyone but also has some very important things to say, and I'm honored to be a part of it."
Would you say it has influenced you as a dancer and choreographer? What have you taken away from all of this?
"Absolutely. I fell in love with dance again. Not that I ever fell out of love, but I shelved it to have my third kid, so this was just what I needed to dive back in. It gave me the opportunity to diversify and brush up on some old styles given that we were working in four different decades. Have I mentioned we worked in four different decades?!"
When looking back, 2019 has been a big year! What other events/projects have you been involved in?
"Well, I am not directly involved, but Diallo and Bashir also have another show called South Side on Comedy Central that debuted around the same time as Sherman's Showcase, so that was wild. It's a brilliant comedy and so, so, so different from Sherman's, but both shows are very much family (and they both happen to have a 100 percent rating on Rotten Tomatoes, which is exciting)."
What other collaborations can we expect to see in 2020?
"For now, I'm keeping my options open and continuing to train, collaborate and write down random ideas for a potential Season 2 (fingers crossed). But looking forward to the future!"
You can follow Brittany Riddle on Instagram: @baariddle.
By Renata Ogayar of Dance Informa.