Norwegian Creative Studios, the in-house entertainment division of Norwegian Cruise Line, recently opened its brand new production of Footloose the Musical on board the Norwegian Joy. Choreographer Nick Kenkel worked with the production team and director David Ruttura to retain the high energy of the original movie while getting to the heart of the story and the gritty determination of its central character, Ren McCormack. Dance Informa spoke to Kenkel about his experience and the challenges and triumphs of working on such a unique project.
Kenkel first tells us a little about his unique start in dance. "I started out as a little Michael Jackson impersonator with no training whatsoever, in a small country town in Indiana," he reveals. "My mom actually tried to get me to take ballet as a kid, but I thought that was crazy because I didn't know any body who danced, so I never did it. Then in college, I fell into auditioning for a dance company. I actually went to morally support another friend who was auditioning, and then I was pulled into the audition and I got in."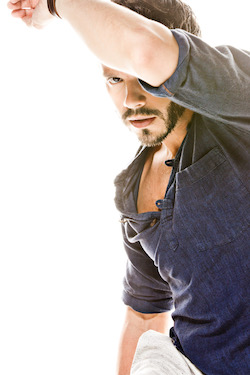 He continues, laughing, "I actually tried to get out of it because I was in the intense honors business program in college, so I didn't have a lot of time. And the artistic director, to her credit, would not let me drop it. So I really kind of owe her my career to this day!"
After dancing with the company for three years, Kenkel moved to Chicago, to work with the number one accounting firm in the world. His love of dance hadn't disappeared, and he began to attend classes on the side, even taking a leave of absence from accounting work to attend the summer program at Alvin Ailey. A move to New York and the shutdown of the firm he worked at due to the global Enron scandal led to a chain of events that pushed Kenkel into finally taking dance seriously. "I remember thinking, 'I'm just going to take vacation and dance for the year and see what happens,'" he says, "and in theory, I've never gone back. That was 2001."
His transition into the role of choreographer happened naturally. "In college, a couple of us in the company pitched an idea to a local club that I would choreograph numbers with a crew. I think we made $80, but we got to drink for free," he laughs. "Later, I met Broadway's Jerry Mitchell doing a movie, and he told me about a burlesque show he does every year called Broadway Bares and that I should volunteer to be a part of it. So I did, and eventually I pitched to him that I choreograph a number for the show. Ever since then, I've been choreographing for Broadway Bares, and I became his assistant choreographer and associate choreographer many times and then co-choreographer on a couple of projects. He's been a mentor to me to this day."
Kenkel has since choreographed everything from music videos to musicals and everything in between. Kenkel's agency (MSA) submitted him to choreograph Norwegian's production of Footloose, and he met with director David Ruttura to discuss the project. "I can be very opinionated as a choreographer because I direct myself," says Kenkel, "but we bonded right away. He is a little younger than I am, but I remember the movie coming out in '84, and it just revolutionised pop culture, especially for a small town Indiana boy like me. I've always loved the name and the property, and David and I got along really well. I thought it would be an awesome experience."
Kenkel's approach to this version of Footloose for Norwegian Cruise Line was to protect the original intent of the movie, and weave in contemporary elements where it made sense. "My formative years were the early '80s, when soundtracks were a big deal and music videos took off," explains Kenkel. "Michael Jackson's 'Thriller' and Pat Benetar's 'Love is a Battlefield', with the infamous dance wedge, all of that influences my choreography to this day. I basically approached this project by picking a seven-year range of the '80s and watching a lot of old videos and moments on Solid Gold."
He goes on, "In general, I always try and pay tribute to the time period but also update things, because I feel like if I don't do that, it would be a mistake. Things evolve and dance gets better, so you need to include some contemporary moments. But I try to do it under the lens of paying tribute to the time period or the original intention of the music. For instance, the opening sequence is about individuality and not being able to express yourself, so the number I choreographed pays direct tribute to the movie where you see everyone's feet doing different dances. It's actually one of my favourite openings to a musical ever. But I tried to make the dance come out of a grittier place, and a slightly sexier place, because that's my aesthetic anyway. I think dance is a form of expression out of anger and lust, so I always try to be true to that."
There was also the challenge of choreographing for characters who aren't necessarily supposed to know how to dance. "A lot of the movement had to be subtle," explains Kenkel, "and we also incorporated props. There's a number that happens while they're all in gym class, so by virtue of Ren dribbling a basketball and jumping rope, he gets every body to move in a frenzy that's really exciting. It couldn't just be a dance number for the sake of dance, so I worked pretty hard at trying to make sure the dance made sense with the storytelling."
Choreographing for a cruise ship was never going to be quite the same as creating something for a traditional theater, but Kenkel wasn't fazed. "There are some things that I made easier because I do know it's a cruise ship and we're competing against a buffet," he laughs. "I tried to keep it a little light and bubbly, and also include some moves that were a little repetitive that an audience member could actually see themselves doing if they were to get up and join in. I tried to have enough of that in there to make it light on its feet when it needs to be. And you can't have huge set pieces on a show like this because there's no room on the ship, so the dance elements really had to keep everyone's attention going for a long time. But it was my first cruise ship experience, and knowing that the cast is going to change over every six months was the craziest part."
Luckily for Kenkel and the team, the rehearsal process went fairly smoothly, albeit with minor challenges. "Norwegian really supported us with having almost a direct replica of all the set pieces we would be using in the rehearsal room," he explains. "Once we got to the stage, we were pretty much prepped. The whole thing with the ship listing to one side was a brand new concept for me, though. The ship was also in dry dock, which was a challenge. I was sort of prepped for it, but they were always checking the sound system and testing the radios on the ship, so it was really a unique process. We had unfettered access to the theater, which is better than being on a revenue cruise, but at the same time, we were dealing with sawdust in the air and paint fumes because they were building the ship as we were sailing. It was very interesting."
The ultimate reward, of course, was a successful opening night."Opening night was really great," Kenkel shares. "It's not like a typical opening night that I'm used to because it was on a ship, so it was a lot of industry people, credit card companies and travel agencies that were on board to see the new Joy. But in general, it was really boisterous, and the cast had a great time and we were all very proud of the opening." 
The show continues to be received well, and Kenkel is particularly excited that Norwegian Cruise Line is challenging its audiences with storytelling musicals like this one."I think Footloose is, at its heart, a drama, and possibly a lot of people come to see it and might not be expecting that it will pull on the heartstrings and have some dramaturge moments in it," Kenkel says. "I'm glad they are asking their audiences to step it up, too."
Kenkel is most proud of the show's finale. "I think the final number itself is one of my best. The whole show leads up to last song of the evening, so there's actually a lot of pressure that it has to be good," he laughs. "I think it's one of the best numbers I've ever done in terms of building levels into it and making sure there's a big payoff at the end. We have the whole cast dancing on stage for a lot of it, and it's really exhilarating."
Since opening Footloose, Kenkel remains as busy as ever. "I just finished Broadway Bares New York, and we raised over $2 million, which was a big record," he says. "I also choreographed a piece for Life Ball, Europe's biggest Aids fundraiser, and it was huge success. I'm going to be working on a new production of The Bodyguard in Boston, in October. I have to do a lot of prep work for that and work out how to make that happen on stage, in the round. I'm going to make it a love letter to Whitney Houston. I absolutely love her, and I'm going to make it all about her, the music and how that movie captured a moment in time."
Kenkel is also preparing to be part of the next round of Footloose auditions. "We're going to start auditioning now for cast 2.0, and I'll be a part of that with the original team," he explains. He's also hoping to work with Norwegian Creative Studios again on more projects in the future. "Footloose was an awesome experience. I was really proud of the work, and gracious that the work came to me."
To find out more about auditions for Footloose or other Norwegian Creative Studios productions, visit www.norwegiancreativestudios.com. Learn more about Nick Kenkel at nickkenkel.com.