Só Dança is feeling merry and bright this holiday season, and to help spread the cheer, the beloved dancewear and dance shoe company has decided to giveaway a cozy Winter Warm-Up Outfit to a special Dance Informa reader!
Só Dança Marketing Coordinator Carolynn Rowland said, "Our Só Dança team loves spreading holiday cheer! During this season there is so much giving and we want in on the fun."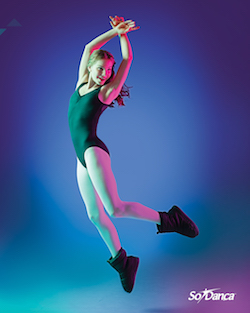 The giveaway bundle includes a pair of the popular Nylon Warm-up Booties, the practical Zip-up Microfiber Jacket, and the classic Microfiber Track Pants. Altogether, this giveaway bundle is valued at $127.
Rowland said, "These winter bundle items will most definitely keep you warm during these next couple of chilly months. As dancers it is so important to keep your muscles warm to prevent injuries; these booties and warmup staples are just the right items for you!"
The nylon bootie supports both indoor and outdoor wear with its water resistant upper and EVA outsole. Need to run in and out of the studio? No problem! These booties help protect your ballet shoes without any hassle.
The microfiber jacket combines breathability and comfort to make it a reliable wardrobe item. With an athletic edge, it's ideal for the multi-tasking dancer on-the-go. 
Pairing with the jacket perfectly, the warm-up pants feature an elastic waistband and bootcut leg opening. A stylish and comfortable choice for movement and functionality, these will help you practice hard and cool down with ease.
To enter to win, email info@danceinforma.com with the answer to this question: Where will you wear your winter warm-up outfit to? This giveaway is only open to dancers residing in the U.S. Title your email entry "Só Dança Holiday Giveaway" and include your full name, your date of birth, your mailing address and your contact number. This competition opens Thursday, December 13, 2018, and closes Friday, December 27, 2018.