I cannot get over how cool these backdrops are. One of the newest, easiest, coolest waves of technology in backdrops has arrived! Grosh Backdrop's latest product — digital backdrops. Hundreds of options, easy-to-use with an app, and you can change your backdrop with as many dances as you want. Grosh has the perfect way to help make your dream a reality. Here are a few recital themes centered around Grosh's traditional painted and new digital backdrops. 
#1. Around the World
There are several landscapes to choose from — deserts, forests, underwater, mountains, the Great Wall of China, Mayan Ruins, snow-covered farms, Paris at Night. You can travel anywhere with each separate dance and have a different landscaped background for each. They have a specific projected backdrop called Around the World, too. The world is right at your fingertips…literally! 
Song options: "Africa" by Toto, "Under the Sea" from The Little Mermaid, "Paris Holds the Key to Your Heart" from Anastasia, "Havana" by Camila Cabello.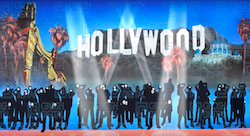 #2. Red Carpet
Roll out the red carpet for your black tie recital event! With various "Hollywood"-themed backdrops, you can customize your recital to your taste. There is an Awards Stage option, Red Carpet Cityscape and a Hollywood Paparazzi option. 
Song options: "Paparazzi" by Lady Gaga, "A Star is Born" from Hercules, "Famous" by Ivy Adara, "Cover Girl" by RuPaul.
#3. On Broadway
Not only are there New York- and Broadway-themed backdrop projections to choose from, but there are also specific musical titles backdrops. For example, you could have each dance in your recital be choreographed to a different musical, and have that musical's title as your backdrop. Some of the musical titles available are Seussical, High School Musical, Mamma Mia!, 42nd Street, Newsies, Legally Blonde, Guys and Dolls and many more! If you're wanting to do a musical show, Grosh also offers Show Packages with a title-curtain image, as well as scenes from throughout the musical, all to be downloaded at once together to save money. 
Song options: "On Broadway" by George Benson, "The Schuyler Sisters" from Hamilton, "When I Grow Up" from Matilda, "Seasons of Love" from Rent, "You Will Be Found" from Dear Evan Hanson, "You Can't Stop the Beat" from Hairspray, "One Day More" from Les Misérables, "She Used to Be Mine" from Waitress. 
#4. Dance, Dance Revolution
If you are wanting your recital to be more generally themed, you could choose a title that is about dance but generic enough to where any dance would fit under that umbrella. There are many general digital dance backdrops to choose from, including Neon Dancers, Dance Lights, Dance Elements and Dancing with Stars Ballet. 
Song options: Since this is a generic theme, it could be any song!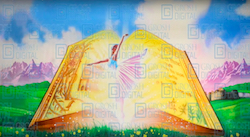 #5. Once Upon a Time
A fairytale come to life on stage — a classic. Grosh offers a ton of digital backdrops to fit this theme. They offer generic castles, lakes, animals, and they even have a specific backdrop called Once Upon a Time, which would make a wonderful opening number and closing number visual. 
Song options: "Once Upon a Time" from Brooklyn: The Musical, basically anything from Into the Woods, "Heigh Ho" from Snow White, "Shy" from Once Upon a Mattress, "I'm a Believer" from Shrek: The Musical. 
#6. Dance Through the Decades
You can go either abstract or literal with a decade-themed recital. Grosh offers a Through the Decades image, Tie Dye Peace Sign 1, a Time Warp image that would be cool for an in-between-your-decades number, a Retro image, as well as a Clock Montage image. 
Song options: "Boogie Woogie Bugle Boy" by The Andrews Sisters ('40s), "The Wanderer" by Dion ('50s), "Ain't No Mountain High Enough" by Marvin Gaye and Tammi Terrell ('60s), "Landslide" by Fleetwood Mac ('70s), "Kiss" by Prince ('80s), "Stop" by the Spice Girls ('90s), "Breathe Me" by Sia ('00s), "Shut Up and Dance" by Walk the Moon (2010s).
#7. Elemental
With this theme, I think it would make the most sense to have your recital split into four different sections — fire, water, earth and wind. The Dance Elements backdrop would be perfect for your opening and closing numbers, and then they offer Fire, Water, Rolling Hills and Abstract Swirl for the four sections. 
Song options: "Set Fire to the Rain" by Adele, "Deep Arctic Wind Sounds" by Nature Sound would make a cool contemporary/modern piece, "Earth Song" by Michael Jackson, "Fallingwater" by Maggie Rogers. 
#8. Futuristic/Outer Space
With various abstract projections, you could easily pull off a futuristic-themed recital. Some of the choices you could include are Modern World, Sci Fi Interior, Art Deco, Kaleidoscope 1, and Twinkling Stars at Night, which is a moving backdrop! 
Song options: "Fly Me to the Moon" by Frank Sinatra, "Space Jam" from Space Jam, "Cosmic Love" by Florence and the Machine, Sleeping at Last has a whole planets-based album called Atlas: Space, "Alchemy" by Willow Beats.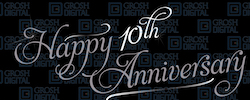 #9. Celebrate Dance!
Another exciting moving image — Grosh offers a moving fireworks display with their Fireworks digital backdrop. I would use this theme for a recital if it was an anniversary recital of some kind. They offer a Happy 10th Anniversary Show Curtain image, as well as a more generic Celebrate Show Curtain image. A digital backdrop would be on of the many ways you could make your anniversary recital special. 
Song options: "Celebrate Good Times" by Funktown America, "Celebrate" by Ingrid Michaelson, "I Lived – Arty Remix" by OneRepublic. 
#10. Color Me Happy
For this theme, you could choose to do dances about colors, or dances about being happy, leaving room for more options. The backdrops that would work perfectly for this theme are Abstract Colors, Dance, Colorful Musical Notes and Kaleidoscope 2.
Song options: "Happy" by Pharrell Williams, "Yellow" by Coldplay, "Brown Eyed Girl" by Van Morrison, "Black or White" by Michael Jackson.
To read more about digital backdrops from Grosh, head to www.groshdigital.com.
By Allison Gupton of Dance Informa.