Só Dança, a dance shoe and dancewear company that has been leading the industry for over 20 years, treats its customers like family. It is all-inclusive, offering something for everyone – a variety of products across all dance styles and for dancers of all levels. It approaches each day, each product with passion and excellence. Even the company itself is family-owned.
And the family motto, the business motto, is a good one for all dancers to remember: Just Dance. Só Dança, actually pronounced "So-dan-sah", gets its roots from Brazil, and the words "Só Dança" translate into English as "just dance". "It is a beautiful sentence," says Helena Hines, Chief of Operations of Só Dança USA. "No matter who you are, what you feel like, your ethnicity, weight or size, just dance."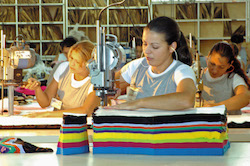 Só Dança started in the mid-1980s, when the Teixeira Araujo family opened its first two Só Dança stores in Sao Paulo, Brazil. They were extremely successful, so a factory was opened in 1986 to meet demands. Over the next 15 years, distributor partnerships were opened across the globe, including the U.S. and Canada. Now, Só Dança products are sold at dance retailers worldwide and online through online retailers. And the company's continued devotion to the art form and to meeting the needs of its customers seems to be unstoppable, with even bigger plans for the future.
"Só Dança seeks excellence in everything we do," explains Hines, who first started working with the company 15-20 years ago in the shipping room and has moved up the ranks to COO. "We seek excellence in our quality, product development, innovation and people. Só Dança is also a family. When you are here, you are part of the family and will be treated as such. The team atmosphere and professionalism you see in Só Dança is not as common as we would like it to be in businesses today."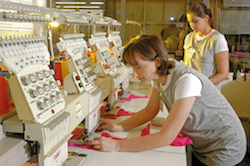 With care, attention to detail and product innovation, Só Dança has dancers' best interest at heart, and products such as gorgeous fancy-back leotards, the no-drawstring ballet flat and the new professional Broadway theater shoe are examples of that.
"The dancer has a lot of choices within the Só Dança brand," assures Susie Riefenhauser, marketing consultant of Só Dança USA. "Our goal is to grow with them, be compassionate and supportive as they are. We want to stand out as a brand who connects with their customer, offering them solutions to help them feel confident and able to do what they do best – dance."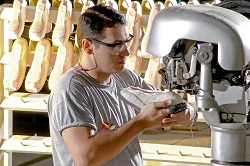 And if you've been following Só Dança on social media recently, you'll have noticed that some of the industry's biggest names are behind the manufacturer as well. Sara Mearns, Josh Bergasse, Daniel Ulbricht, Derick Grant, Jim Nowakowski, Emma Slater, Aaron Tolson, Aaron Robison, Katherine Morgan, Danielle Diniz and more have all collaborated with Só Dança, and that exciting video and photo content will be shared over the next few months.
"We're really excited about 2018," Riefenhauser enthuses. "Dance is a visual art form, and we will continue to move into more video marketing. This year alone, we've worked with incredible talent, each on commercials to represent the dancer in who they are, what they're known for and to connect with our viewers."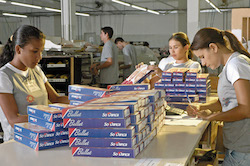 "The future is bright!" Hines says. "We really don't stop around here! We are constantly looking into new ideas, improvements, opportunities, and partnerships. You can expect the very best quality, service and product from Só Dança. We are looking forward to what is to come."
Be sure to ask for Só Dança's amazing shoes and dancewear at your local dance retailer, or search for Só Dança online at your favorite online retailer.
To keep up-to-date on all of Só Dança's exciting videos featuring some of your favorite dancers, visit the Só Dança YouTube page.
As Só Dança celebrates 20 years, check out the company's video recap of 2017, with top hits from 1997, below! 
By Laura Di Orio of Dance Informa.