Aussie dancer Mitch Wynter recently opened up about what it's like to be a part of the Australian dance industry. A member of Australian commercial dance company, The Dream Dance Company, led by Marko Panzic, Wynter explains how everyone in the industry is like "a big family". Here, find out why he also thinks all U.S. dancers should be sure to enter Dance Informa's big giveaway awarding two lucky dancers a trip to Australia! 
You were born and raised in Australia. How would you describe the Australian dance industry to an outsider? 
"Yes, I have been an Australian dancer my whole life. Growing up competing and performing all over Australia, you soon begin to realize how small our dance community is over here. Everyone knows everyone, and there is no such thing as a ballet or commercial scene. The industry over here is like a big family, supporting and loving every dancer for who they are. Everyone is an individual and is trying to create something very unique within themselves."
Where did you train growing up? 
"I started dancing when I was 12 at a small local studio on The Gold Coast, Queensland. When I was 16, I started a full-time dance course at Queensland National Ballet in Brisbane. This course went for two years and covered ballet, contemporary, lyrical and jazz styles. After graduating, I went on to do part-time training at Dance Force Studio, which is at Tweed Heads, New South Wales."
What teachers really made an impression on you in your training, and why?
"My first teacher, Kelsey Walton, was very focused on technique and really got my dance career started. My ballet teacher, Martyn Fleming, is the artistic director of Queensland National Ballet, and he taught me a lot about my technique and strengths. Martyn was a previous principal dancer for The Australian Ballet and English National Ballet. Another teacher who has had a lot of involvement in my training is Nicole Wells, the director of Dance Force. She has taught me to really express myself, as being technically trained, I needed to loosen up a bit."
Now you are performing professionally. Can you share more about your work with The Dream Dance Company?
"The Dream Dance Company is my first company to work for, and I have had the most memorable experience working with them. Being the youngest of the team, every member was very supportive. We did 16 shows across Australia and New Zealand with a cast of 13. Marko Panzic, who is the director of The Dream Dance Company, appointed Sarah Boulter to choreograph this season. Sarah and Marko were absolutely amazing to work with."
When you're not performing, you're teaching. Where and what do you teach?
"I am a freelance choreographer; therefore, I am free to teach any student at any studio. I mainly teach contemporary and lyrical dance. I enjoy watching kids improve or trying something they haven't done before. Learning different techniques and all different styles."
Thinking about all Australian dance has to offer, why should U.S. dancers be sure to enter Dance Informa and Energetiks' latest giveaway for an Australian Dance Trip for Two, which will cover return flights, five nights accommodation and entry to Victorian Dance Festival 2018 for two? 
"I strongly encourage U.S. dancers to enter this amazing competition. I was lucky enough to win two trips to America to compete, and it was the best experience I've had. I learned so much from seeing different dancers across the world, not just on social media but in person.
Personally, I haven't attended the Victorian Dance Festival yet; however, I have heard it's an amazing event. I have found Australian dancers to be very supportive and welcoming, just like the U.S. dancers were to me when I competed there. You will make friends for life. Plus, you get to visit this wonderful country!"
The giveaway also awards the winner a $500 Energetiks shopping spree! You've modeled for Energetiks dance and active wear. Why would this be a great additional prize?
"Energetiks wear is awesome! They have a great range for both females and males. Not only very stylish but very comfortable to train in. And as a dancer, everyone wants to look good."
Finally, the giveaway winners will be staying in Melbourne for the Victorian Dance Festival. What do you like most about Melbourne?
"I was lucky enough to teach in Melbourne twice this year. Unfortunately, I didn't have a lot of spare time for sightseeing, but the little time I did have there, I loved the city. The shopping is amazing!"
Enter to win a Dance Trip for Two to Australia, courtesy of Energetiks and Dance Informa at www.danceinforma.us/winaustralia. Entries close December 20, so get your entry in today.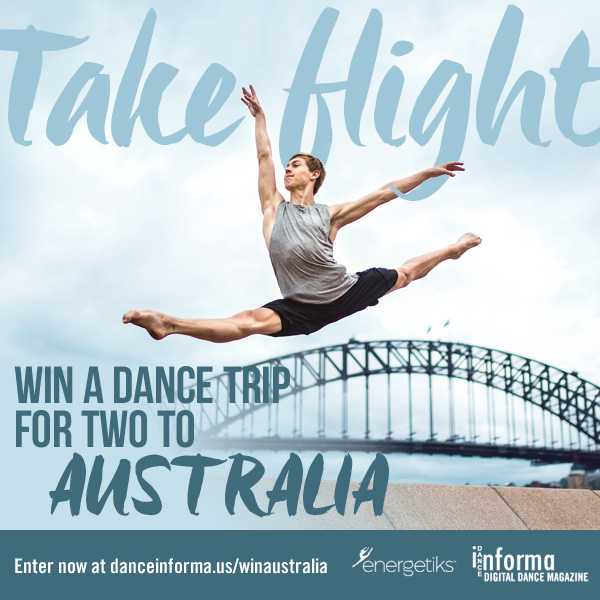 By Chelsea Thomas of Dance Informa.