You know what it takes to make it in the dance world: hard work, passion, performance quality, technical prowess, versatility. And there's no other way to gain those qualities than with experience. Maybe that's why you choose to participate in competitions – they can offer you the learning opportunities that can help your dreams come true.
This season, there's a new competition on the scene: Dream Maker National Talent Competition, offered by Star Dance Alliance, the organization behind Starpower, Wild Dance Intensive and World Dance Championship. With talent scouts at every event, thousands of dollars in scholarships, student choreography recognition and more, Dream Maker has the potential to hold true to its name. In 2018, DreamMaker will head to 15 cities across the country, including Denver, CO; Dallas, TX; Woodbridge, VA; Little Rock, AR; and Long Island, NY; just to name a few.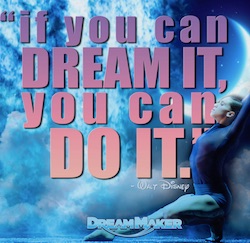 "Dream Maker is geared toward any young performer who has dreams and sets goals," explains Gary Pate, founder of Starpower National Talent Competition. "It is our vision to provide kids with scholarships and invitations to further their dance goals and expand their horizon. The Star Dance Alliance is committed to providing the healthiest environment for every type of dancer and performer. We wish for everyone to feel comfortable and to provide as many performance opportunities as possible."
Dream Maker National Director Brittney Bilgrien adds that this competition is not just about placing or taking home a trophy. "Dream Maker is bringing a new facet to dance competitions where the focus will be on supporting young dancers and performers in making their dreams come true past the competition stage," she says.
Unique to Dream Maker is that, aside from offering three levels of competition for dancers of all ages and at all stages of their dance training (and even performance and competitive opportunities for adults, too!), Dream Maker will also feature a fashion modeling and even vocal category. The people behind Dream Maker found that performers who come across the Star Dance Alliance stages are well-rounded and have talents outside of just dancing. These new categories will allow these dancers to showcase their skills and, in return, receive valuable, educated feedback and help them continue to grow and prepare for success.
"Children, in particular, are at the prime time of their lives to try new avenues of self-expression and performance," Pate adds. "We encourage this!"
Participants in any Dream Maker event will also have the opportunity to qualify for other Star Dance Alliance events such as the Power Pak summer dance intensive, the World Dance Pageant and the World Dance Championship. Dream Maker also promises to offer state-of-the-art sound equipment, professional performance quality stage and flooring, and a well-versed and experienced staff. Bilgrien says that Dream Maker will be giving away thousands of dollars in scholarships, will have talent scouts at every event and also has some "surprises up our sleeve".
She also notes the benefits of attending a competition in general, that participating dancers learn real world skills that go far beyond just the competition weekend. "They experience being responsible to themselves and to their teammates and teachers, by being in costume, warmed up and going to stage on time," she says. "Dance competitions are about more than trophies; they are about self-confidence, being brave, adapting to obstacles. Because, let's face it, you never know when your hat is going to fall off, the roof will start leaking or someone in your routine is going to get injured. But we give them a place to enjoy being on stage, be supported by our staff and their dance community and know that if something goes wrong, they can handle it. Sometimes, I think the fact that we call the recordings of the judges' comments 'critiques' is misleading. The Star Dance Alliance makes sure that the judges are experienced both as performers and as educators so that each dancer or routine takes home valuable feedback as a tool to support their training at the studio. We make sure that every dancer leaves proud of his/her accomplishments of the weekend."
On the inaugural season of the Dream Maker competition, Bilgrien adds, "If we can make a difference in one person's life, I will consider the season a complete success. I really do want to make dreams come true. I grew up in a small town in Wisconsin; dance competition was where my heart was happy. There, I felt inspired, supported for who I was, made lifelong friends, and learned skills about both success and failure that have brought me to where I am today."
For more information on Dream Maker dance competition and when it will tour to a city near you, visit dreammakerdance.com.
By Laura Di Orio of Dance Informa.