Celebrating its eighth anniversary since its launch in 2009, Dance Teacher Web LIVE will return to the breathtaking Red Rock Resort, Casino and Spa in Las Vegas, Nevada on July 24-27 this year. Presented by dance industry luminaries Steve Sirico and Angela D'Valda Sirico, the conference and expo is regarded as a creative oasis for dance teachers and studio owners, providing a often much-needed opportunity to recharge one's batteries and reignite the passion for dance education.
Dance teachers, studio owners and administrators have two options: to participate in the Conference and Expo, or to go a step farther and study for their Dance Teacher University Certification.
The first option—the Conference and Expo—offers the ultimate teacher event with over 90 classes on tap, including an All-Star lineup of Master Teachers in all levels and in many styles of dance. Plus, they'll glean wisdom and practical tidbits from business building seminars that cover topics like marketing, increasing revenue, improving communication and energizing studio enrollment.
The second option—the Dance Teacher University Certification—goes one step farther and provides a truly thorough training platform and springboard for teachers looking to take their instruction to the next level. The certification offers a cutting-edge curriculum in ballet, jazz, tap, lyrical, modern, preschool and anatomy devised especially for dancers. The syllabi aims to help studio owners and their staff create a safe and fun system for teaching that gives their studio a competitive advantage. At the end of this program, all attendees receive a beautiful certificate through the University of Nevada Las Vegas (UNLV.)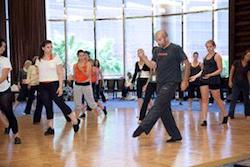 "Make this a summer to remember by attending one of these great events," encourages co-organizer Steve Sirico. "Enhance your teaching knowledge, build your dance studio business and network with some of the brightest minds in the dance industry. Enjoy special events and an expo loaded with the top dance merchants in the world. Come see why we are the #1 choice repeatedly for continuing education, business development and life enhancement for dance teachers and studio owners."
Teachers, you can experience the Dance Teacher Web LIVE VIP Treatment by acting now! DTW presents two special offers:
Special Offer #1: A early bird discount that ends after February 15. Save $100 or more – don't miss out!
Special Offer #2: Studio owners can bring four teachers and get the fifth one's enrollment for FREE!
For more information or to reserve your spot, visit www.dtwconference.com today or call 203-545-7147!
Photos courtesy of Dance Teacher Web.