There are few people in the dance world more down-to-earth, more inspirational, more humble and more intelligent than Joe Lanteri. He is truly a gift to hundreds of dancers around the world who have felt his impact through his guidance, scholarships, education or friendship. Lanteri is the founder and director of New York City Dance Alliance (NYCDA), a dance convention that has seen its attendees go on to careers on Broadway, in dance companies, in dance education and beyond.
NYCDA is a convention like no other. With professional dancers, choreographers and educators on the faculty, NYCDA has been about giving young dancers the best education possible since its inception in 1994. "All of our faculty are hand-picked because of their success in the 'real world', and their continued success in the 'real world'," Lanteri shares. "It is all about bringing what we learned from the professional world and sharing it with this young talent across the country."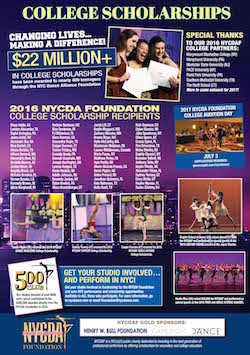 It is not about awards at NYCDA; it is about more exposure and the best education they can provide for the weekend and a dancer's future. "On the weekends, it's not just about the awards within the competition," Lanteri says. "We're giving out intensives to Steps, Broadway Dance Center and Peridance. We're giving out Rockette intensives and Complexions intensives. We're always trying to find more opportunities for the kids."
In 2010, Lanteri decided the next natural progression for NYCDA was to create a foundation that would help dancers through education and scholarships. "The next step was, what else can we do?" he explains.
Because of his amazing efforts, Lanteri was recently awarded for his "Outstanding Contributions to the World of Dance" by Career Transition for Dancers, a program of the Actors Fund. When asked how he felt about receiving this prestigious award, Lanteri says, "[I feel] humbled. You don't get into anything like this expecting anything like that. [The award] came out of nowhere, and it's very much appreciated."
There are two ways to earn a scholarship to college through the NYCDA Foundation.
"One way is to receive money that comes directly from the Foundation," Lanteri states. "And that money can be applied to the college of your choice. As of right now, I think the Foundation has awarded a little under two million dollars in college scholarships. There are kids in over 30 different prestigious programs, anywhere from the Juilliard School to the new program at the University of Southern California."
The other way to earn a scholarship through NYCDA and its Foundation is an idea that has come to be a favorite amongst dancers and their parents. The Foundation didn't originally intend to involve colleges, but that was the next natural step.
Lanteri says, "The second way you can get a scholarship, and what has grown into something really exciting, is now colleges are coming to our Nationals event. We set up an audition day, kind of like a college fair where colleges that are interested and that are able to give out scholarships. Last year, we had seven colleges come and audition dancers. From that audition, more than five million dollars was awarded in one day. It's beyond anything I could have even imagined."
Along with college auditions, NYCDA gives out intensive scholarships and hosts Broadway-like auditions with industry professionals at its annual Nationals event.
"People who are invited to attend Nationals are the real casting directors from shows," Lanteri says. "Some are Broadway choreographers, some are Tony Award-winning Broadway choreographers. The students are learning real material from Broadway shows, and they're learning what it takes to get that job when it matters in their lives."
The Broadway-like auditions don't necessarily mean you're going to book a Broadway show; however, there are several dancers who have been cast in shows because of their exposure through NYCDA. Lanteri explains, "Don't come if you think your child is going to get cast in a Broadway show. Come because it's part of an education. Every summer, however, we see someone get a job. Name a Broadway show right now, there's a NYC Dance Alliance kid in it."
For Lanteri, helping young dancers is not just about the dance world. "What we are doing is helping shape the future of our planet," he elaborates. "Not just in the dance world, but the fact that we are talking about promoting education and sending kids to college. I think that we will all see how that benefits the world. These kids are going to grow up to become the leaders moving forward, and not just in the arts, but in anything they choose to do."
I wish that there were something like NYCDA and its Foundation when I was growing up. I wish I could've taken class from people like Chloe Arnold and Andy Blankenbuehler when I was a teenager. Because of Joe Lanteri, there is such an opportunity now for young dancers. So from all the dancers out there, thank you, Joe, for your efforts and for your generous support, and congratulations on your well-deserved award.
Click here to learn more about NYCDA and the NYCDAF.
By Allison Gupton of Dance Informa.
Photo (top): Joe Lanteri and Andy Blankenbuehler at the Career Transition for Dancers 31st Jubilee. Photo courtesy of Lanteri.