I'm a nutritionist, but I admit that Halloween is one of my favorite holidays. What's not to love about carving pumpkins, roasting pumpkin seeds, dressing up, trick or treating and chocolate? For dancers trying to stay on track with healthy eating, however, Halloween might seem scary for many reasons. Treats have a place in even the healthiest diet, and it's okay to allow yourself to indulge occasionally. Here, I've whipped up a delicious recipe for Dance Informa that sneaks in some healthy ingredients but still definitely counts as a treat.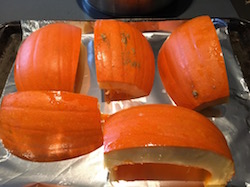 Pumpkin is a rich source of vitamin A in the form of beta-carotene, which helps the body decrease risk for the common cold, blindness and even cancer. Oven roasted fresh pumpkin and other orange squash are perfect in soups, muffins and, of course, pies. This recipe also uses almond flour, which has more protein, fiber, calcium and healthy fats than refined wheat flour. Hemp hearts are another addition to the recipe, boosting the protein, healthy omega 3 fatty acids, iron, zinc and magnesium. The optional cacao hazelnut filling has protein, vitamin E, antioxidants and magnesium1.
Halloween Pumpkin Muffins with a hazelnut, cocoa, maple center
Gluten free/Dairy free  
Yield: 18 muffins
Ingredients:
2 cups pumpkin puree (about the yield from 1 small pie pumpkin roasted)
3 eggs or egg replacer, beaten
2/3 cup organic light brown sugar
1/3 cup maple syrup  (plus extra for the cocoa filling)
1/3 cup coconut oil or Earth Balance Buttery spread
1/2 cup sorghum flour
1/2 cup your favorite GF Baking/Pancake Mix (Pamela's brand works well)
1 cup almond flour
1 tsp baking soda
1/4 cup hemp hearts
1 tsp vanilla
1 tsp cinnamon
Center filling (optional)
1 cup roasted hazelnuts
1 Tbs cocoa powder
1 tsp vanilla
1/4 cup pure maple syrup
Directions:
Preheat oven to 350.
Clean and cut a regular pie pumpkin into chunks and roast it at 350 with the rind side up until soft.
While pumpkin is roasting, put all ingredients for the center filling into a blender and blend until smooth. Set aside.
Scrape pumpkin from the rind into a blender and blend on low. Place pumpkin puree in a large mixing bowl. Add 3 eggs and whisk together. Then stir in 1/3 cup maple syrup, sugar, vanilla and coconut oil. Add the flours, cinnamon and hemp hearts, and gently mix just until combined.
Spoon pumpkin muffin batter into prepared muffin baking tin. In each cup, gently press a dollop of the center filling into the batter. Can decorate with chocolate chips if desired.
Bake for 20 minutes or until fully cooked in center.
By Emily Harrison MS, RD, LD Nutrition for Great Performances.
Emily Harrison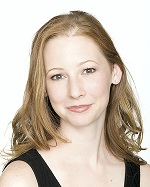 Emily Cook Harrison MS, RD, LD 
Emily is a registered dietitian and holds both a bachelor's and master's degree in nutrition from Georgia State University. Her master's thesis research was on elite level ballet dancers and nutrition and she has experience providing nutrition services for weight management, sports nutrition, disordered eating, disease prevention, and food allergies. Emily was a professional dancer for eleven years with the Atlanta Ballet and several other companies. She is a dance educator and the mother of two young children. She now runs the Centre for Dance Nutrition and Healthy Lifestyles. She can be reached at emily@dancernutrition.com
www.dancernutrition.com
Source:
1) USDA Database for Standard Reference 2016.