By Chelsea Thomas of Dance Informa.
NRG danceProject is out to change the dance convention and competition circuit one dancer at a time. Led by Co-Creators Rustin Matthew and Nick Gonzalez, NRG has a diverse faculty made up of dance industry frontrunners, and most importantly, passionate teachers. Celebrating its fifth anniversary this season, NRG has grown from eight regionals and one final to 15 regionals and two finals.
"I'm definitely proud to reach our five-year anniversary with NRG, and its only getting better," Matthew said while at Atlanta regionals in January.
One of Matthew's mottos is "Sell dreams, not products", and it's easy to see how he applies this to NRG. Instead of focusing on celebrity faculty and flashy and overly glitzy events, NRG focuses on its community dynamics and making an impact on each dancer, parent and studio owner.
"NRG is built around customer service and providing a great weekend, not just the hottest names from TV teaching a class with 2,000 kids," Matthew emphasized. "I want to be able to hug each of my students after a class and after I judge, find the kid the next day and tell them exactly what I loved about their solo. It's about more of a personal relationship than the flash, even though we do have stellar production elements too." 
Gonzalez agrees, pointing out that NRG is truly all-inclusive and one of the few competitions where dancers with special needs feel comfortable enough to compete. He shared, "I feel that NRG is different from every other dance convention in a way that everyone feels like they are a part of this event." 
Whereas Gonzalez and Matthew both have substantial industry experience—with Gonzalez having performed with many celebrities and taught in nearly all 50 states, plus South Korea, Japan, Canada, Australia, the Virgin Islands and Germany, while Matthew has performed for Aerosmith, The American Music Awards, The Jimmy Kimmel Show, the Pussycat Dolls, Jennifer Lopez, Cher, Barenaked Ladies and Matchbox 20—they both feel that teachers shouldn't be gauged by their resume alone.
 "A good teacher is not determined by his resume, but by what he gives back to the kids and how he's furthering their art," Matthew explained. "When you're teaching kids, you've got to lose your ego. It's not about me and what I did 20 years ago, but what they're getting in that movement right then and how they can use that in the future."
"So even though we all have resumes and professional industry experience, that's not what NRG is about. We're not the TV star convention. We're more than that," Matthew added.
However, it's worth mentioning that the faculty members each bring significant expertise to the project. Scholarship Director and Faculty Member Cat Viger has danced with Beyoncé, Nickelback and on Glee. Faculty Member Robert Hoffman starred as the lead in Step Up 2 The Streets and has also been in films like She's The Man and You Got Served. Ballet Faculty Member Mallauri Esquibel previously toured Twyla Tharp's Come Fly Away across the country and recently starred in Taylor Swift's RED world tour. Jennifer Parsley is a freelance dancer, teacher and choreographer in high demand around the world.
In addition to this stellar faculty, NRG stands out for its huge jackpot of cash awards, as well as its placement bracelets and 1st through 3rd non-plastic trophies.
"Our cash awards are second to none!" Matthew exclaimed. "Basically, however many people are in your category you have the potential to win more money. So if there are a bunch of people in the junior solo category then we might give the first place winner $1,000 to $1,200. In every city we give out $10,000 or more in scholarships, and then we award $25,000 at each finals."
A new award open exclusively to tap dancers this year is the Electro Tap Scholarship, as offered by Competition Director/Faculty Member Amanda Pierce. Pierce, a former New York Jets Flight Crew Cheerleader, said she picks out two winners in each city, first selecting a handful of elite students in her tap classes and then asking them to improvise before choosing and making her announcement on the final day.
"I created the Electro Tap Scholarship because I feel like it's hard sometimes for tappers when they go to conventions and do auditions and don't get rewarded enough for their skill set. I grew up that way so I decided to support tappers by having a scholarship just for them," Pierce said.
This scholarship awards recipients free year-round entry to any NRG event. "While there, they assist me in any class I teach so they get an idea of what it's like to teach," Pierce added. Also, as part of the scholarship, Pierce teaches a free masterclass at their home studio and tappers are invited to participate in a tap number at Nationals.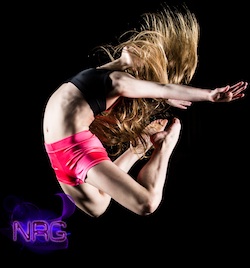 Another special opportunity for competing dancers is the NRG Prodigy designation. At each regional event, NRG typically gives out four of these designations, one for each age group (junior, teen, senior and advanced pro). Dancers must exhibit "extreme talent" and have a pleasant, mature attitude.
The Prodigies who attend Nationals have the opportunity to be named a National Prodigy for the next convention season, which allows them to attend every regional, help run the events and receive mentorship. "It's similar to an apprentice position," Matthew explained. "This program has been growing and now has become a coveted award."
In addition to all these scholarship prospects, NRG also seeks to keep marginal costs down for competitors. One way NRG does this is by offering free pictures and videos to all competition entries.
"When we decided to do this, I got calls asking why we'd kill that 'cash cow.' But I just feel like with technology these days, it's easier to provide photos and videos, so why would I charge them for it?! I have a three-year-old and a six-year-old and when I'm doing their events I want to be able to give them everything, similar to these parents. So the more affordable we can make it, the more people who can be involved, which is our goal," Matthew said.
Other ways NRG tries to facilitate a more ideal atmosphere is by providing parents a VIP lounge with coffee and snacks, by allowing teachers/studio owners to upload all music online beforehand so the event is stress-free, by delivering state-of-the-art HD screen backgrounds, professional lighting and sound, and by making sure the schedule never runs behind.
"NRG is on a consistent upgrade; there's always a new version," Gonzalez said. "It's a growing person – that's the best way to put it."
For those dancers interested in trying NRG danceProject out, it's not too late to sign up for a 2015 event. This month, NRG will host regionals in Denver, Colorado and Salt Lake City, Utah. In April, regionals will hit Phoenix, Arizona and Los Angeles, California before ending in Santa Clara, California in early May.
If none of the remaining regionals are within driving distance for you, then perhaps make plans to attend the 2015 NRG Nationals in Chicago, Illinois on July 5-9 or in Atlanta, Georgia on July 14-17. Nationals are open to new dancers who haven't previously competed. Gonzalez said NRG will host a pre-qualifying event for all interested dancers. "The thing about Nationals is that it's a rollercoaster. It's up and down, all over – and it's a blast," he said.
For more information on NRG danceProject, visit http://nrgdanceproject.com.
Photos by Robert Kelley, courtesy of NRG danceProject.