Goat Farm Arts Center, Atlanta, GA
Saturday, December 13, 2014
By Chelsea Thomas of Dance Informa.
Shortly after performing at ballet star Diana Vishneva's Context Contemporary Dance Festival in Moscow at the end of November, the new Los Angeles-based troupe Ate9 Dance Company was welcomed by Atlanta's eclectic Goat Farm Arts Center as part of Tanz Farm's Series 2.
Co-presented by local dance incubator gloATL, Ate9 brought its eight-month-old, evening-length work Mouth to Mouth to area audiences, featuring choreography by Artistic Director and Jerusalem native Danielle Agami.
Agami, a former member of Israel's renowned Batsheva Dance Company, certainly reflects her origins. Dubbed a disciple of the company's leader, Ohad Naharin, who invented the Gaga movement, Agami produces work that is bold, grounded, luscious, often confrontational and undeniably strange.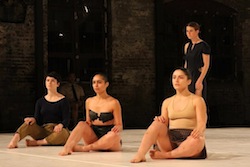 In Mouth to Mouth, Agami begins with a long, heightened silence, in which the company's dancers sit in chairs on the edges of the stage, facing in. This silence elevates till one dancer steps up and begins the 55-minute nosedive into a place where social norms are no more, costumes are sliced with scissors, grotesque facial expressions emerge with no rhyme or reason, intimacy becomes ambiguous and subtle innuendoes become ripe for the harvest.
If this sounds confusing, then perhaps I am doing it justice. This is not a work that flows along an obvious thematic string or narrative; it just is. Agami's description might help viewers though, as she explains that this work "stems from the possible interpretations of its intimate connotation: dialogue, resuscitation and love-making. The work touches upon what we all have in common— communication, the lack of communication, the things we miss, the things that get old and the gaps in between."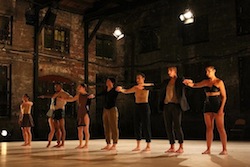 However, the subject matter, or lack thereof, falls into the background as the work evolves. Viewers find themselves fascinated by the unpredictable nature of the choreography, which is beautifully translated through moments of jarring physicality and soft pauses. Solos fade into pas de deux, which melt into larger ensemble sections. And Agami's sense of humor shines through, as masks of popular characters, like the Grinch and the Pink Panther, even come into play.
Overall, Mouth to Mouth is not a work to take a conservative traditionalist to – unless your purpose is to shock and confound them. Classical dance fans might find it too dicey and avant-garde for their taste. However, if you're up for the adventure, this work is a beautiful testimony to the unique voice Naharin disciples bring to the dance scene. While its awkward and perplexing at certain moments, the vigor of these dancers is unquestionably gorgeous and the choreography has a primitive sincerity that is truly astonishing.
Photos by Thom Baker.