By Laura Di Orio of Dance Informa.
Dance students new to pointe are always excited. They've been watching their favorite ballerinas since they were little, or they watched enviously in past years as their older peers got permission to get their pointe shoes. But now it's their turn. They get fitted for their shoes, sew on their ribbons and elastics, maybe buy a special bag just for them, and then take the shiny satin shoes to class for the very first time.
And then…OUCH!
Maybe being en pointe doesn't feel as dainty and pretty as one would have thought. Perhaps it feels, instead, uncomfortable. This sensation is common for dancers new to pointe, but it's not something by which to get discouraged. Dancers don't have to give up after one lesson, or even several. Dancers can get used to this new feeling of being on their toes, they can get stronger just by being up there, and they can learn some tips to make the transition easier and less painful.
Here, Dance Informa speaks with teachers from some of New York's leading dance schools, as they offer advice and encouragement to those dancers feeling a bit weary of their new shoes.
Dancers are usually allowed to begin pointe between the ages of 10 and 12, although that depends entirely on individual assessment, regular attendance of ballet classes, technique and a teacher's approval. It is recommended that each dancer be professionally fitted for their pointe shoes.
"Uncomfortable, unusual sensation and minor discomfort are all common," says Jo Matos, director of the Children and Youth Ballet Programs at New York City's Joffrey Ballet School. "Extreme pain is a good indicator that a shoe has not been properly recommended or fit for the student's very individual needs, and if you aren't taught proper techniques for manually breaking in your shoes."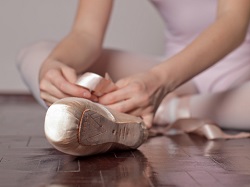 Kate Thomas, director of The School at Steps on Broadway, and also artistic director and choreographer of Ballet Neo, adds that a student's ballet technique and alignment has a say in the success of her pointe work as well. "If the student is well-placed physically, there may be some discomfort involved in the initial work, but this should not be continual," she says.
So, although some level of initial discomfort will exist, dancers should give their shoes a chance to break in.
"Discomfort, or what we call 'good pain', will pass with training," Thomas adds. "If the shoe is fit properly and the student has trained properly, the transition to pointe work should be accomplished with little discomfort in a short time period."
Other factors, such as a dancer's bone growth and body development during adolescence, may affect a new dancer's feeling of "pain" en pointe.
"This is a huge issue," says Thomas. "Adolescent training is challenged by puberty and all the changes, both physical and emotional, that go along with the process. Growth plates behind the knee cause pain and weight gains before growth spurts cause problems, both emotionally and physically, that may affect dance and pointe training."
Knowing that this is normal and occurs to everyone can be reassuring for dancers new to pointe and facing discomfort. Time will pass, the body will grow into its own, and any "growing pains" will soon cease.
There are also some things that dancers can do to make their time en pointe more comfortable and, in turn, more enjoyable.
Both Matos and Thomas stress the importance of strong abdominals for pointe work. It is a strong core, Matos says, that will help dancers lift their weight out of their shoes.
"Abdominal strength is crucial, as is proper body placement, while flexibility in the ankle and foot must be built before and during pointe training," Thomas adds.
Matos advises dancers to learn to roll up onto pointe and down through the shoes to help strengthen the feet and ankles.
"This, coupled with strong core strength and clean technique, will aid in lessening the pain," she says.
In addition, dancers must take good care of their feet. Matos recommends purchasing a good pair of Ouch Pouches for pointe shoes, and both she and Thomas encourage dancers to air out their pointe shoes between lessons. This will help prevent fungus and lessen bacteria, and will aid in decreasing unnecessary pain.
"Students should disinfect cuts or tears in the skin, and protect and deal with blisters," Thomas adds. "All of this will aid in a pain-free dance experience."
No dance teacher wants to see their students discouraged and in pain. Teachers like Matos and Thomas advise their students to approach a teacher or studio director if something feels wrong.
"Pain is not good," Thomas says. "Pain means something is wrong – improperly fit shoes, weak placement or muscle strength – all should be discussed and addressed by the teacher and school administrators. Pressure on the toes should be minimal and not painful if all the other aspects of training and fit are addressed properly."
"Work to strengthen your body, refine your technique, and the joy of floating across the stage with beauty, grace and ease will far outweigh the 'pain' of wearing pointe shoes," Matos encourages. "Don't give up!"
Photo (top): Students from The School at Steps on Broadway in New York City. Photo by Eduardo Patino.