By Mary Callahan of Dance Informa.
When did you start taking dance classes? In college? As a teenager? Or maybe you were as young as three or four? Well, The School at New York City's premier dance studio Steps on Broadway has begun offering lessons to babies as young as three months old!
Baby Steps is a new mommy-and-me program "designed for moms to get their pre-pregnancy bodies back while bonding with their child," as described by Steps. And for young-ins from 18 to 24 months old, "budding dancers and new parents begin their journey in the studio learning movement exercises, coordination and creative dances" in Baby Steps 2.
But is infancy too early for dance lessons? The answer, it seems, is no. A 2010 study in Science Daily claimed that "babies are born to dance," discovering that "infants respond to the rhythm and tempo of music and find it more engaging than speech."
Additionally, in Mothers, Babies, and Their Body Language, author Antonella Sansone states, "Babies have a tremendous ability to move in rhythm with music. They move their hands elegantly to music like orchestral conductors. By singing rhythms and rhymes and dancing with the baby, the mother can rediscover her own primitive language, the continuity between present and past, facilitating the baby's transition from the womb to birth and from birth onwards. The discovery helps the mother's transition as well, because it makes a shared language possible. Music and dance can thus nurture the infant's pre-verbal phase."
Baby Steps, equipped with live music accompaniment, is an ideal integration of basic movement and music for babies.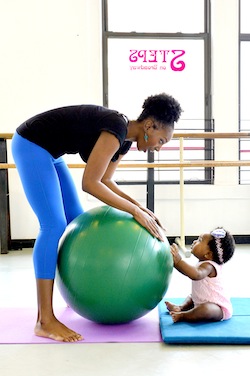 Along with the full Steps on Broadway studio that offers open dance classes, workshops and special events to teenagers and adults of all levels, The School at Steps provides dance training for ages three months to 18 years.
"I recognized a need in our community to introduce an even younger audience to all the wonders that dance has to offer," says Kate Thomas, director of The School at Steps. "While designing what eventually became Baby Steps 2, for ages 18 to 24 months, I realized that we should offer new mothers an environment to exercise with their little ones. This idea then brought about an even earlier class: Baby Steps 1, for ages three to nine months."
"Baby Steps," continues Thomas, "is designed to increase the bond between parent and child in a creative environment. Both classes introduce very young children to musicality and physical awareness through structured movement, props and games." Instructor Donna Salgado adds that "by interacting with colorful and whimsical props, and following simple directions, parents and children work together to build coordination and curiosity."
Baby Steps teachers Kat Steers and Donna Salgado both have extensive professional and/or personal experience working with new mothers and newborns. "I have certifications in both pre- and post-natal Pilates and have experience teaching pregnant women in private fitness classes around the city," explains Steers, instructor of Baby Steps I. "Having experienced firsthand these exercises during and after my own pregnancy, I know how it feels to perform all of the exercises I incorporate (and address appropriate modifications) during my classes." 
One School at Steps dad says, "The teachers keep the class moving. They are very patient and sweet." A School at Steps mom adds, "Baby Steps is a great combination of structure and free play."
Teaching assistants are also present in all Baby Steps classes to help address the wonderful unpredictability of babies and toddlers. "The instructors selected for Baby Steps," says Thomas, "have worked with this young demographic and hold many tricks up their sleeves to keep children engaged."
"Applause, hugs, and dancing are highly encouraged!" adds Salgado.
To register or learn more about Baby Steps, visit StepsNYC.com/school.
Photos: Courtesy of The School at Steps on Broadway in New York City. Photos by Eduardo Patino.​