By Tara Sheena of Dance Informa.
Founded in 2012 and co-directed by Kora Radella and Matty Davis, boomerang dance is a physically fearless group of movers. Interested in exploring human relationships through intense and committed movement, they have been referred to as the "punk Mozarts of dance."
Kora and Matty offered their insights for this month's edition of Budding, Not Yet Blooming and told Dance Informa about their early influences, their distinct movement approach and why they want to inspire their young audiences to say, "Hey mom…I want to be a dancer!" Here are excerpts of their conversation.
What originally drew you to choreography? Do you have any early influences you can recall?
Kora Radella
"I was drawn to dance via a very strong non-verbal relationship with my sister, who was unable to talk. This is deeply embedded within me. I was also fortunate to experience a diverse amount of experimental art/film/dance/literature growing up with very hippy, artistic parents, as well as a culture-vulture grandmother in NYC. As an older teenager, I was most inspired by Pina Bausch and Samuel Beckett. Those inspirations are still strong, but not necessarily recognizable in my work."
Matty Davis
"I've worked with some other folks, who I respect and care about, but it's been nothing comparable to the magic of boomerang. There's a lot of respect, listening, rigor, negotiation and patience. I operate more on the performing side in the project, though I'm very invested in movement invention and feel keenly plugged into the choices and possibilities that shape and hone it. I've been a mover my whole life, and was involved in just about every sport known to man at some point between age 5 and 18. I was also an aggressive roller-blader and snowboarder. I remember people referring to me as a dancer when I was a kid on the soccer field, and then later on the tennis court. In high school and college, I segued more committedly toward the arts. I truly see the body as a kind of sponge, always absorbing and exuding the influences, traumas and habits that constitute one's life."
How would you describe your aesthetic and style to someone who has never seen your work?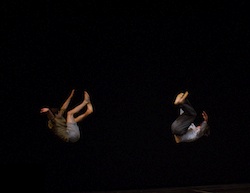 Kora
"I call my work 'awkward grace.' I delight with playing on being right on the edge of control in embodied and vulnerable ways. My interest in working with others is helping them draw out their resources by respecting them as unique people versus having them imitate me. Part of the reason Matty Davis and I work so well together is our mutual respect for what we can offer within boomerang. We are great matches in terms of two people working with movement in the studio and bringing things out into the world."
Matty
"boomerang is pretty heavy, athletic, intense, raw and prevailing… I was a competitive long distance runner for some years and I think it's really shaped my affinity for pushing the body to its limits. I'm really drawn to the transformations that take place in those difficult dimensions. On the other hand, I'm immensely attracted to generosity of spirit, to giving, and I try to make that tangible and meaningful in my dancing. I want my dancing to really give, to let some kind of energy transcend."
What, in your mind, is the biggest challenge for emerging choreographers right now? What are the strategies you've employed to navigate that challenge?
Kora
"I think our biggest challenge as an emerging company is that there's this seeming very slow 'who-you-know' game–at least in NYC–that is not based on the work necessarily and which somewhat hampers our genuine wish to share this work that we really believe in. We aren't in it for the game or for success, so the whole game part is very frustrating. We really just want people to see this work. boomerang boils down to faith and labor of love, and Matty and I really wholeheartedly believe in the work so we just kind of dig in and keep doing the most essential thing: make work and bring it to life."
Matty
"There's a lot of different stuff happening, some really interesting, good stuff that just doesn't have a channel with which to flow into the greater cultural consciousness. You know, these very popular, widely distributed magazines like, say, PAPER or Interview Magazine, cover art and music and such–not really much attention for dance. I think it's time to make dances that tap into something different, something downright visceral, exciting and back-breakingly honest and real that makes little kids watch and go, 'Hey mom, this is really cool and awesome! I want to be a dancer!'"
What are the next steps for you and your company?
Kora
"We're currently trying to find outlets for an evening-length [performance] of our works; to hire someone as a manager and PR person who believes in what we're doing; and to develop a really solid press kit to start shooting out to presenters around the country."
Matty
"[There are] definitely some shows to know about! We're showing work at Movement Research's Open Performance series on May 13. Sometime in May, I'll be performing at the Putney School in Vermont; then at the Dollar Bank Three Rivers Arts Festival in Pittsburgh on June 7. More info on upcoming shows and our work is thoroughly available at www.boomerangdance.com."
Photos courtesy of Matty Davis.