By Katherine Moore of Dance Informa.
On an intimately-lit stage with glowing backlight, women are dancing and drumming, stomping their feet and swaying their hips in rhythmic unison. Dressed in beads, grass skirts, and multi-colored cloths, the women of Venus Rising Women's Drum and Dance Ensemble bring the music to life through their performance. The energy is captivating.
One of only a handful of all-female drum and dance troupes in the world, Venus Rising specializes in bringing women together for performance that stems from West African and Middle Eastern rhythm and movement traditions. Taking a contemporary approach to these traditions, Venus Rising supports the talents and growth of their members in a genre where it is conventionally unusual to find live drumming performed solely by women.
"Our mission is really to be role models for women. It's about the empowerment of women. If you want to do this, why not? " says Zeva Soroker, the founder of Venus Rising.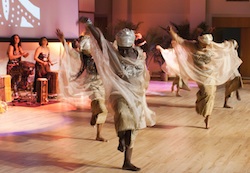 When Soroker founded the company in 2003, she had three female drummers in the company. Now in 2014, there are at least 20 regular drummers and dancers of all ages as part of the troupe. The youngest dancer is 16 years old and the oldest is a grandmother in her 60s.
Soroker says, "We are quite the family, quite the sisterhood. People come and people go, but it makes this circle of sisterhood that really shows in our performances…that we have this special connection."
It is perhaps this special connection that gives Venus Rising its power to fuse traditional rhythm and dance with a modern celebration of differences and diversity. In the West African tradition, while women have always played a key role as dancers, it has not necessarily been typical for women to be drummers.
"There were times when it was quite the controversy because I wanted to play traditional rhythms, but I think that landscape is changing," Soroker says.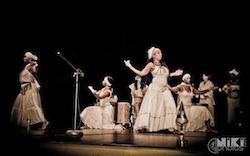 Along with this changing landscape of gender roles, Venus Rising is also expanding to musical and dance forms outside of the West African tradition. With company members from all over the United States, the Caribbean, Cuba, Spain, Venezuela and elsewhere, the troupe's healthy diversity allows for collaboration across cultures.
Venus Rising performs locally in South Florida at theaters, benefits, corporate events and community festivals, and occasionally tours nationally for events such as half-time shows.  Wherever they go and whatever they perform, whether it's based on an Israeli folk dance or Polynesian rhythms, the relationship between live music and dance is a key element for them. Live drumming and dance go hand in hand.
"We began by focusing on West African rhythm and dance. That's our foundation. Now, our intent and our dream is to expand to dance and choreography from around the world," Soroker explains.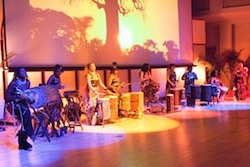 Not only do the company members come from diverse backgrounds, they also play diverse roles in the company's work. Depending on the project they are currently working on, different members may play the role of choreographer, director, dancer, teacher, costume designer and more. From yoga instructors to writers, filmmakers to artists, mothers to musicians, Venus Rising thrives off of the range of experiences and talents of their women.
The company recently performed Shakti Rising: Maya's Labyrinth, choreographed by drummer/dancer Corina Fitch, in Miami on February 15. The show centered on themes of pregnancy, birth and loss, and it even concluded with a panel discussion on the health disparities in the United States related to pregnancy and race.
"The show is really a celebration of women as birth givers," Soroker says. 
At the core of Venus Rising's mission is to promote the feminine power that is available through music and dance, and the company is constantly planning for their next opportunity to uplift and inspire. 
In the past few years Venus Rising has shared their spirit at venues such as Mega TV's "El Show de Fernando Hidalgo," the Miami World Music Festival and the inauguration of the Perez Art Museum of Miami. Soroker is looking forward to big projects ahead that would continue to incorporate female musicians and dancers.
"We always want to tell the tale of a journey," she says. Hopefully this is a tale that will continue to be heard. 
Photos by Niki Lopez.