By Stephanie Wolf of Dance Informa.
At only 13 years old, Kalani Hilliker is a tween well beyond her years. She's had to grow up quickly in a world where her thoughts and moves are recorded for millions of American viewers to watch and enjoy. Grateful for the experiences, Hilliker also understands some of the logistics that go into making television—drama sells. So, the tiny dancing dynamo is being mindful and focusing on her love of dance. She opens up to Dance Informa about this crazy world of reality TV and how she's soaking up these experiences to prepare herself for a lifelong career in the dance industry.
An Arizona native, Hilliker says she started dancing when she was two. "My mom thought it was cute to put me in a tutu," says Hilliker. "So she put me in classes, and I've been dancing ever since." While she's pursued other activities like soccer, she says dancing has become her number one passion in life—though, according to Hilliker, shopping takes a close second.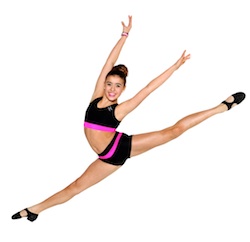 After a fourth-place finish on the second season of Abby's Ultimate Dance Competition—spearheaded by the tyrannical, tough-love-dishing queen of competition dance, Abby Lee Miller—Hilliker finds herself in a grueling dancing and filming schedule for the wildly popular Lifetime network show Dance Moms. It's a tall order for the 13-year-old, but Hilliker is learning how to balance it all, navigate the world of reality television and enjoy every bit of it.
"I'm comfortable working around cameras," says Hilliker. As she should, having had her first television exposure at 10 with an appearance on Shake It Up: Make Your Mark—this was followed up by stints on the Disney Channel's Shake It Up and ABC Family's Bunheads. "You have to think of the cameras as not being there because, if you think about them, you get nervous," she says.
So, when she signed on for Abby's Ultimate Dance Competition, Hilliker had a sense of what she was in for. And, in addition to learning how to dance for the cameras, she also had to learn how to talk to them.
"Sometimes they like to twist your words," she says. "So, you always have to be cautious of what you're saying." Hilliker tries not to get mixed up in the ratings-driven drama, rather focusing her energy on being the best dancer she can be.
Abby's Ultimate Dance Competition was a huge challenge, but one Hilliker says she embraced happily. Dancers weren't given a cushy three months to learn a solo before it had to be performed, says Hilliker, so being sharp and agile both in body and mind was key to success on the show."I learned that you need to pick up choreography fast—very fast," says Hilliker. The contestants had five hours to learn a dance before performing it for the intimidating Miller, she says, adding that they also had no idea what their costume, hair or makeup would be like. "Contestants have to make the limited resources and time work or they get kicked off, and nobody wants to get kicked off," says Hilliker.
Dance Moms fanatics can catch Hilliker on the current season, which premiered on January 1. Hilliker will continue to film the series through the spring. But it won't stop here for this young dancer. Hilliker has big dreams and, with the help of Miller, is building her arsenal of performance tools. "Abby is making me do voice and acting lessons so I can do Broadway. I'm also in L.A. a lot," says Hilliker.
She's taking in as much as she can and keeping her dance options open. "Dance is my life," says Hilliker. "I've been doing it since I was two, and I'll be doing it until I'm 100 years old." 
Photos: Kalani Hilliker. Photos by Celebrity Photo.