One wouldn't necessarily think that smartphones and tablets would have a dramatic effect on the dance studio industry, but according to Paul Henderson, President of CostumeManager.com, mobile technology is about to make a huge impact in the dance studio with CostumeManager.com's Virtual Dance Boutique.
While there are several dancewear manufacturers that cater strictly to dance studios, it's true that studio owners and their sometimes perfectionist instructors prefer an unlimited selection of products for their students. "Their artistic nature requires access to whatever 'the piece' calls for in terms of dance supplies," says Henderson. The cost for a studio to carry inventory, especially shoes, is unusually high because of the incredibly high range of available sizes.
For the dance studio that scrapes by on tuition revenue and the annual dance recital, there is a serious and never ending cash flow problem right around summertime when there are fewer dancers taking fewer classes. Henderson and his wife, Tiffany, have the perfect "laboratory" in which to test new ideas. They own and operate seven dance studios in California, with an enrollment of well over 4,000 students. Despite the great number of students, Henderson's studios were never immune to the cash flow doldrums of each August and September – that is, until they figured out the most profitable and least costly way to sell dance supplies to their students.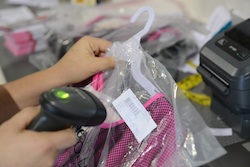 Henderson thought that since dance studios have a big cash flow problem and since they also have (or should have) a dress code for their dancers (and since every single dancer on the planet must purchase at least one costume, one pair of shoes, one pair of tights and probably a leotard each season), there was no reason that the dance studio shouldn't be the entity to profit on the transaction.
So, where does mobile come into the equation? Henderson figured out that what a dance studio really needed was a hands-off approach to selling dancewear products. A vending machine mentality, if you will. Studio owners and their administrative staff are well equipped to handle dance related transactions, such as enrolling dancers into a class or camp, printing rosters, etc. But, they are woefully ill equipped to deal with a "special-order, retail boutique, point-of-sale" situation. Managing inventory, purchase orders, packing slips, product placement and avoiding theft is incredibly difficult, time-consuming and costly in a dance studio environment. "If you've ever talked to a dance studio owner, the one thing you'll realize right away is that they work 12-14 hours each and every day and extra time is one thing they do not have," says Henderson.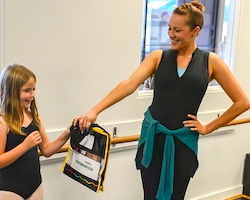 Henderson's studio's cash flow problem went away when he created CostumeManager.com in 2008. It is a database of over 120 brands and 50,000 dancewear products from nearly all of the major dancewear suppliers and costume catalog companies in the U.S. It allows studio owners to browse the site, view and compare products, and assign the desired products to their dance classes. The studio determines the retail price; thus, determining their own profit margin. The assigned products become a "class list" that the students or their parents access online or via a toll free number to purchase their supplies; thus solving the inventory problem.
CostumeManager.com enhanced its service by creating Virtual Dance Boutique, a customizable dancewear store that literally sticks to the wall on heavy-duty, self-adhesive wallpaper tiles that can be arranged in any way a studio desires. The poster or tile displays the products that the studio pre-selected. It also contains a QR code that shoppers can scan to access the CostumeManager.com mobile site to complete their purchase. Since QR technology may be foreign to dance moms, there is also a "Class List ID" number on the tile that shoppers can type into their mobile device or computer to access the list. And, if a shopper has no mobile device, there is a toll free number they can call to place their order.
CostumeManager.com and its Virtual Dance Boutique are completely free for the dance studio if the studio prints their own tiles. The heavy-duty wallpaper is $5 per tile and is printed by CostumeManager.com and FedEx'd to the studio for easy installation in just minutes. Henderson says, "It's literally possible for a dance studio to open a 'boutique' in their studio in 10 minutes…for free."
To learn more about how this innovative new product works, click here.
To find out answers to some of the most frequently asked questions, click here.
Photos courtesy of Paul Henderson and CostumeManager.com.