Pepsi Center Grounds, Denver
July 18, 2013
By Stephanie Wolf.
Approaching the vibrant yellow and blue tent it was impossible not to be overcome by the allure and excitement of the circus. But this was no ordinary circus. There was no parade of elephants and monkeys or clowns with red noses, honking their horns at innocent spectators. Circus seemed an inadequate word to describe the pageant of performers that dazzled and amazed a packed house on opening night of Cirque du Soleil's Amaluna for its Denver run.
Perhaps circus art would be a more accurate term to summarize the kaleidoscope of colorful costumes, death-defying stunts, humor, romance, and rock-inspired, eclectic music. From the moment a spectator entered the arena, that individual was transported into a magical world of mayhem and mystery—creating an alternate universe is what Cirque excels at in all of its shows.
Set on a mysterious island overseen by goddesses and driven by moon cycles, Amaluna told the story of young Miranda (Iuliia Mykhailova), who is at the cusp of womanhood. It was a coming-of-age romance that took the audience on a wild ride with the young heroine, as she encounters numerous obstacles in her quest for love. The loose storyline tied together the various acts nicely without weighing anything down by plot.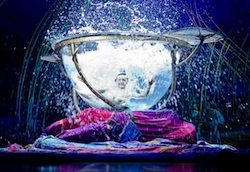 With so much visual stimulation at all intervals of the evening, it was difficult to narrow down specific highlights. However, there were several specific moments that sent the audience into exceptionally uproarious applause or fits of laughter.
Unicyclists (Satomi and Yuka Sakaino) skimmed across the floor, sliding and twirling like figure skaters. The Peacock Goddess (Amy McClendon) had amazing control over her back muscles, rippling her arms like a bird; she also had great ballon. The two silk dancers (Suren Bozyan and Karyna Konchakivska) were stunning in their air pas de deux. Gymnasts became Amazonian women and performed an original, synchronized parallel bar routine. Another goddess (Lara Jacobs) amazed with her balance routine. Cali (Viktor Kee) executed an outstanding juggling number. And a simple see-saw became an entertaining acrobatic medium for an ensemble of highly athletic men.
The leading couple, Mykhailova and Romeo (Evgeny Kurkin), each had an opportunity to demonstrate their own circus talents. Mykhailova performed a contortionist and balance act that involved an approximately two-foot deep orb of water. Her flexibility and strength were super human. As was Kurkin's, whose gymnastic routine of scaling a tall pole that stood center stage was out-of-this-world. At one moment, he fell almost the entire length of the pole, catching himself within inches of the floor. It left the audience gasping.
The performance's emcees, Deeda (Shereen Hickman) and Jeeves (Nathalie Claude), were essentially clowns with a European twist; they provided comic relief throughout the evening. One routine, in which Claude gave birth to about a half dozen baby footballs, was particularly entertaining.
With entertainment, comedy and unbelievable stunts, all of the elements of a circus were there. But Cirque du Soleil took these components and elevated them to a new artistic level. Amaluna successfully combined the Vaudeville-like structure of the circus with a whimsical story, interesting characters and beautiful costumes. It was escapism at its finest.
Photos courtesy of Cirque du Soleil.