The Denver Center for the Performing Arts
The Buell Theatre, Denver, CO
Saturday, June 8, 2013
By Stephanie Wolf.
The Denver Center for the Performing Arts bustled and hustled on Saturday, June 8, as the dancers of Louis van Amstel's original show Ballroom With a Twist took the Buell Theatre's stage. It was a star-studded evening with a roster filled of dancers and singers from the shows Dancing With the Stars (ABC), American Idol (FOX) and So You Think You Can Dance (FOX).
With such a strong fan base, expectations for the production were high—as they should be. Packed with a staggering abundance of fringe, rhinestones, poppy tunes and hip gyrations, it certainly was a glamorous night of razzle-dazzle. However, on many levels, Ballroom With a Twist failed to fully bring the heat one would expect from an ensemble of such seasoned professionals.
The show started strong with dramatic entrances, music and multimedia visuals. But, unfortunately, it didn't continue to build from there. A series of dance and musical routines strung together by no particular theme, it ran the risk of being almost recital-like.
DWTS pros Anna Trebunskaya and Jonathan Roberts emceed the evening. Their bits were cheesy, but charming. The few numbers they danced emanated their natural ease and elegance on the ballroom floor.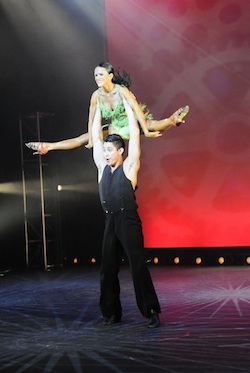 The other DWTS dancers on hand were Chelsie Hightower and Tristan MacManus. Neither of them showcased the same poise as Trebunskaya and Roberts—a few audience members openly expressed their disappointment.
A few moments warranted a ticket on Mary Murphy's Hot Tamale Train. SYTYCD alumni Legacy, Jonathan Platero and Randi Lynn Strong gave a captivating contemporary performance. Accompanied by American Idol finalist Gina Gluckson's touching rendition of Sara Bareilles's "Gravity," the three fearlessly catapulted their bodies throughout the space into supremely executed lifts, twists and turns. All the while, they maintained clean lines and demonstrated they had continued to hone their skills since their time on television.
Legacy has come leaps and bounds in his contemporary and ballroom technique, but ultimately, it was his breakdancing skills that made him one of the evening's dancing dynamos. In a solo to John Lennon's "Imagine"—sung by Idol finalist Von Smith—Legacy pirouetted not on his feet, but on his head, shoulders and torso. It looked effortless.
Strong, Platero and Gluckson returned later in the evening for Marc Cohn's "Walking in Memphis." It was a showcase for Gluckson's rich voice as well as Strong and Platero's strength and chemistry as a partnership, and it left the audience utterly breathless.
Van Amstel's ensemble of ballroom experts managed to bring it in some of their fired up Latin-inspired numbers in the second half of the show. The audience was treated to flips and dips not normally seen on DWTS.
However, as a whole, the show appeared to suffer from being under-rehearsed. On many occasions, dancers forgot choreography, were late for cues, missed grips and handled costume malfunctions poorly. Some dancers also struggled with the proscenium space, bumping awkwardly into the wings or side booms.
While the evening's packed house was a testament that exposure on television can translate to drawing crowds to a live dance performance, how TV's 15 minutes of fame affects the aspirations of dancers and the industry as a whole should be taken into consideration. With high ticket prices and esteemed reputations comes high expectations. Sadly, Ballroom With a Twist lacked some of the fire and passion one would anticipate from such high-caliber artists.
Photos: Dancers performing in Ballroom with a Twist. Photos provided by Denver Center Attractions.