By Leah Gerstenlauer.
Music and dance — there was a time when the two were inextricably linked as live arts. Music was written for and tailored to movement; movement was created in conversation with that music; and performance was a continuation of the creative dialogue. But with the increasing availability of recorded music, that standard has changed. Choreographers save money by forgoing live music and commissioned scores, and musicians lose nothing by taking on more lucrative gigs.
For New York City-based dance-maker Leigh Schanfein and composer Jonathan Howard Katz, the rift between the two artistic disciplines is cause for concern. "When we showed one of our collaborative pieces at a dance showcase last fall, it was the only one of 11 pieces on that program to feature live music," Katz recalls. "In a city where musicians are coming out of the woodwork, we had to wonder why."
Thus was planted the seed for Periapsis Music and Dance, Katz and Schanfein's venture to bring composers and choreographers, musicians and dancers together in the studio and on the stage. What began as a mere mutual thought last September blossomed into a full-fledged show in February, and will fuel the production of two more performances this month, at the Secret Theater in Queens on May 16 and the Actor's Fund Arts Center in Brooklyn on May 20.
Though their first collaboration dates back only a year, Schanfein and Katz now find themselves facilitating what they hope will become a large-scale movement to reunite and revivify their artforms. Considering the massive response they gleaned from their initial calls for composers and choreographers, there is more than enough momentum coming from their respective realms to turn their vision into a reality.
"For the February show, I made only a mini call for composers and ended up with a playlist of about 40 pieces for the choreographers to choose from," says Katz. "Most of the composers had never worked with dancers before, and they were flattered and impressed to see their work transformed into movement."
Schanfein received similarly enthusiastic responses from the four other choreographers on Periapsis' inaugural program, all of whom enjoyed some level of interaction with the composers behind their chosen music. A high priority for next year's projects is to increase coactivity amongst participants, allowing for a more integrated creative product.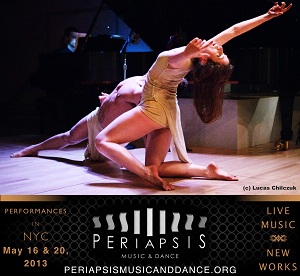 "So far, we've only worked with previously composed scores," Schanfein says. "Even Jonathan and I have collaborated only on concepts. He writes the music with our ideas in mind, and I choreograph on top of that. We'd like to move toward a 100% collaborative process. That means extra rehearsal time, more back and forth, a lot of unused music and choreography… It would be really cool and also kind of scary."
But heightening the artistic intensity of their work will likely prove to be somewhat of a creative release, given the plethora of logistical challenges Schanfein and Katz have faced in the less than six months they spent producing their first show. Of primary concern is, unsurprisingly, funding — an aspect of Periapsis' well-being that its directors are determined to stay on top of.
"Freelance dancers especially are used to being poorly paid. But we need to have the budget to compensate our artists — all of them — in a reasonable manner," Schanfein asserts. Katz is equally adamant on the topic of payroll, and with this point in mind, is eager to see through the group's application for 501(c)3 status. "I seriously want to address the issue of pay with the grant writing we have coming up because we're working with people who should not just be surviving, but actually making a living as artists."
Finding suitable performance venues for Periapsis is another problematic task, considering the various technical requirements of productions incorporating not just one, but two live arts. Quality of acoustics, proper flooring, availability of less transportable instruments (pianos, drums), soundproof rehearsal rooms, warm-up studios — Katz and Schanfein take all of these details into account when scouting venues. And when the pair is not scouring the city for the perfect performance space or piecing together a non-profit budget, they are making moves to cultivate an audience and get more people involved in their cause. The greater their following, they believe, the greater the opportunities for their fellow artists.
"We don't just want to produce our own shows; we want to help other musicians, dancers, composers and choreographers to collaborate," Schanfein says. "If a music group wants to have dance in its next show, we can help them make connections. We want to see these visions realized."
To learn more about Periapsis Music and Dance, or to find out how you can become a part of its next season, head to periapsismusicanddance.org to snag a ticket to one of the group's spring shows.
Photo (top): Dancer Robin Gilbert in a Periapsis Music and Dance rehearsal. Photo by Alex Agor.