By Deborah Searle.
Roger O. Hirson and Stephen Schwartz's PIPPIN is back on Broadway for the first time since it first thrilled audiences 40 years ago! Previews began on March 23, with opening night scheduled for April 25 at the Music Box Theatre on West 45th Street in New York City. Produced by Barry and Fran Weissler and Howard and Janet Kagan, and directed by Diane Paulus, PIPPIN is sure to enchant audiences.
A beloved coming of age musical, PIPPIN is noted for many Broadway standards including "Corner of the Sky," "Magic To Do," "Glory," "No Time at All," "Morning Glow," and "Love Song." In the story, royal heir Pippin is spurred on by a mysterious group of performers to embark on a death-defying journey to find his "corner of the sky." Will he choose a happy but simple life? Or will he risk everything for a singular flash of glory?
The original production of PIPPIN, directed by none other than Bob Fosse, premiered on Broadway in 1972. It won five Tony Awards and five Drama Desk Awards, and ran for close to 2,000 performances before closing in 1977. This production of PIPPIN made its debut at American Repertory Theater (A.R.T.) in Cambridge, MA, where Diane Paulus served as Artistic Director from December 5, 2012 to January 20 of this year.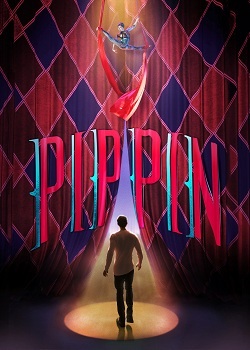 The show will include circus creations by Gypsy Snider of the jaw-dropping Montreal-based circus company Les 7 doigts de la main (also known as "7 Fingers") and choreography by the talented Chet Walker.
"The choreography is based in the Fosse Style," explains Chet Walker, who was in PIPPIN's original Broadway company. "I have used my years of working with Mr. Fosse to choreograph this new production."
The cast, all of whom appeared in the premiere of Diane Paulus's production of PIPPIN at American Repertory Theater, features Matthew James Thomas as Pippin, Tony and Olivier Award-nominee Patina Miller as Leading Player, Tony Award-nominee Terrence Mann as Charles, Tony Award-nominee Charlotte d'Amboise as Fastrada, Rachel Bay Jones as Catherine and Tony Award-winner Andrea Martin as Berthe.
Other members of the company include Erik Altemus as Lewis, as well as Gregory Arsenal, Andrew Cekala, Lolita Costet, Colin Cunliffe, Andrew Fitch, Orion Griffiths, Viktoria Grimmy, Olga Karmansky, Bethany Moore, Brad Musgrove, Stephanie Pope, Philip Rosenberg, Yannick Thomas, Molly Tynes and Anthony Wayne.
The design team includes Tony Award-winner Scott Pask (Scenic Design), Dominique Lemieux (Costume Design), Tony Award-winner Kenneth Posner (Lighting Design) and Tony Award-winner Clive Goodwin (Sound Design). The orchestrations are by Tony Award-winner Larry Hochman with music supervision by Nadia Di Giallonardo, and music direction by Charlie Alterman.
So what can audiences expect from this production of the classic? "We have combined an element of circus to this production," says Walker excitedly. "The show has not been seen in Broadway for over 35 years. I think a new generation will have the chance to see PIPPIN as a new show!"
"I think the story, the character and the amazing songs, wrapped with a circus filled with magic, dance and acrobatic elements, makes it an amazing production."
Tickets for PIPPIN are available through www.telecharge.com/pippin, by calling 212-239-6200, and in-person at the Music Box Theatre Box Office, located at 239 West 45th Street. Tickets range in price from $59 to $142. For more information, visit www.PippinTheMusical.com.
Photo (top): From left, Anthony Wayne, Patina Miller and Andrew Fitch performing in PIPPIN at American Repertory Theater (A.R.T.) in Cambridge, MA. Photo by Michael J. Lutch.