By Stephanie Wolf.
The New York dance scene is saturated with burgeoning choreographers and dance companies, giving Manhattinites an overwhelming catalogue of dance happenings to attend on any given night.  With so much established and new dance in the city, how is an ambitious choreographer to stand out?
Recognizing this surplus of dance, former New York City Ballet Soloist Tom Gold has decided to follow a less conventional approach to showcasing his choreography. By building an international touring company, Gold has succeeded in establishing a global presence with his troupe of dancers and avoided getting lost in the crowd. Now, riding on recent momentum from sold-out performances at the Guggenheim in Bilbao, Spain, Tom Gold Dance is evolving rapidly and ready to make its balletic mark on American soil.
The origins of TGD are almost out of the movies; glamorous and serendipitous. He formed the troupe in 1999 when he was invited to bring a group of dancers to the South of France. Word spread quickly and, shortly after, acclaimed international ballerina Alessandra Ferri asked Gold to help her assemble dancers to tour Italy.  From there, the Guggenheim in Bilbao extended an invitation to TGD and the company just completed its fourth year of performances as part of the museum's Works & Process series. One opportunity led to the next, including tours to Bermuda, upstate New York, and more recently, Israel. Now Gold had a fledgling company. He enjoys the process and being "in charge of his life…and able to call the shots"—rather than at the mercy of an artistic staff's creative will.
Yet founding a ballet company has not always been Gold's ambition. He began experimenting with choreography in his high school years at the Chicago Academy for the Arts. But when Gold moved to Manhattan to join the New York City Ballet, "choreography took a back seat." He asserts, "I've always loved dancing and choreographing," but he was fully focused on dancing during his performing career. It wasn't until well into his time with New York City Ballet that the choreographic itch came back into his life.
In a trend of edgy, contemporary dance, Gold sticks to what he knows best, classical ballet.  His company performs "ballet at its best [with] beautiful movement and beautiful dancers." The repertoire is a "nice range of American ballet," including works by George Balanchine, Jerome Robbins, Twyla Tharp, as well as Gold's own choreography. There's usually a narrative because Gold loves to use movement to tell a story, and he often pulls his choreographic inspiration from music. "I always try to do something that is challenging, educational, but entertaining for the audience. I want the audience and dancers both to have a great time," he says enthusiastically, "like sugar, but it's educational. It goes down easy but it will teach you something."
Currently, the company is mostly comprised of dancers from major companies like New York City Ballet, American Ballet Theatre, and Pacific Northwest Ballet. But Gold hopes to build his own roster of dynamic artists and, eventually, bring in more emerging choreographers. It's still in "the infant stage," but prospering rapidly. Recently TGD gained its nonprofit status and is now actively fundraising to enable more domestic performances and expansion.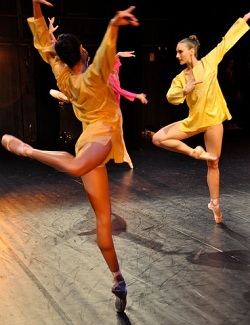 The company is based in Manhattan, using the city as a "springboard." And while Gold intends to build a stronger national presence, particularly in New York, he loves travel and believes "global growth" will always be at the heart of Tom Gold Dance.
Down the road, the company has a lot to look forward to. At the beginning of November, it tours to Cuba for the International Ballet Festival of Havanna, performing works by Tharp, Balanchine and Gold. It's a huge honor for the troupe as the festival is one of the oldest of its kind in the world and occurs only every two years. Additionally, Gold plans to expand the company's New York performance season and there is the possibility of a tour to Hawaii in 2014. Energized and excited for the future of his company, Gold's passion for choreographing, his dancers, and the art form in general shines through. His infectious attitude will surely take the troupe far.
Top photo:
Tom Gold Dance's Amanda Hankes, Sara Mearns and Abi Stafford. Photo by Arthur Elgort.
Photos courtesy of Dan Dutcher Public Relations.