Choreographer, award winning performer, director and producer, Mande Dagenais has released a new book – Starting Your Career as a Dancer. In Starting Your Career as a Dancer (released by Allworth Press this May 2012), Mande Dagenais explains what it really takes to get into the business, be in the business, and survive in the business.
Based on more than twenty-five years of experience in the performing arts industry, Dagenais offers insider advice and shares her vast knowledge while answering questions asked by professionals and beginners alike.
Mande Dagenais has won numerous awards for her writing, including a Silver IPPY Award in Performing Arts. Her work as a choreographer, director, and producer has been appreciated by millions of people around the world. With over seventy stage shows to her credit—including ten years of performances at the famed La Cage Aux Folles Los Angeles—she has received accolades from some of the industry's most discriminating critics and performers.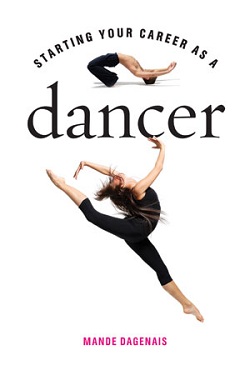 A great read for new and seasoned dancers of any style, Starting Your Career as a Dancer radiates inspiration while dishing practical advice on everything from gigs, to nutrition, to finances. Starting Your Career as a Dancer is a very comprehensive and practical guide to dance success.
Other topics include: different markets, venues, and types of work for dancers, audition dos and don'ts, what to expect from a dancing job, versatility, injury prevention, unions, psychical conditioning, business management, career transition and more.
Starting Your Career as a Dancer retails for $19.95 and can be found in good book stores or ordered directly from the publisher by calling (212) 643-6816 or visiting www.allworth.com.
Top photo: Mande Dagenais, author of Starting Your Career as a Dancer
Published by Dance Informa digital dance magazine – dance news, dance auditions & dance events for the professional dancer, dance teacher and dance students.