By Christine Dion of Mode Dion
Even with plenty of practice and an on time arrival back stage, disasters can strike! Be prepared with this handy Check List Of Dance Bag Must Haves.  If it ends up that you yourself never needs these items, rest assured that you will save the day for someone else!
Must have necessities for the performer's dance bag:
Eye make-up remover pads: Non-oily are best. For fast make-up changes, use gentle downward strokes to remove false lashes and all. Never rub side to side when removing eye make-up, you'll work the make-up right into your eyes.

Scissors (small): Use this handy tool for trimming false lashes, clothing tags and threads.

Tweezers: Eye make-up looks its best when the brows are well groomed, so keep up on stray hairs. Also use tweezers to perfectly place rhinestones or help with false lashes.

Eyelash curler: A must for perfectly curled lashes. Always curl lashes before you put on mascara or false lashes, never after. False lashes that have lost their curl can be brought back to life by gently curling them with an eyelash curler.

Cosmetic pencil sharpener: Lip and white eye pencils must have a perfect point.

Cotton squares: Wet cotton squares with warm water and a little face wash to do a fast clean up without even needing a towel.

Q-tips: are great to spot clean quickly, remove mascara smudges or eye shadow flecks.
Other important necessities: band-aids, safety pins, feminine products, aspirin, Tums, breath mints, deodorant, extra pair of tights, paper and pen, hair brush and hair spray, bobby pins, scotch tape, first aid tape (for roaming glitter), socks, foot powder, nail clipper/file, nail polish remover, shoe polish.
Basics for the performer's makeup box:
Skincare products like facial moisturizer and makeup removing wipes are both great for putting your stage face on and taking your stage face off.

Foundation, concealer and loose face powder in oil-free formulas.

Brow grooming pencil or cake color.

EYES: eye shadow colors in neutral tones like matte black, matte brown, matte peach or red/brown and matte cream highlighter to go with every look and costume change. Good pigments are very important and shadows can be used as wet/dry liners too.  White Pencil (a must have eye opener), false lashes, lash glue, mascara.

LIPS:  A red/brown lip liner to define and enhance lips.  Stage red lipstick and a lighter shimmer golden color as a lip highlighter.

CHEEKS: Flushing shade/stage red cheek color and contouring shade/natural contour.

Shimmer opaque loose powder for highlighting cheekbones, eyes, shoulders etc. Any place you would like to add a little more light-reflecting glimmer.See all these stage products and more at

modedion.com

under 'shopping'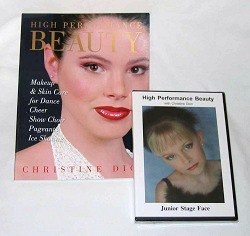 Resource Special: Mode Dion are running a special exclusively for Dance Informa readers!
Receive the High Performance Beauty Book + DVD for only $15.00! (Retail $34.95)
Mode Dion High Performance Beauty Book
In depth and thorough, filled with beautiful photos and step by steps, this book covers everything from ways to achieve beautiful skin, health and nutrition, at home spa treatments and healing tired muscles to every makeup application need. Learn how to enhance and correct features as well as how to choose your most flattering colors for every day. What look is best for an audition, polished looks for outdoor performances and sports like cheer to pageantry, photography, large and small stage looks and even theme makeup are all covered along with the correct tools to make it all look professional.

MODE DION's High Performance Beauty DVD
Choose between:
"The Junior" specifically for Juniors, and those who help them with their make-up, to achieve a flawless performance face! Easy, fast and comforting, Christine guides the viewer through techniques that are designed just for children who are at times uneasy with the experience of makeup application.
"Senior" (teen/adult) Step by step application of stage make-up for performers who need to look their best under stage lights. Easy to follow application techniques along with enlightening dos & don'ts, using neutral colors that compliment every costume change. Covers achieving perfect brows (the frame), beautiful open eyes, flawless skin, defined features and adding show appeal for the most polished performance face.
Phone 760.837.9433 to order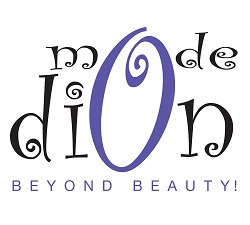 Christine Dion has worked internationally as a makeup artist in fashion, print, television and stage.  She has been in the beauty industry for over 30 years as an artist and educator.  Check out her website modedion.com for more information.