Melbourne, Regent Theatre from Saturday 6 March
Perth, Burswood Theatre from Tuesday 13 April
Sydney, Lyric Theatre Tuesday 18 May
Tickets on sale now for all cities!
Cats, the most recognised and adored musical the world has ever known has just finished a highly successful season in Adelaide and is now set to caper and frolic into Melbourne, Perth & Sydney for strictly limited seasons. Cats is quite simply a phenomenon. Featuring a magnificent musical score composed by the legendary Andrew Lloyd Webber, including the poignant hit song "Memory", a fantastical set, inspired choreography and mischievous costumes, Cats is a brilliant song and dance spectacular not to be missed.
Seen by over 65 million people world-wide, Cats first opened in London in May 1981 to rave reviews and went on to win a record-breaking number of awards internationally including two Olivier Awards for 'Musical of the Year' and 'Outstanding Achievement of the Year in Musicals', and seven Tony Awards. It holds the record for one of the longest running musicals in West End history playing for 21 years. In addition Cats played 18 years on Broadway and has been presented in over twenty-six countries, in about three hundred cities, in ten languages.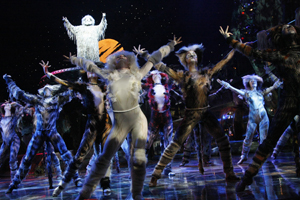 Boasting a cast and crew of 53 including a live band, Cats will return triumphantly in an entrancing production that reconnects us with our favourite characters – Rum Tum Tugger, Mr. Mistoffelees, Jennyanydots, Old Deuteronomy, Grizabella and Skimbleshanks. Based on the book of poems "Old Possum's Book of Practical Cats" (1939) by T.S. Eliot, Cats tells the imaginative tale of a tribe of Jellicle Cats as theygather together for the annual Jellicle Ball, and one by one tell their stories for the amusement of Old Deuteronomy, who must choose one of the Cats to journey to the Heavyside Layer to be 'reborn' into a new life.
It has been 15 years since Cats wowed audiences here, and following sell out shows across Asia since 2006, Cats is returning home. Cats is presented in Australia by Lunchbox Theatrical Productions and David Atkins Enterprises in association with Andrew Lloyd Webber's The Really Useful Group.
Lunchbox Theatrical Productions and David Atkins Enterprises have been responsible for numerous outstanding productions over the years including Miss Saigon, Singin' In The Rain, The Phantom of the Opera (Singapore 2007 season, in association with The Really Useful Group), Stomp, Swan Lake On Ice, We Will Rock You and Abba Mania, to name but a few. Andrew Lloyd Webber's The Really Useful Group is one of the world's most recognized international entertainment companies, responsible for producing, co-producing, licensing and managing major theatrical production worldwide.
"The cat's whiskers… A triumphant piece of musical theatre…" Sunday Times UK 
WIN A DOUBLE PASS!
Win two tickets to see Cats in either Melbourne, Perth or Sydney. Click here…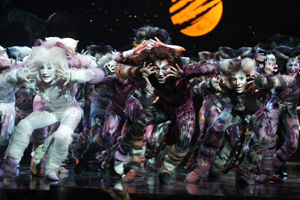 MELBOURNE
Venue: Regent Theatre, Melbourne
Opens: Saturday 6 March 2010
Bookings: Ticketek 1300 795 012
www.ticketek.com.au
PERTH
Venue: Burswood Theatre
Opens: Tuesday 13 April 2010
Bookings: Ticketek 1300 795 012
www.ticketek.com.au
SYDNEY
Venue: Lyric Theatre, Star City
Opens: Tuesday 18 May 2010
Bookings: ticketmaster 1300 795 267
www.ticketmaster.com.au