Dance Informa offers you the next installment in our series on alternative dance gigs! This month, we're talking about fitness training and the various ways you are perfect for the job.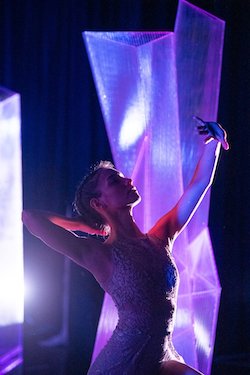 Evita Zacharioglou is a New York-based contemporary dancer and fitness trainer. She boasts a resume of gigs like performing for Crystal Pite at New York City Center, touring internationally with ISADORA (a show detailing the life of modern dance pioneer Isadora Duncan), during which she worked side by side with Natalia Osipova, and was featured alongside her in Russian Vogue. To supplement her dance career, Zacharioglou teaches adult ballet and barre fitness classes.
How did you start working in fitness?
"I started by teaching ballet to adults in a follow along format — almost like a fitness class, to 'get the ballerina body'. I began teaching barre fitness after that. For barre fitness, I think all barre classes are slightly different. It originates from ballet barre, it's meant to target muscles that dancers use. A lot of the exercises are Pilates based, or have some ballet influence. I think it's the way they do the exercises that's different. It's about the burn, whereas in ballet we lengthen and it's more about the flow, instead of 'We're doing this 20 times or until we can't feel our leg anymore.'"
What about your dance training made you already well suited to the job? What did you have to learn?
"It's an easy skill for dancers, because we have the basic skill and understanding. You need to fine-tune that, of course. Projecting was something new for me. I think as dancers we internalize when we're in class. But when you teach, you have to have a voice. You don't necessarily realize that you don't have one until you try and use it. I auditioned twice for the barre place I work at now. The first time I didn't have any teaching experience, and I didn't get the job. But two years later after I had been teaching ballet and had gained some authority by teaching something I knew well, then I got the job. You don't realize that's so necessary until you get in front of an entire room and you're like, 'Oh. Shoot. Everyone is waiting for me to tell them what to do.' You're the expert."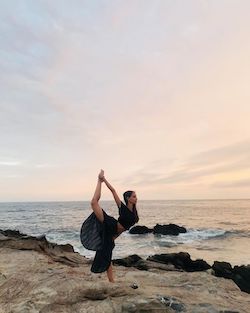 Do you ever find it difficult to direct people who aren't dancers in how to exercise and care for their body?
"Dancers take our general knowledge of the body for granted. There are a lot of clients with great body awareness already, but there's lots of people who have no idea how to stand or be. You have to find ways to be articulate. Everyone's different in a classroom, you need to be able to visually show them, verbally cue them and figure out what they need. Sometimes it's as simple as them not being tuned in when you repeat 'Left leg back! Other left leg!' five times before they realize and switch legs. But sometimes it's because they're truly not making the connection. It can be very disorienting for some people."
Do you find working in fitness helpful in keeping up with your own training?
"Where I teach barre, trainers can take as many classes as they want for free. You do stay fit, and gain strength. Teaching class is draining in a whole other way. Whereas when I teach a ballet class, it's a follow along format, so I actually do the entire class and I can get a sense of a workout. But even then, I'm not focused on me, I'm focused on taking care of everyone else in the room. I also think between rehearsals, teaching and the rest of my schedule, it's difficult to take a class for myself sometimes, because I'm so tired. But compared to when I worked in a restaurant, this makes more sense to me. I still get flexible hours, and can continue dancing and pursuing my dreams, and now I'm at least the right kind of tired."
Do you find your dancing is changing after having consistently spent time moving in a new way?
"I personally was always into cross-training. But I think dancers rarely focus on upper body strength. I'm very small, and I had zero upper body strength, but now I will win a push-up contest."
Is being in an environment of energetic and active people (often early in the morning) inspiring? Is it ever too much?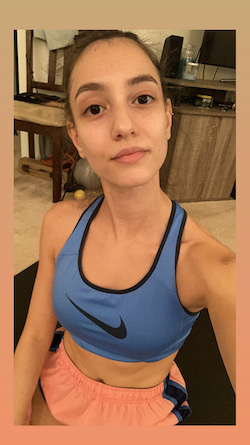 "There are good and bad days, but I'm always a professional. I will show up, and sit and be tired or gloomy in the teacher's lounge. As soon as I get into that room, though, I'm going to be positive and give as much energy as I can. And that's a skill that dancers have. When you have to perform, you have to perform. I honestly didn't think I could do it so well, but you can turn it on and off, you really can."
Do you find it worth it?
"Yeah. To subsidize my dance career, I think so. It also depends on the person, though. It can be exhausting. There are days where I just want to quit everything. But some days I teach clients who inspire me, who bring energy and give me back energy. Then of course you also get people who are going through their own stuff. But I think that's just the human race, you're going to have to deal with that in any job. Overall, there have been more pros than cons. And if it ever becomes too much, then you just change what you're doing."
That's kind of the beauty of survival jobs, is you already have your career and passion, everything else is just supplemental.
"I think the problem with dancers is we want to dance so much, and when we dedicate every little bit of our body and mind and soul to it, we're afraid to do anything else that we might be good at. I think dancers have so many hidden talents. Because we are these artistic, intellectual people, and I think we're afraid that if we try something else then we're giving up on dance. And I don't think that's the case."
You can follow Evita Zacharioglou on Instagram: @evitaz.me.
By Holly LaRoche of Dance Informa.