By Laura Di Orio of Dance Informa.
Dance competitions offer dancers the opportunity to perform on stage, complete with lights, makeup and an audience, and can provide them with immediate feedback on their performance skills and technical ability. The judges will rate all aspects of a dancer's performance, including areas for improvement and also areas that are working well. Scoring highly in a competition can not only boost a dancer's confidence but also pave the path for future competitions and performance experiences to come.
That said, though, the main goal of a competition is to win, right? So what are the key elements to a successful, winning competition routine? It may be more than just technical tricks. Here, Dance Informa speaks with two executive directors of leading dance competitions for their insight and advice on choreographing a winning competition routine.
What Matters Most?
Yes, the technical elements of a routine are important – Are the dancer's feet pointed? Legs straight? Are steps done, and done well, on both the right and left side? Are the lines clean?
"A great ballet background spills over into all forms of dance," says Drew Vamosi, owner and executive director of Leap! National Dance Competition. "The body lines that are developed through ballet give a cleaner and more developed look to any routine of any style of dance."
A winning routine, however, will showcase not only a dancer's technical strengths but also focus on the non-technical or subjective aspects of the performance.
"Judges will consciously and carefully scrutinize technical factors and add or deduct points based on their careful observations, but their overall opinion of the routine will be most affected by the showmanship aspects of the performance," says Shawna David, executive director of World-Class Talent Experience.
Dancers need to show quality of movement, expression, musicality, a range of emotions and a sense of stage presence that captures the audience.
Highlight Strengths
Overall, a judge wants to see a dancer dance. Therefore, David recommends a choreographer or teacher to create a routine with innovative and interesting movements that showcase a dancer's strengths and that allows him/her to connect to the music and audience.
"You should be sure to create movements that drive the dancer's confidence," she adds.
Likewise, Vamosi says, "A winning solo routine focuses on the talents of the individual. Always choreograph to that student's best abilities. Do not add in movements that they cannot execute well. It will only make them more vulnerable to a lesser score."
From personal judging experience, Vamosi says that he always looked for what the dancer could do. It may be a balance between showing the dancer's best work and pushing them to grow as a dancer, but in the end a routine should have movements in which the dancer is solid.
In fact, David points out that if a dancer is not able to execute the movement well in the studio, the teacher or choreographer should modify the steps for the stage. It's best to highlight the dancer in his/her strengths.
Music Matters
Vamosi says that choice of music is crucial. The dancer should love the music, and it should suit them and enable them the chance to shine. And to choreograph to the music, he recommends adding ascension and descension movements when possible.
"Let the music lead you when choreographing a piece," he adds. "Too often a routine is filled with tricks that do not necessarily fit the music."
Short and Sweet
A winning routine should also be short and sweet. For a solo routine, Vamosi recommends a piece be no longer than two minutes and 20 seconds. For a group routine, he suggests keeping it under three minutes.
"Longer is not better," Vamosi advises. "Leave the judges wanting more! And be careful not to over-choreograph by cramming every step imaginable into the routine."
Solo vs. Group Routines
Solo and group routines have some similarities and differences in terms of their success. Both should err on the side of being clean and polished rather than full of too many tricks that aren't executed properly. More tricks don't equal a higher score. There should also be a variety of movements in all routines.
For group routines, elements like spatial patterns, entrances and exits, and unity are very important and are obviously unique to group dances.
"With groups, the best thing to a winning routine is synchronicity and cleanliness, especially when it comes to the tap categories," Vamosi says. "Practice makes perfect!"
He adds that using much of the stage is important for groups as well, as it gives a stronger visual dynamic.
David agrees. "In a winning group routine, there are many different layers that need to be applied to the piece," she says. "Transitions on and off the stage are to be clear, concise and seamless. Variety of formations used in the routine will showcase levels, use of stage and creativity."
Clean It Up With the Details
No matter the content of the routine, its entirety should be thoroughly examined to be as flawless as possible.
"It is a known fact that every act goes through a number of stages of development," David says. "In the final stages, an act can be 'good', and merit a decent score, but in order for an act to rise above the threshold from 'good' to 'great', it takes an endless series of tweaks, an endless series of small modifications that lift the performance to a level of greatness. These small tweaks are hidden in the details of the content, performance, choreography, selection of music, costuming and appropriateness."
A great, flawless routine isn't necessarily created through running the piece over and over, however.
"You want to foster an environment where your dancers peak right before the competition," David suggests. "It's crucial to keep the routine fresh. Do not let your dancers get bored or too comfortable with the routine throughout the season. It's important to remember that too much rehearsal can hinder the overall growth and development of the routine. It is a myth that repetition of the routine will clean and polish the routine."
Perform with Joy
Vamosi concludes that a dancer should show his/her love of dance when competing, as that will translate to the judges and audience. "Dance because you love it," he says. "A judge loves nothing better than to see the dancers leave everything they have on the stage. Walk on with confidence and leave with pride!"
For a guide to the best dance competitions and conventions across the US, view Dance Informa's Competition and Convention Guide below: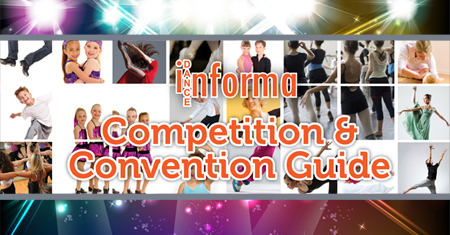 Photo (top): A solo competition routine, such as this one performed at a Leap! National Dance Competition, should highlight a dancer's individual strengths. Photo courtesy of Leap! National Dance Competition.