By Tara Sheena
Summer is officially winding down and the fall season will emerge from the depths of yesteryear faster than Ashley Bouder's petit allegro. The days of seeing your favorite dance companies light up the innumerable free outdoor venues NYC has to offer are long gone. Now, you have to pay for tickets and brave the chilled concrete jungle to catch a glimpse of your favorite movers and shakers. But, fear not! I have compiled a list of my top five 'must-sees' of the season so you can plan ahead and put that rainy-day cash to good use! Here they are, in no particular order:
Launch of NY Live Arts 
This fall brings us the launch of NY Live Arts, the merger between presenting venue, Dance Theater Workshop, and the chronically cutting-edge, Bill T. Jones/Arnie Zane Dance Company. The inaugural season of this historic partnership promises to keep the contemporary dance community on its toes. Established programs like the Studio Series and Lobby TALKS will continue with renewed momentum. New programs, like the Live Gallery and the broadened Replay Series, will allow greater exposure to the over forty performances New York Live Arts will present over the course of the next year. Major highlights I am looking forward to are Rosann Spradlin's intensely physical vocabulary, the highly unique voices of Zoe | Juniper, and a promising replay of Big Dance Theater's 2010 Bessie-award winning, Comme Toujours Here I Stand. The season kicks off on September 16, 2011 with a two-week run of Bill T. Jones' highly acclaimed Body Against Body. What is already a historic event, this collaboration gives insight to where the dance community is headed and the endless collaborative possibilities the future holds for our beloved form.  www.newyorklivearts.org
Robert Battle's First Full Season as the Artistic Director of Alvin Ailey American Dance Theater
The resident hard-hitting, rhythm-pulsing, heart-racing king of modern dance has officially been the Artistic Director of AAADT for just over two months, and already there have been some signature moments of the Battle Era. I am most excited for one of the biggest reforms initiated by Battle: the New Directions Choreography Lab. This program pairs emerging choreographers with veterans in the field and allows them the luxury of having rehearsal space, a stipend, and freedom to create without the pressure of a performance. Battle favors process over product, and his program allows choreographers to have that important liberty to just create. As with any new leader, Battle will bring new voices to the highly skilled, virtuosic troupe of dancers. Works by Ohad Naharin and Paul Taylor will receive their Ailey debuts, as well as a world premiere by hip hop master, Rennie Harris, ensuring these historic events will offer a memorable first season for the Battle era. www.alvinailey.org
The Metropolitan Opera
The Metropolitan Opera is an amazing opportunity for classically trained dancers to perform alongside some of the world's best opera singers, on one of the most revered stages, with some of the world's best choreographers. Not a bad gig, eh? The upcoming season promises to deliver an exciting assortment of, to quote Wagner himself, 'gesamtkunstwerk' (AKA some really awesome stuff!) Two particular productions I cannot wait to witness are Faust, choreographed by Kelly Devine, and Manon, choreographed by Lionel Hoche. Devine brings a largely musical theater background to the project, most recently lending her moves to the US tour of Rock of Ages. It will be interesting to see the intersections between her brand of hard-hitting rock n' roll with this tale of German folklore when it opens on November 29. During the second half of the season, we will see famed French choreographer Lionel Heche take on a fellow Frenchman's tragic story: Massenet's Manon. Heche has worked with many acclaimed companies, including the Paris Opera Ballet and Jiri Kylian's Netherlands troupe, making him one of the most sought-after French choreographers in the world. His neo-classical style incorporates everything from Forsythe to ballet, and it will all be seen through the eyes of Manon when this production receives its Met premiere on March 26, 2012. www.metoperafamily.org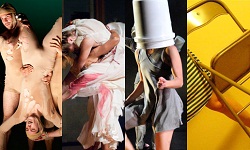 92nd Street Y Presents the Out of Israel Showcase
It is rare that the United States gets to benefit from witnessing the highly physical, intensely visceral experience of Israeli contemporary dance. That is why I am so excited that the 92nd Street Y is feeding all of the die-hard fans a dose of their own fanaticism (and saving me a trip to Tel Aviv) by bringing us the Out of Israel showcase in January 2012. Start the year off right with hometown favorite Andrea Miller and her electrifying troupe, Gallim Dance, and then delve into the worlds of Michael Samama, Neta Yerushalmy, Lior Schneior, and others. The entire weekend is devoted to this signature brand of movement, with varying programs and what is sure to be a unique set of shows. www.92y.org
Remembering September 11th with the NYC Dance Community
Jacqulyn Buglisi has been an important preservationist of modern dance in the US for many years. A featured dancer with the Martha Graham Dance Company, Buglisi's own company has been an important pillar of site-specific performance, and this September will be no exception. As a tribute to the tenth anniversary of the attacks on the World Trade Center buildings on September 11, 2001, Buglisi and one hundred other NYC dancers will stage a site-specific performance at Lincoln Center's Josie Robertson Plaza. Collaborating with Ms. Buglisi on the work are Italian artist Rossella Vasta and flautist Andrea Ceccomori. An important day in American history, the dance community will come together to recognize this great tragedy and work to acknowledge the hope that the future holds. The event will begin at 8:20am on September 11 and conclude at 8:46am, the exact time that American Airlines Flight 11 crashed into the North Tower. An amazing way to pay respect and come together as a community, this event will use dance to portray the unfaltering will and determination of the American people.
Top photo: Bill T. Jones/Arnie Zane Dance Company Body Against Body