By Deborah Searle.
Cheryl Cutlip, a Radio City Rockette for 15 years and Director of Project Dance and Broadway Underground is a dancer with a heart for her city and the dance community as a whole. With a long list of stage credits and an impressive career to date, Cheryl was not only dance captain, assistant choreographer and spokesperson for the famous Rockettes, but has performed on Broadway in the National Tour of Crazy For You, European Tour of 42nd Street, and the Broadway benefit to the stars of Mack and Mable.
After recently stepping off the Radio City Music Hall stage, Cheryl is not taking off her dance shoes yet as she focuses on how she can give back to the dance community. Dance Informa spoke with New York based Cheryl about her career, her dance projects and her advice for us all.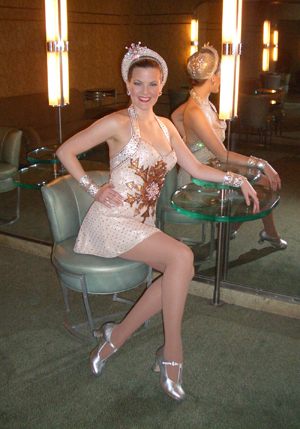 As a successful performer, choreographer, teacher and director, what is your career highlight so far?
Performing in Crazy For You was a big highlight for me.  It was sort of my dream show and I was cast in the Broadway National Tour as Susie and understudied Irene. I remember having a surprise visit by the director, Mike Ockrent.  At the time, I was on stage rehearsing my role as Irene and from the back of the house we heard an isolated applause.  As he came down to the stage we all were excited to see him.  That's a moment I'll never forget.
The other great memory was a workshop called Rockobolous. The Rockettes worked with Pilobolous for one month to set a new piece.  Unfortunately, the 12 minute piece was only performed for management but the process of merging these two polar opposite styles proved to be challenging yet artistically fulfilling.  I'll always cherish my minute in a modern dance company. 
After 15 years as a Radio City Rockette how did you find stepping off the stage?
Stepping off of the great stage at Radio City is still fresh.  15 years is a long time to perform with the same company and my memories there will always be close to my heart.  I find myself still excited to go see shows there and know that as I move to new things that there will be many more opportunities to perform in the future. 
What has become your new focus?
Ten years ago I founded an arts and education organization called Project Dance.  We've been growing steadily over those years and I'm now focusing more than ever on what the future of Project Dance will look like.  The organization offers worldwide dance events for networking, performing and training.  Project Dance also produces an urban variety show in New York City called Broadway Underground.  On a local level, Project Dance has an in-house dance company called Atmosphere and in the near future we will be offering a nine month professional preparation program called The Project Dance School of Urban Ministry.
How has dance brought joy to your life?
Finding what you are meant to do is such a key in life.  Therein lies the joy.  I'm so thankful to my parents who encouraged me in my dancing.  Though I've been paid to dance for the past twenty years, I've found that for the most part it has seemed like a dream.  I love to dance, I love to be in class, I love the feeling of overcoming new challenges in the studio and I love performing.  The people I've met along the way have made the journey joyful.   
How do you find that dance inspires others?
Dance does have a way of inspiring others.  It's hard not to see the beauty and dedication of dance when you visit the ballet, go see a Broadway Show or even when you come across a dancer who for the sheer joy of movement expresses their heart through dance.  Dance reminds us of design and order, purpose and inner strength.  It makes us believe we can fly.  Dance unlocks an often closed door to our heart and says 'come in and be free'. 
Tell us about Project Dance. What inspires you to run the event every year across the world?
I think for inspiration alone we produce Project Dance.  We desire to point dancers onward and upward.  Onward in their journey with dance and the career that is in front of them and upward in their journey with dance to explore their relationship with God.  Faith and art go hand in hand.  Project Dance is a safe place to discuss that intersection.  It's been an amazing ten years and I'm always pleasantly surprised by the masses of dancers who long to merge who they are on the inside with who they express on the outside.
As a citizen of New York during 9/11 how was the arts/dance community affected?
I know for me it was a time of feeling helpless to help.  Dancers, for the most part, are not able to spare much change.  Most of us live month to month and the idea of helping financially seemed impossible.  I remember sharing this with some of my dance friends who felt the same way.  We brainstormed on how we might give back.  And, out came Project Dance.  We set up a stage on Broadway and 44th Street in the spring of 2002.  We invited anyone who had been affected by 9/11 to come for healing.  I'll never forget that day.  The rain poured from the time we started until the time we ended.  But the faces of those hurting will never leave my memory.  I distinctly remember watching as one burn victim wept while watching the dance and another elderly man who kneeled on the hard pavement to pray as we danced.  The Spirit of the event was evident and something new was beginning.  New York City was getting a new start and dance was one of the things being used.
How has Project Dance brought hope and healing to New York and other cities across the world?
We've found that in every city there is a need for hope and healing.  There is also a need for dancers within the community to come together, train together, network together and encourage one another.  Our events are two fold:  for the city and for the dancers.
I remember a story of a young 12 year old girl from Pennsylvania who dreamed of dancing on Broadway.  Though she had a debilitating disease she showed up to perform.  This would be one of the last times she would be able to dance due to her illness.  Making her dream of dancing on Broadway come true changed my life.  I began to realize that Project Dance was more than a dance event.
Our events have caught on and I now oversee seven event coordinators who all produce Project Dance events in their city.  This year we'll be in Houston, New York, Toronto, Manila, Atlanta, Sydney and Hong Kong.  Next year we'll be adding Brisbane, DC and Denver. 
What can dancers expect to take away from a Project Dance weekend?
The goal is that every dancer who attends Project Dance will gain clarity on their next step in the dance world.  As you know, a career in dance is a journey and you don't get through it over night.  We offer a number of events throughout the weekend to help point dancers in the right direction.  The other goal is that dancers will feel validated in their art, a true sense of purpose in their dance.  We encourage dancers in every area; the professional world, the teaching world and the growing world of inspirational dance.
Tell us about Broadway Underground.
Broadway Underground is an urban variety show that lives up to its name.  We take the raw talent off the streets of New York and put them on our stage.  There are no elaborate sets or costumes so the artists have to hold their own.  I co-produce the show with Jared Grimes who is a force within himself.  We've worked together for the past four years to bring audiences one of the funniest and most musically satisfying experiences.  The show also has a core dance company and house band, and we feature up and coming talent at each show.  We have a good time and allow our audiences to interact with the performers throughout the night.  The highlight of the show is our Open Session.  Members from the audience hop up on stage with their tap shoes, or instruments and jam with our house band.  It's not a competition but rather a showcase of 'who's who' on the streets. 
What productions does Broadway Underground have planned for 2010?
We'll be taking Broadway Underground to the next level in many areas:  television, film and stage.  So, be on the lookout for us….
What advice would you give to dancers who want to make a difference in this world?
I believe making a difference in the world is about investing in people.  The dance world can keep you running fast and hard towards your career.  It always seems like someone else is taking more class, getting more jobs and moving faster than we are.  I think it's key to understand our own specific call in dance and take the time to invest in others.  For me personally, I have to remind myself that God has a plan for me and it includes dance but it also includes looking around to the needs of others and sacrificing my time to help out.  Shows come and go but our friends last a life time. 
Also, it is so important to 'hone your craft'.  No one can put the time in for you when it comes to dance class and the disciplines that lead to success.  For me, I like to find class buddies.  When I'm heading out to a ballet class I text a few friends and encourage them to come.  They do the same.  At the end of the day, in order to work as a dancer you must be on your game.  There is a great joy in putting that time in and seeing the fruit of your labour.    
Oh, one last thing.  You're never too old to dance.  I have to share that little nugget because many people in the dance world will tell you otherwise.  There is no magic number to end on.  If dance is in your heart…DANCE!
For information about Project Dance visit www.projectdance.com.
For the 2010 brochure click here
Houston, March 19-21
New York City, April 16-18
Toronto, July 16-18
Manila, July 31-August 1
Atlanta, September 24-26
Sydney, October 8-10
Hong Kong, October 15-17
For information about Broadway Underground visit www.broadwayunderground.org
Broadway Underground's Next Show!
Date: April 26th, 8:00pm
Venue: BB Kings, 42nd and Broadway, New York