By Laura Di Orio.
When Karina Teran, a freelance dancer in New York City, was offered the opportunity to travel the world, save money that would normally go towards her NYC rent and receive a consistent salary to perform large-scale Broadway-style production numbers, she thought she shouldn't pass it up. When her dear friend got the exact same offer, her decision was made. For the next seven months, Teran would embark on her adventure – dancing on a luxury cruise line.
For many dancers, a gig on a cruise ship is a welcome one. Some choose the job because they want to save money to pay back debt or for the future. For others, it is their first professional dancing gig and offers invaluable, nonstop performance experience. And for some, dancing on a cruise ship allows them to travel the world while they're still young.
"For a NYC freelance dancer, a cruise ship job can be a blessing," says Teran, who has had two contracts with Carnival Cruise Lines. "It's an opportunity to have a permanent dance job with a good salary."
Memnon Adams, who has been dancing on cruise ships for the past year-and-a-half, agrees. "The advantages are saving most of your salary, visiting many different islands and continents, being exposed to so many different cultures and languages, seeing ancient ruins, but most of all, not having to pay rent," he says.
Dancers can make $2,000-4,000 per month, depending on the cruise line and factors like seniority and special abilities (dance captains make more). Most cruise ship dance jobs cover room, food, transportation and primary health services while the dancer is working on the ship. As crew members, dancers also receive discounts on shore excursions and tours, and can take advantage of services aboard the ship: free gyms and pools, discounts at ship stores, coffee shops, bars, spas and hair salons, as well as a number of activities and parties for the staff.
Even more than these extra perks, cruise ship dancers gain intensive performance experience. In a typical six-month contract, consisting of a number of four to five day cruises, dancers can perform three different shows about 180 times, Teran says.
These shows tend to be very theatrical and energetic and can include dance styles that range from Latin jazz to tap to square dancing.
"The productions are of a high level that you can compare with Broadway or Vegas shows," says Teran. "You work with the ultimate technology for lighting, visual effects, revolving stages, sets and an orchestra."
For cruise ship dancers, the performance style is extremely varied, so versatility is a must. "It is important to have very solid technique, as well as be strong in jazz, contemporary and theater styles," says Christine Wunderlich, a freelance dancer from Vancouver, Canada, who is in her eighth contract with Royal Caribbean Productions. "Having partnering experience and knowledge of ballroom styles is also a plus. The more versatile you are the better because many shows have different styles in one show – jazz opening to ballet or contemporary and into partnering."
Adams agrees and says it's also most important to enjoy dance. "It's tons of fun because I'm learning new skills like harness and trapeze," he adds.
Most shows incorporate full stage makeup, wigs, props, accessories and quite a few quick costume changes. "Since you are responsible for all your costumes, you learn how to take good care of them and be extremely organized," Teran says. "These are good habits that will help you in your career as a dancer wherever else you work."
For cruise dancers, days on which they perform are known as "sea days", and other days, "port days" – when dancers and crew can roam the land, although often with a curfew.
In Teran's experience, a typical sea day for a cruise dancer goes as follows:
12-2 p.m.: Rehearsal
2-4 p.m. (or before rehearsal): Duties
Aside from performances, a part of a dancer's contract often includes additional duties, such as teaching dance classes, assisting in bingo or ping-pong tournaments for the guests or working in the library. Some of these responsibilities offer additional pay.
4-7 p.m.: Break, light dinner and dress for shows
During this time, dancers can rest and prepare their body for the evening of shows ahead. Most cruise lines do not offer a warm-up class, so the dancers must take it upon themselves to warm-up and stretch. Teran says she would do a ballet barre on her own and then stretch in the steam room.
7:15-8 p.m.: Dancers called to dressing room to organize and pre-set all costumes, props and wigs
8-8:50 p.m.: Showtime
8:50-9:45 p.m.: Break, stretch, prep for second show
Should someone get injured, this time would also allow a re-block of the entire show. Dancers must also reset their own costumes, wigs and props. "You have the quickest costume changes imaginable," Teran says, "and if something is not in the right place it can ruin your timing, putting you out of a number."
9:45-10:35 p.m.: Show #2
10:35-11:15 p.m.: Organize and put away all costumes, accessories and props
11:15: Done
"After two full workout shows you finish very hungry, so you can take a good meal at the 24-hour dining service before you go to bed or head to the disco with the rest of the cast," Teran says.
Since so much time is spent onboard and with the other dancers and crew, it is likely that a cruise dance job is a great way to make friends. It is also a great way to learn how to work well with others.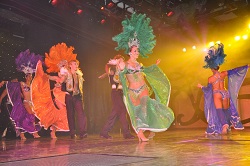 "You work with people of all different backgrounds, and you're almost forced to live with them and share the same space," says Teran. "If you weren't a tolerant or patient person before, you will become one by the end of the contract. In this aspect, you become a better professional."
While there are many advantages to dancing on a cruise ship, the job may not be for everyone, or just may take some getting used to. "If you are a city person you might feel sometimes that you live in a cage," Teran says. "You will breathe some freedom only on port days and only for a few hours. It's different from the dance life on tour when you have a full day off."
Another concern is the potential for injury, especially since dancers are usually expected to warm up on their own. Some ships, like Royal Caribbean, do offer a weekly company class.
"Personally, some days I would love to have more company classes," says Wunderlich. "However, I also like to do my own warm-ups, and it prevents doing classes with people who may be less enthusiastic than yourself."
Adams, too, tries to give himself a dance class when he can. "I try to stay motivated just for my health and of course for future employment," he says.
For dancers who may be interested in cruise ship work, Teran recommends speaking to those who have worked on ships. If it seems like something of interest, auditions are frequently posted online (check out Dance Informa's listings or the individual cruise line's website).
"Working on a cruise ship as a dancer is a wonderful experience, positive in many ways and one that makes you grow as a professional and as a person," Teran says. "You come back to land with unforgettable memories that will make you smile every time you look at the sea."
Top photo: Karina Teran, photo courtesy of Karina Teran.
Published by Dance Informa dance magazine – dance news, dance auditions & dance events.